Cleaning of Acrylic Painted Surfaces
Workshop 2012: Tate Britain, London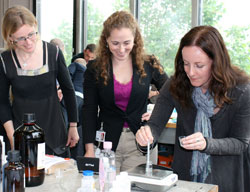 The primary aim of the 2012 workshop was to introduce the eighteen international participants to a range of potentially useful new cleaning products and/or systems for acrylic painted surfaces, many of which have been proposed from scientific testing and screening as part of the GCI's development of more effective cleaning systems for acrylic paints. The secondary aim was to encourage and gather from conservators empirical observations about these different cleaning systems to complement ongoing scientific testing and expedite the advance of conservation practice in this area.
The workshop included overviews of the current knowledge of cleaning of acrylic paints, with a focus on the range of recent advances in this area, including a variety of new cleaning systems undergoing testing. The majority of the
schedule
, however, was spent in the studio with hands-on work to explore the theory and practice of cleaning approaches and to evaluate their applicability and efficacy. Frequent group discussions provided a forum for a diverse range of subjects, including personal treatment experiences, outstanding issues and problems for individuals and the field, and useful priorities for future research.
Instructors for the 2012 CAPS Workshop:
Tom Learner (GCI)
Bronwyn Ormsby (Tate, London)
Chris Stavroudis, (freelance conservator, Los Angeles)
Richard Wolbers (Winterthur/University of Delaware Program in Art Conservation)