Degas: "Russian Dancers" and the Art of Pastel
November 1, 2016–May 7, 2017, Getty Center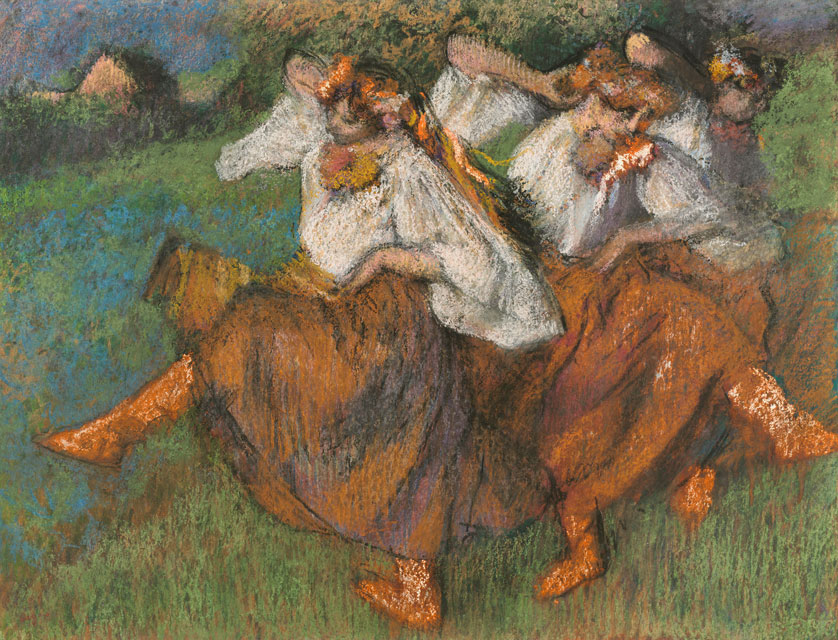 Russian Dancers
, 1899, Edgar Degas, pastel and brush on tracing paper. Courtesy of a private collection.
One of Degas's great late works, Russian Dancers (circa 1899), is presently on loan to the Getty. In this pastel, Degas celebrates the rambunctious abandon, bright colors, and elaborate folk costumes of Ukrainian peasant dancers, very much in contrast to the ethereal ballerinas for which he is famous. To Degas, the Russian peasants embodied the primitive and visceral human urge to dance. He captured this exuberance by applying layers of pure color on paper, artfully combining the immediacy of drawing with the vibrancy of painting.
This installation highlights the physical evidence of the unusual, highly experimental methods Degas employed in his late pastels, including his use of tracing paper, application of multiple layers of fixative, and dampening of the pastel colors to achieve the rich depth and dynamism of the work.