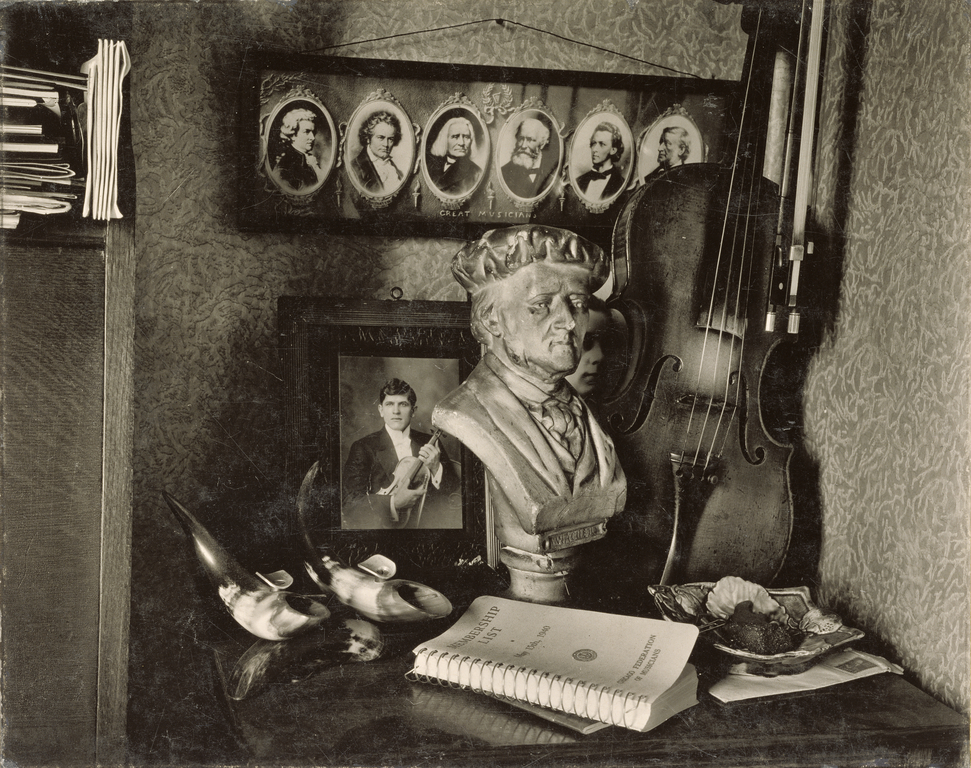 Soakup Music Studio, Chicago

Edmund Teske (American, 1911 - 1996) 11.7 x 14.9 cm (4 5/8 x 5 7/8 in.) 93.XM.33.1
Not currently on view
Title:
Soakup Music Studio, Chicago
Place:
Chicago, Illinois, United States (Place created)

Dimensions:
11.7 x 14.9 cm (4 5/8 x 5 7/8 in.)
Copyright:
© Edmund Teske Archives/Laurence Bump and Nils Vidstrand, 2001
This artful grouping of music-related objects functions as a sort of shrine. Framed portraits of musicians hang on the wall behind a viola and a bust of classical composer Richard Wagner. A musician's organization membership book, pieces of correspondence, and a set of smoking pipes personalize the arrangement.

Edmund Teske came across this table in a music studio owned by the parents of his lover, Richard Soakup. Mrs. Soakup gave music lessons and operated the studio, which was built next to the Soakup's suburban Chicago home. Teske was probably drawn to these objects because music was one of his passions: He took saxophone lessons and learned to play the piano in his youth.

This image also reflects Teske's more prosaic documentary approach during a period in which he aimed to make a "portrait" of his hometown. Teske was always drawn to subjects that were more personal to him, especially the environments of people he felt close to. This photograph has an intimate, candid feel to it because of its composition, in which the selection of carefully arranged objects are thrown slightly off-balance by the randomly stacked books and papers to the left. The result demonstrates the interesting duality of Teske's approach: one that is both formal and casual.
1993 -
Stephen Cohen Cohen, Stephen
1970 -
Edmund Teske, American, 1911 - 1996
Spirit into Matter: The Photographs of Edmund Teske (June 15, 2004 to July 31, 2005) (33)
The J. Paul Getty Museum at the Getty Center (Los Angeles), June 15 to September 26, 2004
The Art Institute of Chicago, May 21 to July 31, 2005
---