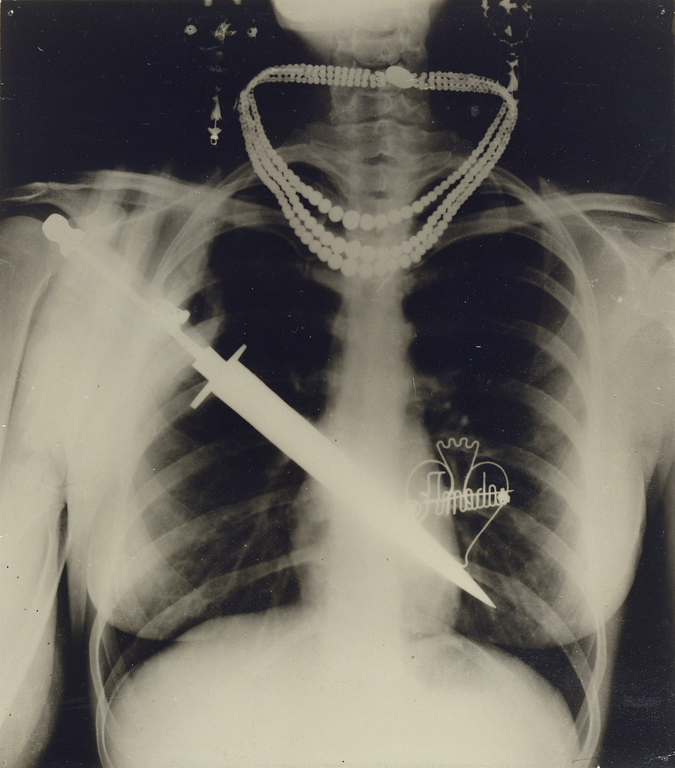 Classic Theme/[Tema Clásico]

Manuel Álvarez Bravo (Mexican, 1902 - 2002) 11.4 × 10.2 cm (4 1/2 × 4 in.) 92.XM.23.52
Not currently on view
Title:
Classic Theme/[Tema Clásico]
Dimensions:
11.4 × 10.2 cm (4 1/2 × 4 in.)
Copyright:
© Colette Urbajtel/Archivo Manuel Álvarez Bravo, SC
Manuel Alvarez Bravo directed this eerie but provocative arrangement of a skeleton clutching a dagger. He included clues, a pearl necklace and earrings, to inform the viewer that the subject is a female. The model for this scene, Doris Heydn, Alvarez Bravo's second wife, holds the end of a dagger near the brooch bearing the word amada, which means "beloved." By using the X-Ray process, Alvarez Bravo succeeded in penetrating her exterior flesh and capturing the interior landscape of her body.
-
Manuel Álvarez Bravo, Mexican, 1902 - 2002
Manuel Alvarez Bravo: Recuerdo de unos años (September 22 to December 6, 1992)
The J. Paul Getty Museum (Malibu), September 22 to December 6, 1992
Manuel Alvarez Bravo: Optical Parables (November 13, 2001 to February 9, 2003)
The J. Paul Getty Museum at the Getty Center (Los Angeles), November 13, 2001 to February 17, 2002
Museo Nacional de Arte (Mexico City), March 14 to June 2, 2002
Walker Art Center (Minneapolis), November 10, 2002 to February 9, 2003
---