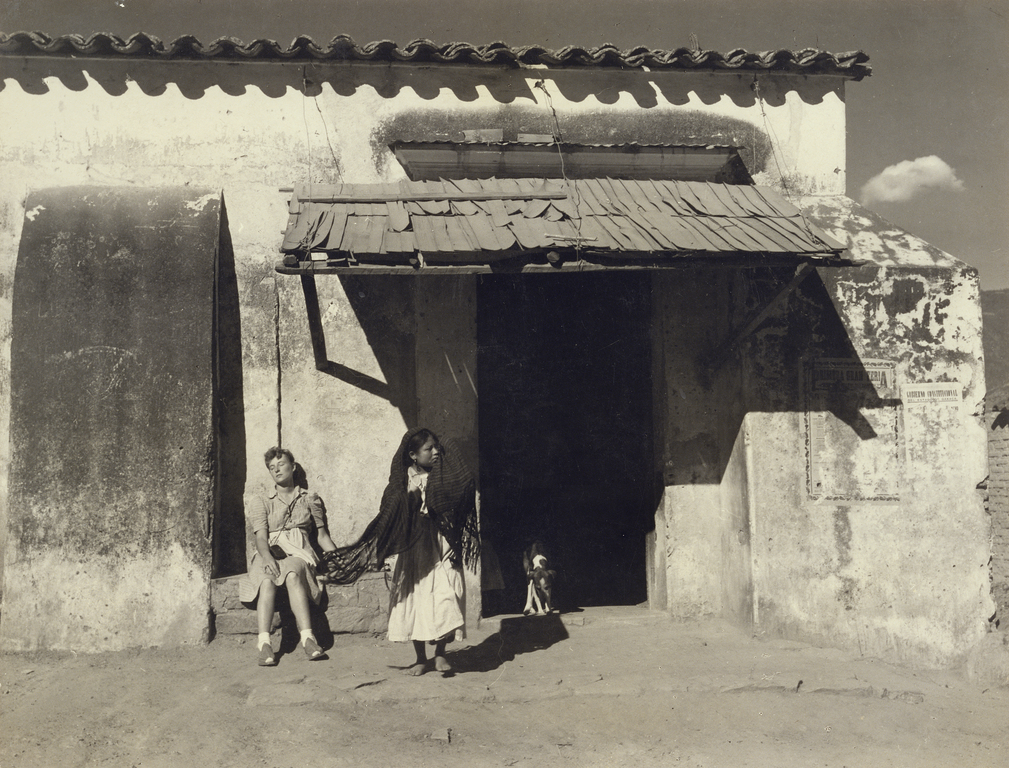 [En un pueblo (In a Village)]

Manuel Álvarez Bravo (Mexican, 1902 - 2002) 18.3 x 24.1 cm (7 3/16 x 9 1/2 in.) 92.XM.23.51
Not currently on view
Title:
[En un pueblo (In a Village)]
Dimensions:
18.3 x 24.1 cm (7 3/16 x 9 1/2 in.)
Copyright:
© Colette Urbajtel/Archivo Manuel Álvarez Bravo, SC
Oblivious to the figure seated behind her, a young woman with a baby on her back emerges from a house functioning as a general store. Manuel Alvarez Bravo's photograph captures a moment of suspended motion, in which the young woman's half-lifted foot hovers above the ground. Her shawl's tassels swing in the air and, from afar, appears to brush the seated woman's arm.

Alvarez Bravo sometimes referred to this image as Sueño de una turista,meaning Tourist's Dream. The tourist here is Doris Heydn, his second wife, whose socks and huraches emphasize her foreign origins. Heydn had accompanied Alvarez Bravo on a photography expedition to the countryside. Unaccustomed to extended periods of time in the relentless sun, Heydn was soon exhausted. The two women, oblivious to each other though separated by a few steps, create an ambiguous tension.
-
Manuel Álvarez Bravo, Mexican, 1902 - 2002
Manuel Alvarez Bravo: Recuerdo de unos años (September 22 to December 6, 1992)
The J. Paul Getty Museum (Malibu), September 22 to December 6, 1992
Manuel Alvarez Bravo: Optical Parables (November 13, 2001 to February 9, 2003)
The J. Paul Getty Museum at the Getty Center (Los Angeles), November 13, 2001 to February 17, 2002
Museo Nacional de Arte (Mexico City), March 14 to June 2, 2002
Walker Art Center (Minneapolis), November 10, 2002 to February 9, 2003
Arti & Archittetura, 1900-2000 (October 2, 2004 to February 13, 2005)
Palazzo Ducale (Genova), October 2, 2004 to February 13, 2005
---