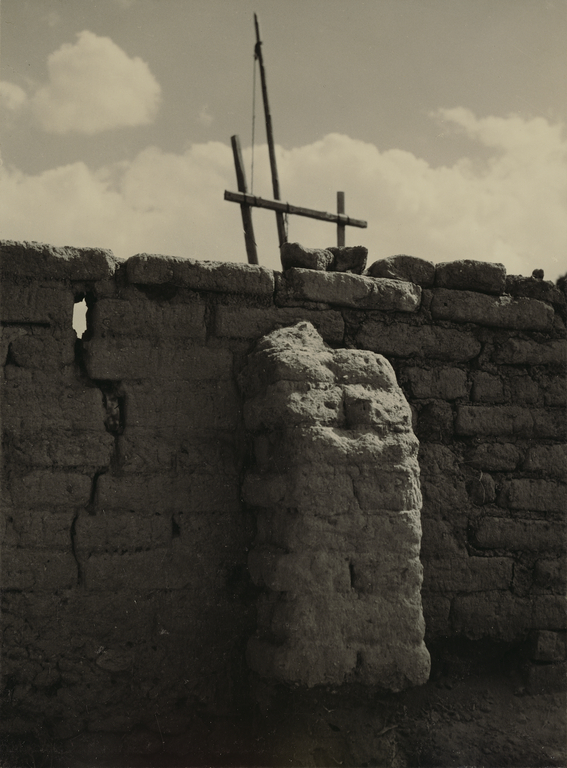 Entrance to The Anecdotes/[Portada de Las Anécdotas]

Manuel Álvarez Bravo (Mexican, 1902 - 2002) 24 x 17.8 cm (9 7/16 x 7 in.) 92.XM.23.45
Not currently on view
Title:
Entrance to The Anecdotes/[Portada de Las Anécdotas]
Dimensions:
24 x 17.8 cm (9 7/16 x 7 in.)
Copyright:
© Colette Urbajtel/Archivo Manuel Álvarez Bravo, SC
Manuel Alvarez Bravo's image of a worn adobe wall rendered against a cloud-filled sky is both dramatic and mysterious, provoking questions about its purpose and meaning. Whom or what is this barrier protecting? What lies on the other side? A strange mast-like, wooden assemblage protrudes from behind the wall into the sky but offers no clues. The wall is a boundary to the unknown, and the viewer is denied an answer to this enigmatic juxtaposition of forms and materials.
-
Manuel Álvarez Bravo, Mexican, 1902 - 2002
Manuel Alvarez Bravo: Optical Parables (November 13, 2001 to February 9, 2003)
The J. Paul Getty Museum at the Getty Center (Los Angeles), November 13, 2001 to February 17, 2002
Museo Nacional de Arte (Mexico City), March 14 to June 2, 2002
Walker Art Center (Minneapolis), November 10, 2002 to February 9, 2003
---