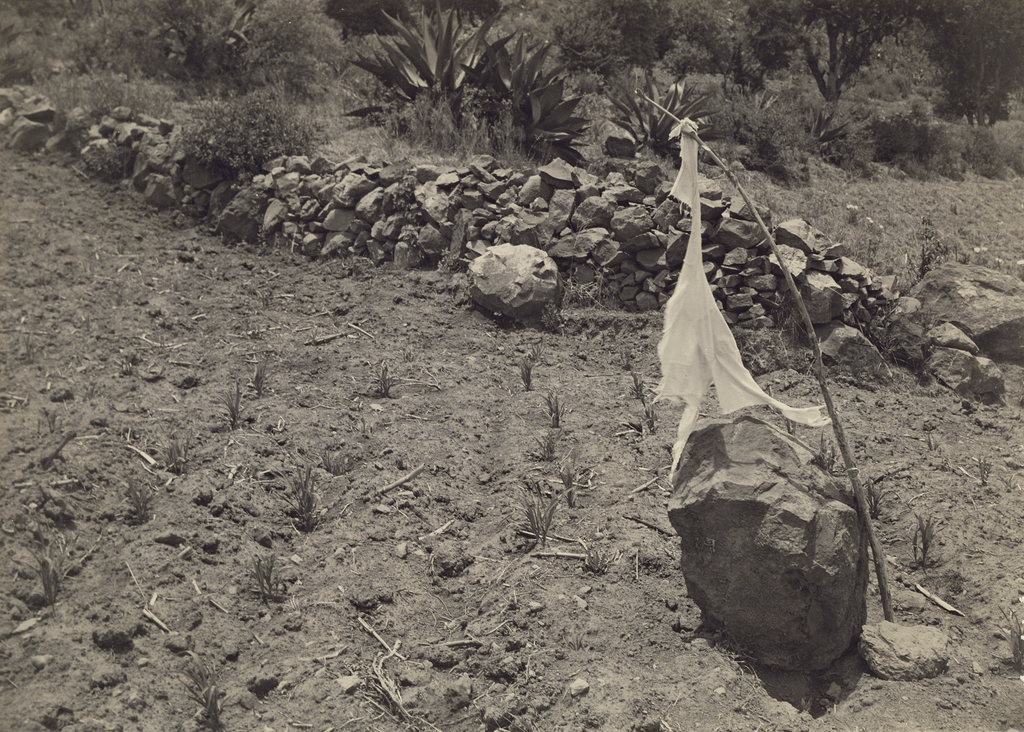 [Little Flags of the Land]/[Banderitas del Campo]

Manuel Álvarez Bravo (Mexican, 1902 - 2002) 17.3 x 24.1 cm (6 13/16 x 9 1/2 in.) 92.XM.23.43
Not currently on view
Title:
[Little Flags of the Land]/[Banderitas del Campo]
Dimensions:
17.3 x 24.1 cm (6 13/16 x 9 1/2 in.)
Copyright:
© Colette Urbajtel/Archivo Manuel Álvarez Bravo, SC
Much of Manuel Alvarez Bravo's work investigates the natural world and the ways in which it served Mexico's native population. In this image, neatly cultivated rows of saplings emerge from the dry, crumbly earth. For centuries this land has provided Mexicans with the corn that is integral to their sustenance. The tattered piece of cloth hanging from a twig-like branch--referred to as a "little flag" by Alvarez Bravo--serves as a scarecrow in a recently planted field. The stick-and-rag scarecrow may be seen as a stand-in for the photographer himself in this otherwise empty landscape.
-
Manuel Álvarez Bravo, Mexican, 1902 - 2002
Manuel Alvarez Bravo: Optical Parables (November 13, 2001 to February 9, 2003)
The J. Paul Getty Museum at the Getty Center (Los Angeles), November 13, 2001 to February 17, 2002
Museo Nacional de Arte (Mexico City), March 14 to June 2, 2002
Walker Art Center (Minneapolis), November 10, 2002 to February 9, 2003
---