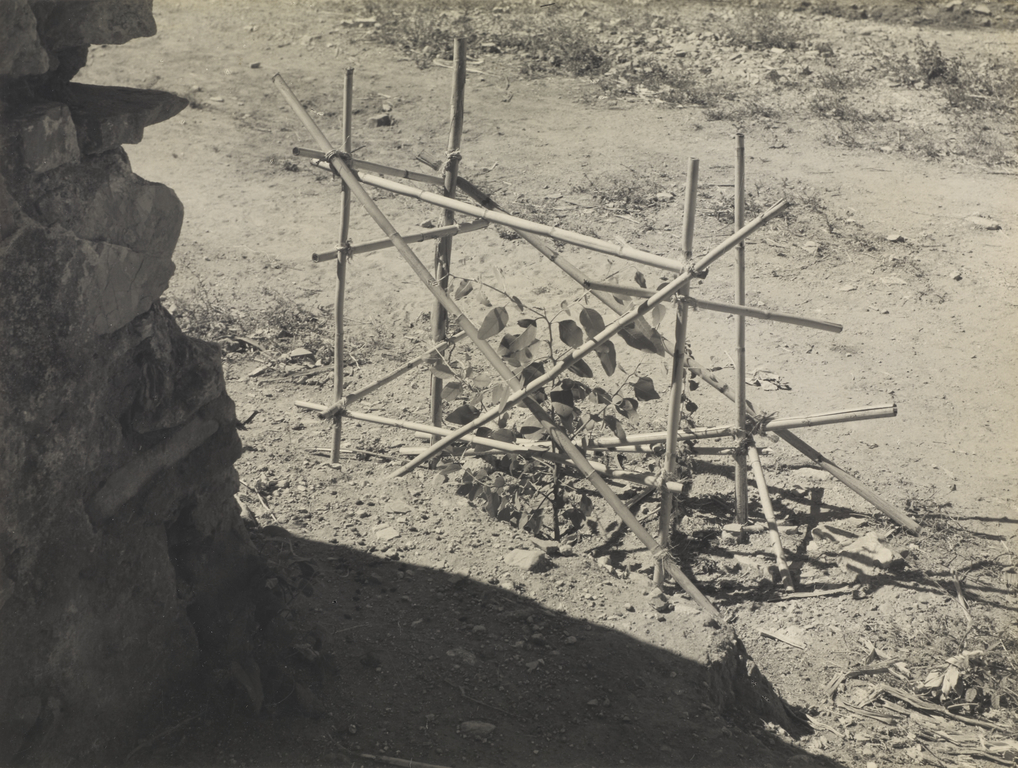 [New Allegory]

Manuel Álvarez Bravo (Mexican, 1902 - 2002) 18.3 x 24.4 cm (7 3/16 x 9 5/8 in.) 92.XM.23.41
Not currently on view
Dimensions:
18.3 x 24.4 cm (7 3/16 x 9 5/8 in.)
Copyright:
© Colette Urbajtel/Archivo Manuel Álvarez Bravo, SC
Standing in the shade of a rural building, Manuel Alvarez Bravo made this photograph of a sun-drenched sapling, newly planted in the dry earth. A carefully crafted trellis of bamboo and twine protects the frail plant, indicating that it is of considerable importance to its owner. By omitting actors from the scene, Alvarez Bravo's image reveals a ground-level universe, rich in devotional meaning.
-
Manuel Álvarez Bravo, Mexican, 1902 - 2002
Manuel Alvarez Bravo: Optical Parables (November 13, 2001 to February 9, 2003)
The J. Paul Getty Museum at the Getty Center (Los Angeles), November 13, 2001 to February 17, 2002
Museo Nacional de Arte (Mexico City), March 14 to June 2, 2002
Walker Art Center (Minneapolis), November 10, 2002 to February 9, 2003
In Focus: The Tree (February 8 to July 3, 2011)
The J. Paul Getty Museum at the Getty Center (Los Angeles), February 8 to July 3, 2011
---