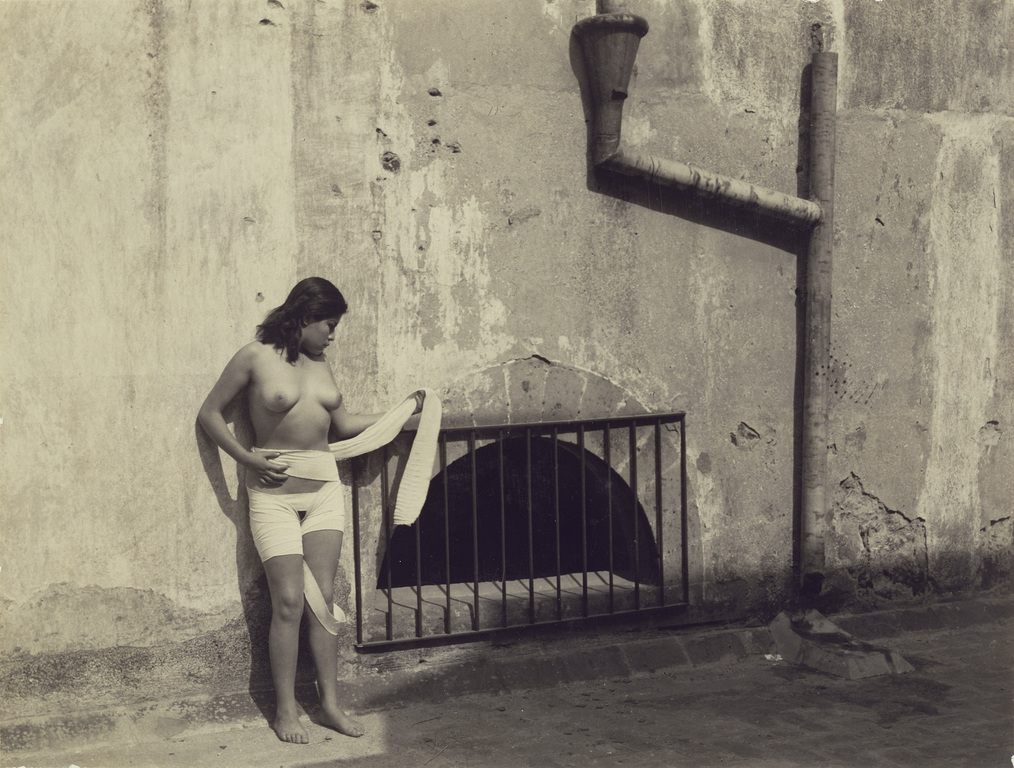 [La desvendada #2 (The Unbandaged #2)]

Manuel Álvarez Bravo (Mexican, 1902 - 2002) 18.3 x 24.1 cm (7 3/16 x 9 1/2 in.) 92.XM.23.34
Not currently on view
Title:
[La desvendada #2 (The Unbandaged #2)]
Dimensions:
18.3 x 24.1 cm (7 3/16 x 9 1/2 in.)
Copyright:
© Colette Urbajtel/Archivo Manuel Álvarez Bravo, SC
With one arm outstretched and the other holding her bandage in place, this young woman leans against the weathered wall of an unknown building. The scene is mysterious and perplexing. What is this strange arrangement of bandages? Was this woman injured? If so, why is she outdoors? Why is she topless?

In 1938 Manuel Alvarez Bravo made this photograph on the rooftop of the national arts school where he was teaching. The image, from the session of Good Reputation 1/2/3,uses the same model. But instead of illustrating a sleepy eroticism, in Unbandaged #2 she undresses, adjusts, and removes the bandages, actively engaging the viewer in a dance of seduction. Overtly sexual themes were central to the Surrealist movement, which greatly influenced Alvarez Bravo.
-
Manuel Álvarez Bravo, Mexican, 1902 - 2002
Manuel Alvarez Bravo: Recuerdo de unos años (September 22 to December 6, 1992)
The J. Paul Getty Museum (Malibu), September 22 to December 6, 1992
Manuel Alvarez Bravo: Optical Parables (November 13, 2001 to February 9, 2003)
The J. Paul Getty Museum at the Getty Center (Los Angeles), November 13, 2001 to February 17, 2002
Museo Nacional de Arte (Mexico City), March 14 to June 2, 2002
Walker Art Center (Minneapolis), November 10, 2002 to February 9, 2003
---