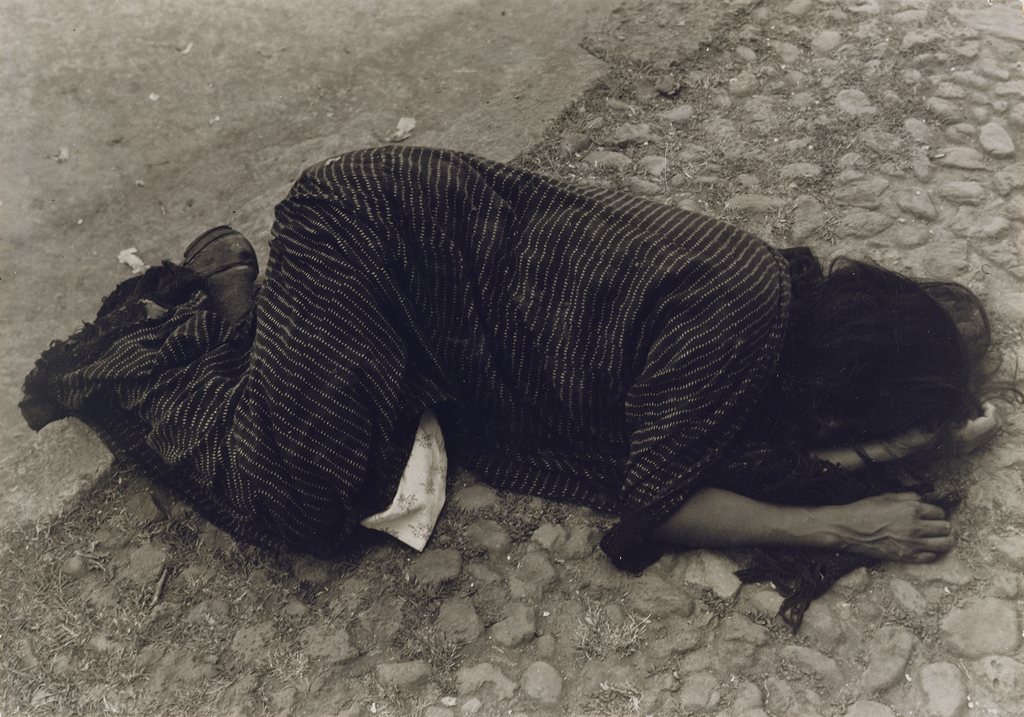 [The Third Fall]/[La Tercera Caída]

Manuel Álvarez Bravo (Mexican, 1902 - 2002) 16.8 x 24.1 cm (6 5/8 x 9 1/2 in.) 92.XM.23.29
Not currently on view
Title:
[The Third Fall]/[La Tercera Caída]
Dimensions:
16.8 x 24.1 cm (6 5/8 x 9 1/2 in.)
Copyright:
© Colette Urbajtel/Archivo Manuel Álvarez Bravo, SC
I do not know if you have been absent:
I lie down with you, I rise up with you,
In my dreams you are with me.
If my teardrops tremble within my eyes,
I know it is you moving my heart.

Like this Aztec poem, the image of an isolated figure lying exposed and vulnerable on a city street evokes feelings of anguish, longing, and departure. Mexican mythology rests heavily upon ideas of death, considered a constant companion to every man, woman, and child. Manuel Alvarez Bravo explored this theme in his work as a mean of analyzing his own culture.

The title, The Third Fall,alludes to the prayer Christians offer at the ninth Station of the Cross: "My Jesus, by all the bitter woes Thou didst endure when for the third time the heavy cross bowed Thee to the earth, never, I beseech Thee, let me fall again into sin." Lying as if at the feet of the viewer, the faceless individual embodies the fall into misery that has plagued Mexico's people.
-
Manuel Álvarez Bravo, Mexican, 1902 - 2002
Manuel Alvarez Bravo: Optical Parables (November 13, 2001 to February 9, 2003)
The J. Paul Getty Museum at the Getty Center (Los Angeles), November 13, 2001 to February 17, 2002
Museo Nacional de Arte (Mexico City), March 14 to June 2, 2002
Walker Art Center (Minneapolis), November 10, 2002 to February 9, 2003
Pasadena Art Museum and Fred R. Parker. Manuel Alvarez Bravo, exh. cat. (Pasadena, Calif: Pasadena Art Museum, 1971), p. 42.
---