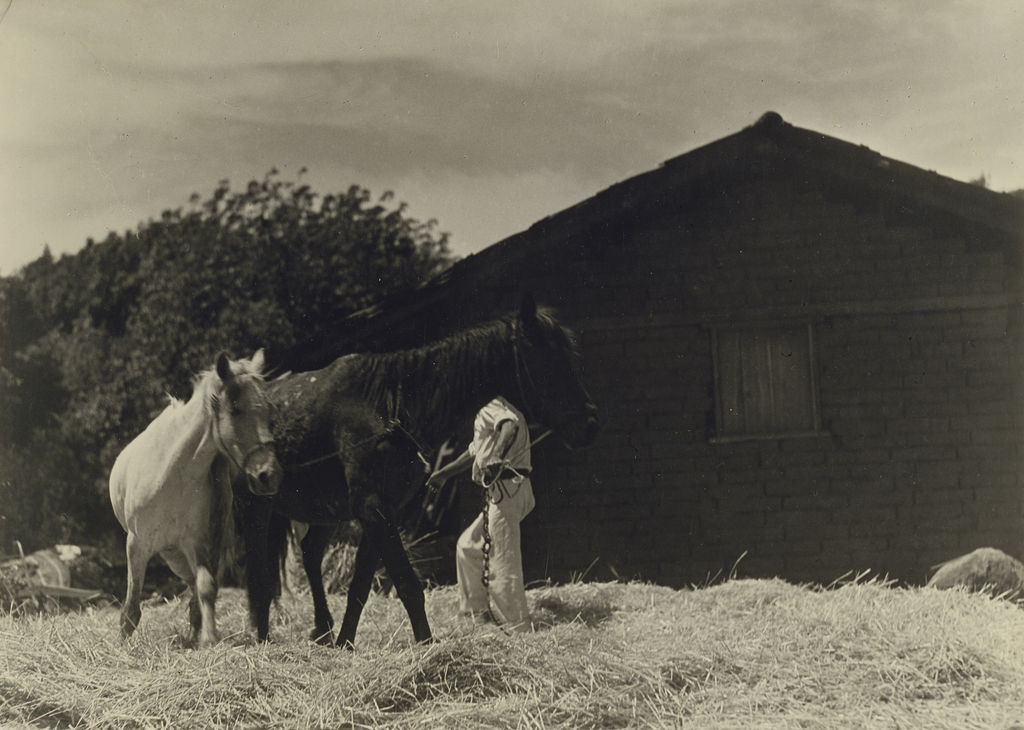 The Threshing/[La trilla]

Manuel Álvarez Bravo (Mexican, 1902 - 2002) 17 x 23.8 cm (6 11/16 x 9 3/8 in.) 92.XM.23.20
Not currently on view
Title:
The Threshing/[La trilla]
Dimensions:
17 x 23.8 cm (6 11/16 x 9 3/8 in.)
Copyright:
© Colette Urbajtel/Archivo Manuel Álvarez Bravo, SC
In this photograph of a man leading two horses in a semicircle over sun-bleached straw, Manuel Alvarez Bravo depicts a subject that for many Mexicans evokes thoughts of the Spanish conquest. Until the Spaniards' arrival, the horse was unknown in Mexico, and it remained alien to that culture for many years. When the Aztec people saw a horse for the first time, they mistook the formidable animal and its rider for one single being. Alluding perhaps to this historical encouter, Alvarez Bravo's image merges the bodies of horse and man, as the larger horse obscures the workingman's head.
-
Manuel Álvarez Bravo, Mexican, 1902 - 2002
Manuel Alvarez Bravo: Recuerdo de unos años (September 22 to December 6, 1992)
The J. Paul Getty Museum (Malibu), September 22 to December 6, 1992
Manuel Alvarez Bravo: Optical Parables (November 13, 2001 to February 9, 2003)
The J. Paul Getty Museum at the Getty Center (Los Angeles), November 13, 2001 to February 17, 2002
Museo Nacional de Arte (Mexico City), March 14 to June 2, 2002
Walker Art Center (Minneapolis), November 10, 2002 to February 9, 2003
---