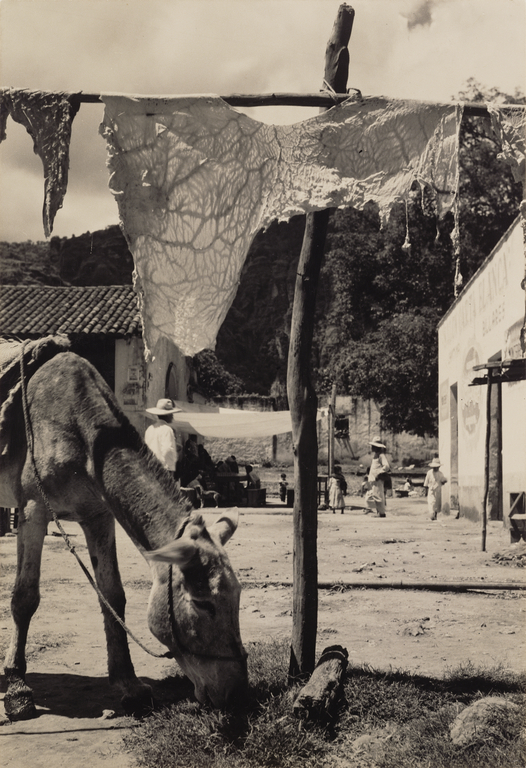 [Burro Grazing]

Manuel Álvarez Bravo (Mexican, 1902 - 2002) 24.3 x 16.7 cm (9 9/16 x 6 9/16 in.) 92.XM.23.8
Not currently on view
Dimensions:
24.3 x 16.7 cm (9 9/16 x 6 9/16 in.)
Copyright:
© Colette Urbajtel/Archivo Manuel Álvarez Bravo, SC
Manuel Alvarez Bravo's photograph of a burro grazing beneath a cross-section of a wooden post makes direct reference to Christianity. This image was made in a small village, amid the comings and goings of the local residents. Alvarez Bravo's sense of humor is at play in this seemingly ordinary scene. The burro, a creature noted for its stubbornness and stupidity, finds nourishment at the foot of the cross, while the villagers appear to turn their backs on it, and on salvation.
-
Manuel Álvarez Bravo, Mexican, 1902 - 2002
Manuel Alvarez Bravo: Recuerdo de unos años (September 22 to December 6, 1992)
The J. Paul Getty Museum (Malibu), September 22 to December 6, 1992
Manuel Alvarez Bravo: Optical Parables (November 13, 2001 to February 9, 2003)
The J. Paul Getty Museum at the Getty Center (Los Angeles), November 13, 2001 to February 17, 2002
Museo Nacional de Arte (Mexico City), March 14 to June 2, 2002
Walker Art Center (Minneapolis), November 10, 2002 to February 9, 2003
---