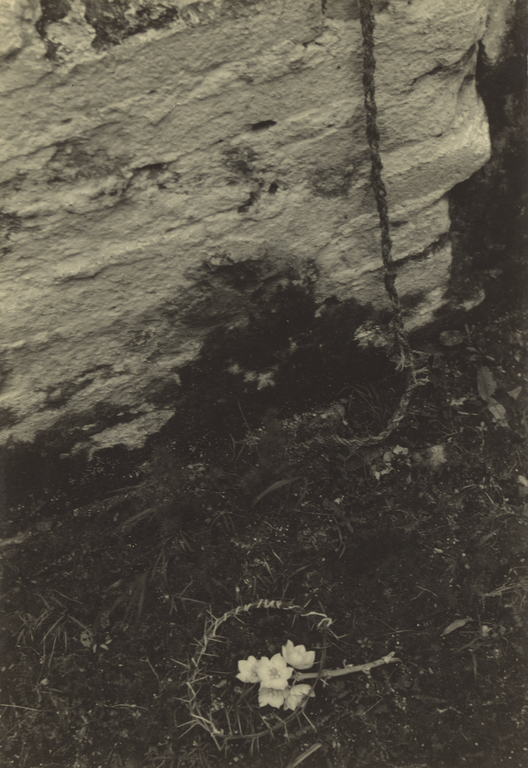 [Trama de la historia (Historic Plot)]

Manuel Álvarez Bravo (Mexican, 1902 - 2002) 24 x 16.7 cm (9 7/16 x 6 9/16 in.) 92.XM.23.7
Not currently on view
Title:
[Trama de la historia (Historic Plot)]
Dimensions:
24 x 16.7 cm (9 7/16 x 6 9/16 in.)
Copyright:
© Colette Urbajtel/Archivo Manuel Álvarez Bravo, SC
In this image by Manuel Alvarez Bravo, a crown of thorns and a branch of delicate flowers lie on the ground in an arrangement that clearly alludes to Christianity. Alvarez Bravo made this photograph while documenting pre-Hispanic mural paintings and trying to determine whether photography could represent historic events with any degree of accuracy.

The title, Historic Plot, illustrates Alvarez Bravo's fondness for wordplay. Plot may denote a parcel of land or a deceitful scheme. Was the artist alluding to Mexico's ancient civilizations or to an entrenched conspiracy? The use of Christian imagery indicates that Alvarez Bravo was referring to the forced conversion of Mexico's native population after the arrival of missionaries in the 1500s.
-
Manuel Álvarez Bravo, Mexican, 1902 - 2002
Manuel Alvarez Bravo: Optical Parables (November 13, 2001 to February 9, 2003)
Museo Nacional de Arte (Mexico City), March 14 to June 2, 2002
Walker Art Center (Minneapolis), November 10, 2002 to February 9, 2003
---