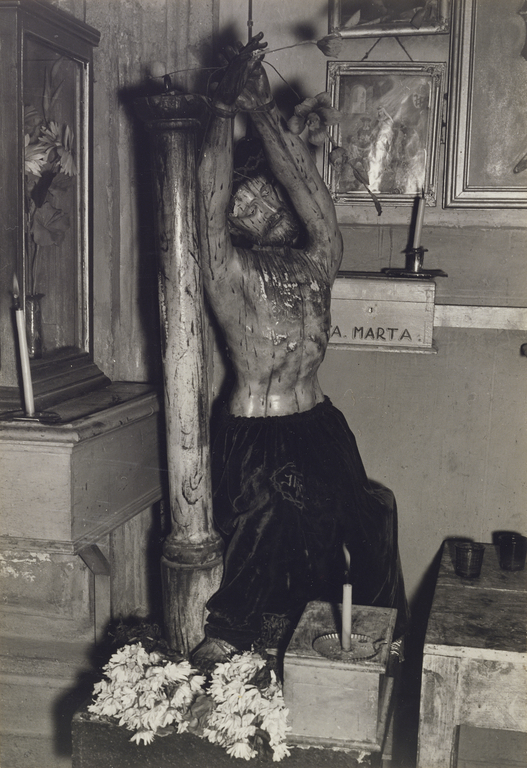 [Figure of Christ]

Manuel Álvarez Bravo (Mexican, 1902 - 2002) 22.2 x 15.4 cm (8 3/4 x 6 1/16 in.) 92.XM.23.5
Not currently on view
Dimensions:
22.2 x 15.4 cm (8 3/4 x 6 1/16 in.)
Copyright:
© Colette Urbajtel/Archivo Manuel Álvarez Bravo, SC
This sculpture of Christ enduring the agony of the forty lashes calls to mind the violent religious upheaval that took place during Mexico's forced conversion to Christianity in the 1500s. Manuel Alvarez Bravo discovered this Catholic altar inside a church in Xochimilco, south of Mexico City. In capturing the poignancy of the flowers hanging from between the fingers of the tortured Christ, Alvarez Bravo's image alludes to the complex history of Mexican Catholicism, whose teachings have for centuries been blended with indigenous beliefs.
-
Manuel Álvarez Bravo, Mexican, 1902 - 2002
Manuel Alvarez Bravo: Optical Parables (November 13, 2001 to February 9, 2003)
The J. Paul Getty Museum at the Getty Center (Los Angeles), November 13, 2001 to February 17, 2002
Museo Nacional de Arte (Mexico City), March 14 to June 2, 2002
Walker Art Center (Minneapolis), November 10, 2002 to February 9, 2003
---