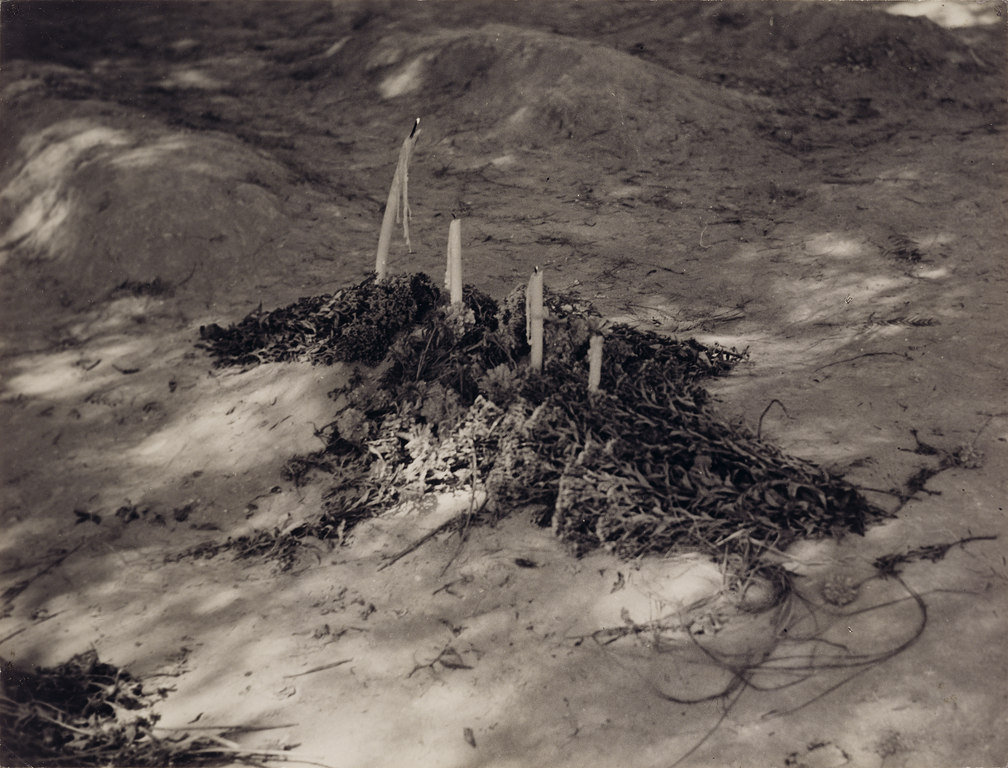 The Spirit of the People / [El espíritu de las personas]

Manuel Álvarez Bravo (Mexican, 1902 - 2002) 18.3 x 24.4 cm (7 3/16 x 9 5/8 in.) 92.XM.23.1
Not currently on view
Title:
The Spirit of the People / [El espíritu de las personas]
Dimensions:
18.3 x 24.4 cm (7 3/16 x 9 5/8 in.)
Copyright:
© Colette Urbajtel/Archivo Manuel Álvarez Bravo, SC
Manuel Alvarez Bravo's photograph of a small mound of flowers and candles depicts one of many ways in which the dead are commemorated in Mexico. According to Mexican culture, life and death are recurring stages of a ceaseless cosmic process. Death is thus incorporated into everyday life. On Día de los Muertos, the Day of the Dead, people visit the cemetery where their relatives are buried; in addition to decorating gravesites with flowers and candles, they sit on picnic blankets next to the tombs and eat their loved ones' favorite foods. As if to underscore the transitory quality of earthbound things, Alvarez Bravo made this photograph when two of the lit candles were nearly extinguished.
-
Manuel Álvarez Bravo, Mexican, 1902 - 2002
Manuel Alvarez Bravo: Recuerdo de unos años (September 22 to December 6, 1992)
The J. Paul Getty Museum (Malibu), September 22 to December 6, 1992
Manuel Alvarez Bravo: Optical Parables (November 13, 2001 to February 9, 2003)
The J. Paul Getty Museum at the Getty Center (Los Angeles), November 13, 2001 to February 17, 2002
Museo Nacional de Arte (Mexico City), March 14 to June 2, 2002
Walker Art Center (Minneapolis), November 10, 2002 to February 9, 2003
Musée de Arte Moderne. Manuel Alvarez Bravo: 303 Photographies, 1920-1986 (Paris: Paris-musées; Paris audiovisuel, 1986)
---