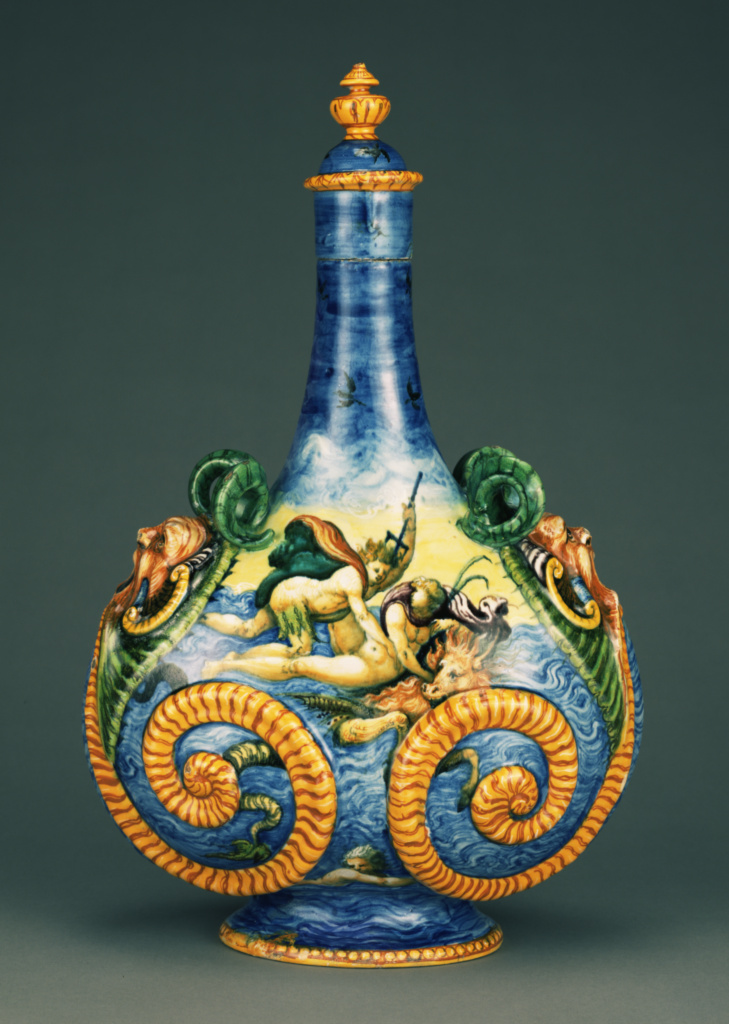 Open Content images tend to be large in file-size. To avoid potential data charges from your carrier, we recommend making sure your device is connected to a Wi-Fi network before downloading.
Currently on view at: Getty Center, Museum North Pavilion, Gallery N102
Title:
Pilgrim Flask with Marine Scenes
Place:
Urbino, Italy (Place Created)

Object Description
The design of this ceramic pilgrim flask, with its tall tapering neck, screw cover, and flat oval body, reflects the influence of metal pilgrim flasks, which in turn were patterned after the dried gourds travelers used to carry drinking water. The side loops above the horned masks on the sides and the holes cut from either side of the base would never have been used to suspend the Museum's flask; they were retained as decoration and a reminder of the vessel's earlier function.

Marine scenes decorate both sides of the flask: one of a triton abducting a nereid and one of two fighting tritons. This exceptionally rich and varied palette is typical of ceramics from the Fontana workshop. The son of a famous potter from Castel Durante, Orazio Fontana started his own workshop in 1565 in Urbino, helping to establish that area as the most important place for maiolica production in the late 1500s.
Exhibitions
The Arts of Fire: Islamic Influences on the Italian Renaissance (May 4 to September 5, 2004)
The J. Paul Getty Museum at the Getty Center (Los Angeles), May 4 to September 4, 2004
---