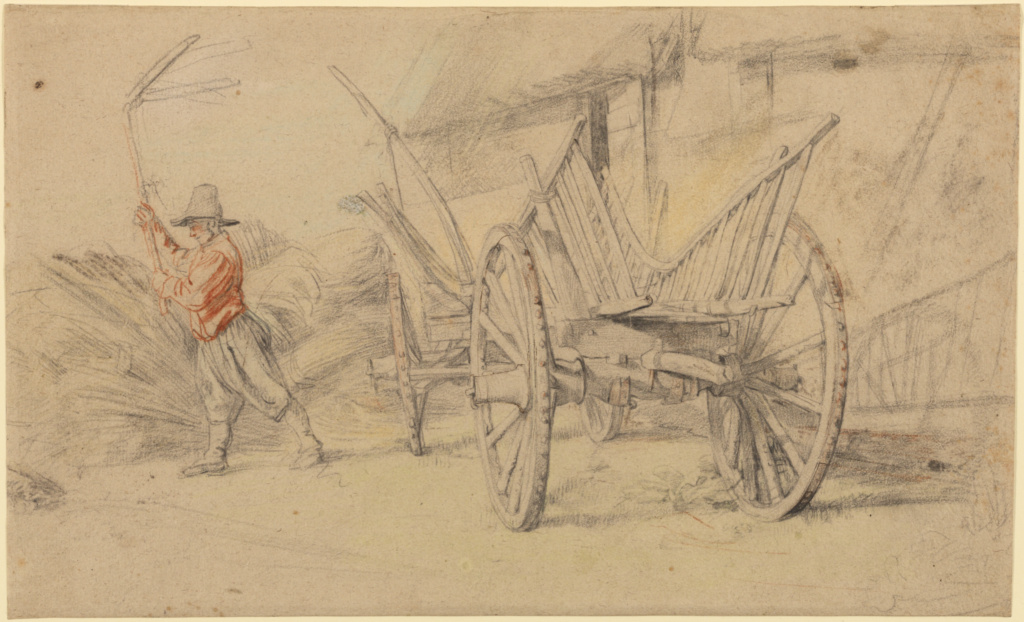 This image is available for download, without charge, under the Getty's Open Content Program.

A Man Threshing Beside a Wagon, Farm Buildings Behind
Open Content images tend to be large in file-size. To avoid potential data charges from your carrier, we recommend making sure your device is connected to a Wi-Fi network before downloading.
Not currently on view
Title:
A Man Threshing Beside a Wagon, Farm Buildings Behind
Medium:
Red, black, blue, green, and yellow chalk, with touches of pen and brown ink, on pale gray paper
Dimensions:
25.4 × 41.4 cm (10 × 16 5/16 in.)
Object Description
While this wagon recurs in several paintings, Peter Paul Rubens may have intended this drawing as an independent work of art, rather than a study. Although its composition is simple, this humble genre scene displays Rubens's characteristic lively technique. The sharp perspective, unusual rear view, and lack of alignment between front and rear axles draw the viewer into the space. The splayed side rails and wheel spokes all thrust outward in repeating lines, charging the stationary wagon with energy. Rubens's experiments with different positions for the rustic wagon and the farmer's flail further increase the effect of motion and symmetry.

Rubens varied both his materials and his technique to give the scene immediacy and vigor. The man's red shirt adds to his sense of animation and becomes a focal point of the drawing. Subtle highlights appear in other colors of chalk: yellow inside the wagon, a bit of blue on the barn roof, and touches of brown on wagon wheels and the ground. Rubens's chalk strokes ranged from the stronger, more precise forms of the wagon, whose iron bands and nails are accented in pen and ink, to the light, rapid, strokes employed for the stable and hay.
Exhibitions
17th Century Art in Europe (January 3 to March 12, 1938) (Cat. of drawings by A. E. Popham, et al.)
Royal Academy of Arts (London), January 3 to March 12, 1938
Dessins de Pierre-Paul Rubens (December 1938 to February 1939) (Cat. by L. van Puyvelde)
Palais des beaux-arts (Brussels), December 1938 to February 1939
Catalogus van Teekeningen van Petrus Paulus Rubens (February 17 to March 20, 1939)
Museum Boijmans Van Beuningen (Rotterdam), February 17 to March 20, 1939
Old Master Drawings from Chatsworth (1949) (Cat. by A.E. Popham, et al.; Text vol. p. 23, no. 45; Ill. vol. no. 26)
Arts Council England (London), 1949
P. P. Rubens, esquisses, dessins, gravures (December 14, 1952 to January 20, 1953)
Ateneumin Taidemuseo (Helsinki), December 14 to January 20, 1953
Tekeningen van P. P. Rubens (June 16 to September 16, 1956) (Cat. by L. Burchard and R.-A. d'Hulst)
Rubenshuis (Antwerp), June 16 to September 16, 1956
Old Master Drawings from Chatsworth (July 19 to September 10, 1961)
City Art Gallery (Manchester), July 19 to September 10, 1961
Old Master Drawings from Chatsworth: A Loan Exhibition from the Devonshire Collection (1962 to 1963) (Cat. by A. E. Popham)
The Cleveland Museum of Art (Cleveland), 1962 to 1963
Pierpont Morgan Library (New York), 1962 to 1963
National Gallery of Canada (Ottawa), 1962 to 1963
The Art Institute of Chicago, 1962 to 1963
California Palace of the Legion of Honor (San Francisco), 1962 to 1963
National Gallery of Art (Washington, D.C.), 1962 to 1963
Museum of Fine Arts, Boston, 1962 to 1963
Old Master Drawings: A Loan Exhibition from the Devonshire Collection (July 5 to August 21 1969)
Royal Academy of Arts (London), July 5 to August 21, 1969
Rubens: Drawings and Sketches (1977) (Cat. by J. Rowlands)
The British Museum (London), 1977
16th Century Northern European Drawings (February 18 to May 2, 1992)
The J. Paul Getty Museum (Malibu), February 18 to May 2, 1992
Drawings from the J. Paul Getty Museum (May 24 to August 8, 1993)
The Metropolitan Museum of Art (New York), May 24 to August 8, 1993
Drawings from the J. Paul Getty Museum (October 29, 1993 to January 23, 1994)
Royal Academy of Arts (London), October 29, 1993 to January 23, 1994
Flemish Drawings of the Sixteenth and Seventeenth Centuries (August 29 to November 12, 1995)
The J. Paul Getty Museum (Malibu), August 29 to November 12, 1995
Landscape Drawings 1500 - 1900 (June 9 to August 23, 1998)
The J. Paul Getty Museum at the Getty Center (Los Angeles), June 9 to August 23, 1998
Peter Paul Rubens and the Art of Drawing in Flanders (August 29 to October 22, 2000)
The J. Paul Getty Museum at the Getty Center (Los Angeles), August 29 to October 22, 2000
Work and Play: Everyday Life in Drawings; 1520 - 1820 (July 31 to October 14, 2001)
The J. Paul Getty Museum at the Getty Center (Los Angeles), July 31 to October 14, 2001
Peter Paul Rubens (1577-1640): The Drawings (September 14, 2004 to April 3, 2005) (Cat. by A.-M. Logan, et al. Albertina Cat. no. 68 see also pp. 74, 117, note 115; Metropolitan Cat. no. 98, see also pp. 32, 59, note 117.)
Albertina (Vienna), September 14 to December 5, 2004
The Metropolitan Museum of Art (New York), January 14 to April 3, 2005
Rubens and his Printmakers (July 5 to September 24, 2006)
The J. Paul Getty Museum at the Getty Center (Los Angeles), July 5 to September 24, 2006
Drawing in the Age of Rubens (October 14, 2014 to January 11, 2015)
The J. Paul Getty Museum at the Getty Center (Los Angeles), October 14, 2014 to January 11, 2015
---