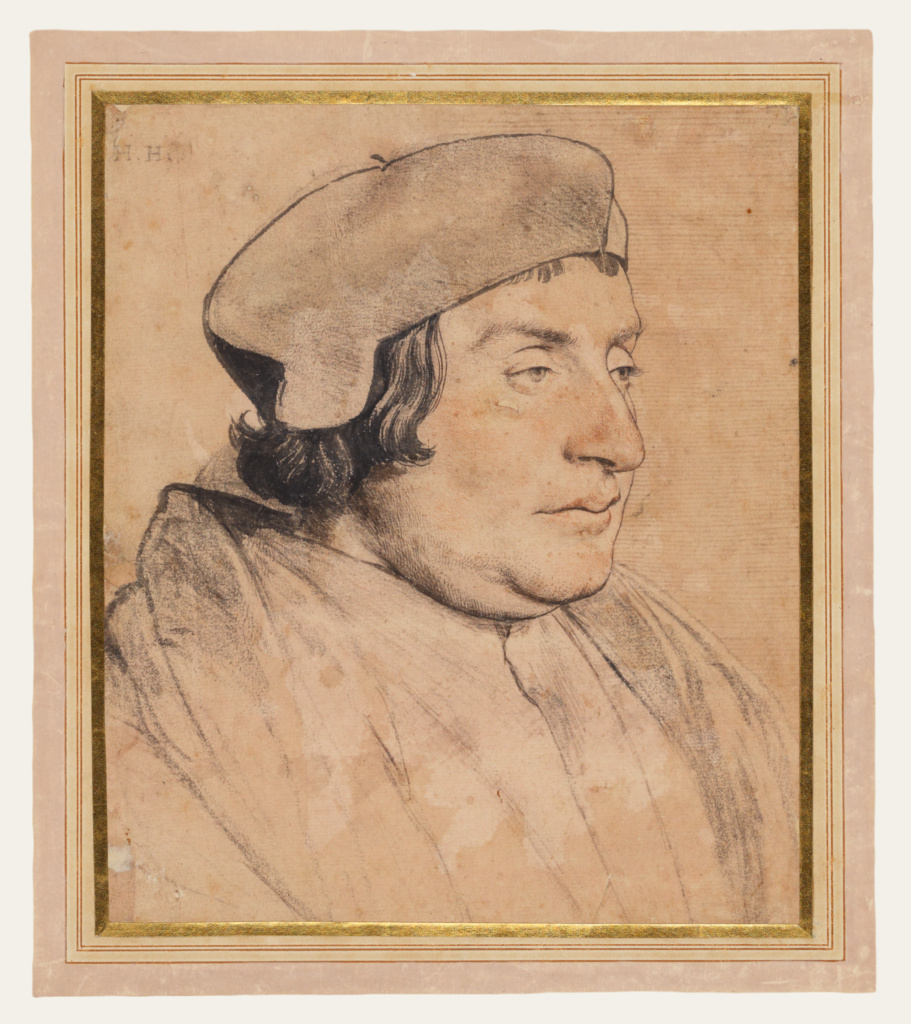 Open Content images tend to be large in file-size. To avoid potential data charges from your carrier, we recommend making sure your device is connected to a Wi-Fi network before downloading.
Not currently on view
Title:
Portrait of a Scholar or Cleric
Medium:
Black and red chalk, pen and brush and black ink, on pink prepared paper
Dimensions:
21.9 × 18.4 cm (8 5/8 × 7 1/4 in.)
Hans Holbein the Younger first sketched the sitter, whose identity is unknown, with black chalk. Subsequently, he used a brush and ink to describe the hair and collar. He used a pointed quill pen and ink to make the contour lines of the face and details such as the small dots that suggest the stubble of an incipient beard. In this second stage, Holbein made several changes in the outline of the hat and the cloak just behind the sitter's head. He used a soft red chalk over the pink ground of the paper to model the face subtly.

Holbein became painter to the court of King Henry VIII of England in 1536. After the artist's death in 1543, numerous drawings of members of the court were found in his studio. This group of drawings, which may have included this portrait, was gathered into the so-called "great booke" and given to Henry VIII.
-
William Cavendish, second duke of Devonshire, English, 1673 - 1729
July 3, 1984
Christie's (London), lot 70
Old Master Drawings from Chatsworth (January 25 to March 23, 1975) (also reproduced on the cover)
National Museum of Western Art (Tokyo), January 25 to March 23, 1975
Old Master Drawings: A Loan Exhibition from the Duke of Devonshire (April to July 1977)
The Israel Museum (Jerusalem), April to July 1977
16th Century Northern European Drawings (February 18 to May 2, 1992)
The J. Paul Getty Museum (Malibu), February 18 to May 2, 1992
Drawings from the J. Paul Getty Museum (May 24 to August 8, 1993)
The Metropolitan Museum of Art (New York), May 24 to August 8, 1993
Drawings from the J. Paul Getty Museum (October 29, 1993 to January 23, 1994)
Royal Academy of Arts (London), October 29, 1993 to January 23, 1994
The Earl and Countess of Arundel: Renaissance Collectors (May 2, 1995 to October 1, 1995)
The J. Paul Getty Museum (Malibu), May 2 to October 1, 1995
Master Drawings from the J. Paul Getty Museum (December 16, 1997 to February 22, 1998)
The J. Paul Getty Museum at the Getty Center (Los Angeles), December 16, 1997 to February 22, 1998
German and Swiss Drawings from the Permanent Collection (June 6 to August 20, 2000)
The J. Paul Getty Museum at the Getty Center (Los Angeles), June 6 to August 20, 2000
Posing for Posterity: Portrait Drawings from the Collection (October 30, 2001 to January 20, 2002)
The J. Paul Getty Museum at the Getty Center (Los Angeles), October 30, 2001 to January 20, 2002
Holbein in England (September 28, 2006 to January 7, 2007)
Tate Britain (London), September 28, 2006 to January 7, 2007
Renaissance Drawings from Germany and Switzerland, 1470-1600 (March 27 to June 17, 2012)
The J. Paul Getty Museum at the Getty Center (Los Angeles), March 27 to June 17, 2012
---