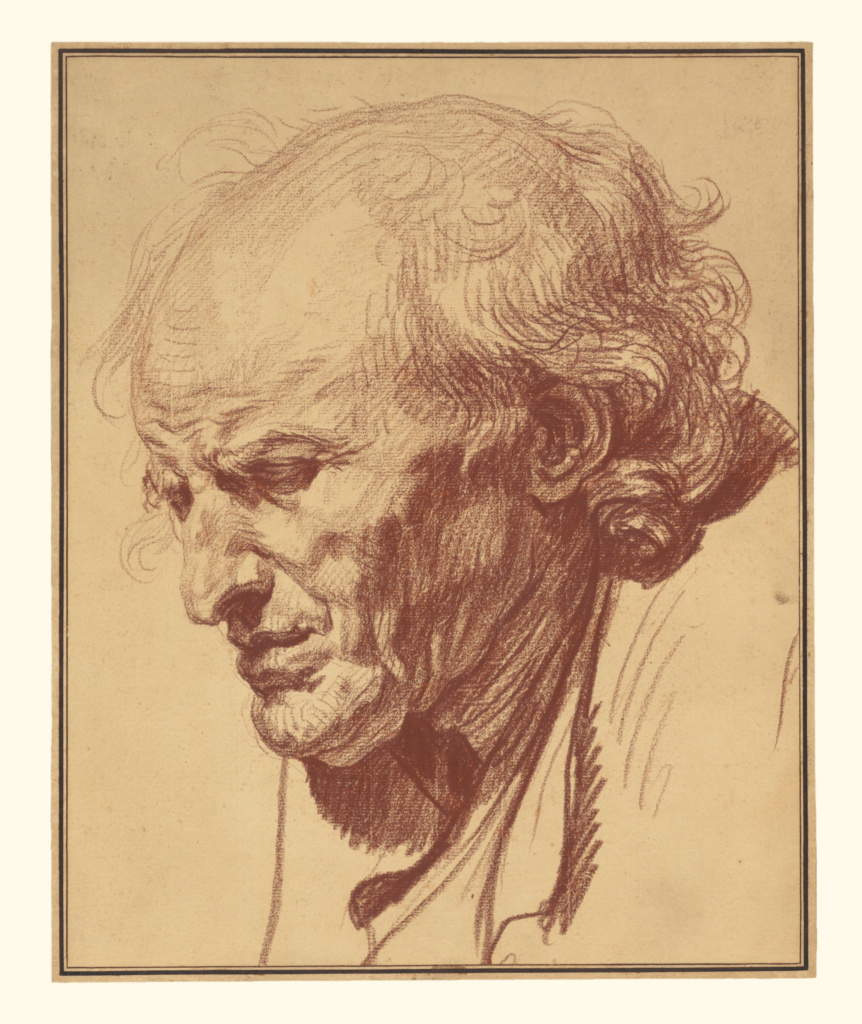 Open Content images tend to be large in file-size. To avoid potential data charges from your carrier, we recommend making sure your device is connected to a Wi-Fi network before downloading.
Not currently on view
Dimensions:
39.7 × 32.1 cm (15 5/8 × 12 5/8 in.)
In Jean-Baptiste Greuze's moralizing narrative paintings, facial expression and gesture were key to telling the story, and his contemporaries greatly admired his skills. In drawn studies such as this one, he departed from the high drama of his paintings and captured his sitter's individual character with sympathy and humility. A consummate draftsman, Greuze made many vivid, expressive, large-scale head studies in chalk, which he did not necessarily intend for specific paintings; sometimes they were later engraved and distributed as prints.

This drawing may be a study for the old man seated at the right of the painting L'Aveugle trompéin Moscow's Pushkin Museum.
-
von Amerling Collection (Vienna)
May 3-6, 1916
Dorotheum (Vienna), [lot 96]
-
Sir Alexander Morley (London)
-
Private Collection (Landesberger ?)
18th and 19th Century Drawings (March 15 to May 29, 1994)
The J. Paul Getty Museum (Malibu), March 15 to May 29, 1994
Red Chalk Drawings (March 16 to May 30, 1999)
The J. Paul Getty Museum at the Getty Center (Los Angeles), March 16 to May 30, 1999
Greuze the Draftsman (May 14 to December 1, 2002) (51; Catalogue by E. Munhall)
The Frick Collection (New York), May 14 to August 4, 2002
The J. Paul Getty Museum at the Getty Center (Los Angeles), September 10 to December 1, 2002
Rococo to Revolution: Eighteenth-Century French Drawings from Los Angeles Collections (July 1 to September 21, 2014)
The J. Paul Getty Museum at the Getty Center (Los Angeles), July 1 to September 21, 2014
---