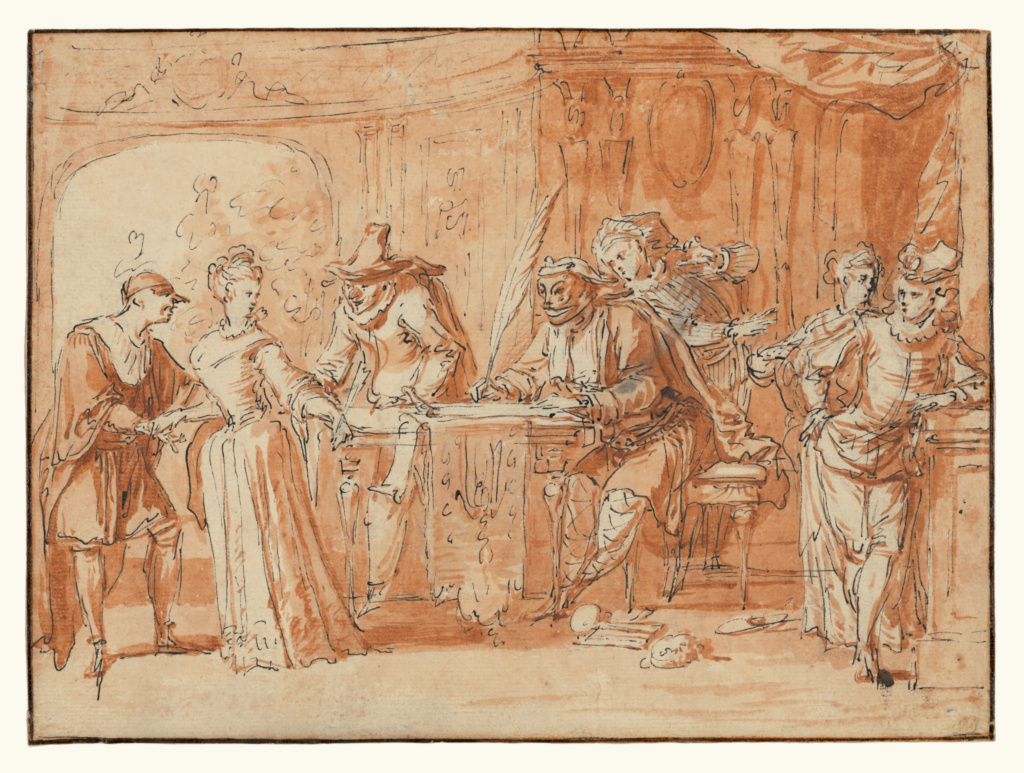 Scene from the Italian Comedy (recto); Figure Study (verso)

Claude Gillot (French, 1673 - 1722) 16 × 21.6 cm (6 5/16 × 8 1/2 in.) 84.GA.66
Not currently on view
Title:
Scene from the Italian Comedy (recto); Figure Study (verso)
Medium:
Pen and black ink, brush with reddish wash, brown ink framing lines (recto); pen and black ink (verso)
Dimensions:
16 × 21.6 cm (6 5/16 × 8 1/2 in.)
Figures appear to stand on a stage, while a masked Harlequin, the commedia dell'arte's leading character, sits at a table and lures a fashionable young lady into prostitution. As the young woman holds the doctor's hand, a young man across the room stares with a displeased expression. Other commedia dell'arte characters, the merchant Pantaloon and Mezzetin in his floppy hat, lend Harlequin their support.

Claude Gillot made this drawing as a design for an engraving in a book about one of his favorite subjects, the commedia dell'arte, a popular entertainment born in Italy and later embraced by the French. In the book, Gabriel Huquier's Théâtre italien, the scene is identified as "Arlequin grapignant," or "Harlequin as Procurer."

The drawing is characteristic of commedia dell'arte's tendency to satirize human folly and pretense. Gillot's dashing, shorthand penwork and the luminous red wash imbue the drawing with a lightheartedness that conveys the comical mood of action onstage.
-
Private Collection (France)
Drapery and Costume in European Drawings of the 15th through the 18th Century (March 28 to June 11, 1995)
The J. Paul Getty Museum (Malibu), March 28 to June 11, 1995
Figural Compositional Drawings from the 16th to the 19th Century (August 31 to December 8, 1996) (recto)
The J. Paul Getty Museum (Malibu), August 31 to December 8, 1996
Color in Drawing (March 10 to May 24, 1998) (recto)
The J. Paul Getty Museum at the Getty Center (Los Angeles), March 10 to May 24, 1998
French Drawings from the Age of Greuze (September 10 to December 1, 2002) (recto)
The J. Paul Getty Museum at the Getty Center (Los Angeles), September 10 to December 1, 2002
A Light Touch: Exploring Humor in Drawing (September 23 to December 7, 2008) (recto)
The J. Paul Getty Museum at the Getty Center (Los Angeles), September 23 to December 7, 2008
The Secret Life of Drawings (November 23, 2010 to February 13, 2011) (recto and verso)
The J. Paul Getty Museum at the Getty Center (Los Angeles), November 23, 2010 to February 13, 2011
The Art of the Fold: Drawings of Drapery and Costume (October 6, 2015 to January 10, 2016) (recto)
The J. Paul Getty Museum at the Getty Center (Los Angeles), October 6, 2015 to January 10, 2016
---