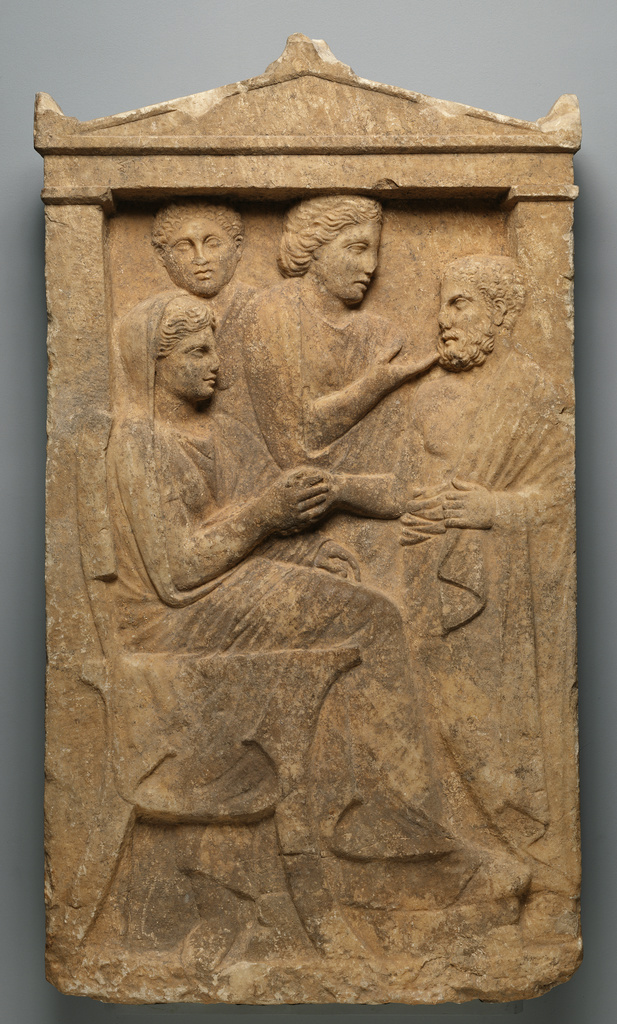 This image is available for download, without charge, under the Getty's Open Content Program.

Grave Naiskos of Sime

Unknown 132.1 × 73.7 × 17.1 cm (52 × 29 × 6 3/4 in.) 77.AA.89
Open Content images tend to be large in file-size. To avoid potential data charges from your carrier, we recommend making sure your device is connected to a Wi-Fi network before downloading.
Place:
Attica, Greece (Place created)

Dimensions:
132.1 × 73.7 × 17.1 cm (52 × 29 × 6 3/4 in.)
A deceased woman, identified as Sime by the inscription carved on the lintel above her, sits amid her family on this Athenian grave stele or tombstone. She sits on a chair with her feet on a footstool, while her husband approaches and shakes hands with her. Another woman and a young man, presumably her children, watch the scene from the background.

The handshake was a popular symbolic gesture on Classical Greek gravestones, representing family unity even after death. In the background, the standing daughter reaches forward and touches the father's chin in another common funerary gesture.

The stele is carved in the shape of a naiskos or small funerary building. This kind of stele was one of the main types of funerary monuments in Athens in the later 300s B.C.
- 1977
Robin Symes, Limited (London, England), by partial credit and partial purchase, sold to the J. Paul Getty Museum, 1973.
Frel, Jiří. Antiquities in the J. Paul Getty Museum: A Checklist; Sculpture I: Greek Originals (Malibu: J. Paul Getty Museum, 1979), p. 21, no. 82 (where wrongly cited as 71.AA.89).
Frel, Jiří. Antiquities in the J. Paul Getty Museum: A Checklist; Sculpture II: Greek Portraits and Varia (Malibu: J. Paul Getty Museum, November 1979), p. 46, Concordance: wrongly listed as 71.AA.89.
Supplementum Epigraphicum Graecum, 33. Leiden: 1983, p. 79, no. 235.
Pleket, H.W., R.S. Stroud, eds. Supplementum Epigraphicum Graecum 34 (Amsterdam: J. C. Gieben, 1984), p. 86, no. 233.
Thickpenny, Helayna I. "Two Attic Grave Stelai in the J. Paul Getty Museum." The J. Paul Getty Museum Journal 13 (1985), pp. 1-8, fig. 3.
Vallera-Rickerson, I., and M. Korma. "Merika ellenika ekthemata tou Mouseiou Getty." Archaiologia 43 (1992), p. 85, fig. 6.
Clairmont, Christoph W. Classical Attic Tombstones. (Kilchberg, Switzerland: Akanthus, 1993), vol. 4, p. 88-89, no. 4.413.
Bergemann, Johannes. Demos and Thanatos. Untersuchungen zum Wertsystem der Polis im Spiegel der attischen Grabreliefs des 4. Jahrhunderts v.Chr. und zur Funktion der gleichzeitigen Grabbauten. Munich: 1997, p. 171, no. 507; cat. 4.413; pls. 32, 3.4; 115, 2.
Bodel, John, and Stephen Tracy. Greek and Latin Inscriptions in the USA: A Checklist (New York: American Academy in Rome, 1997), p. 7.
Grossman, Janet Burnett. Greek Funerary Sculpture: Catalogue of the Collections at the Getty Villa (Los Angeles: J. Paul Getty Museum, 2001), pp. 60-62, cat. no. 21.
Grossman, Janet Burnett. Funerary Sculpture. The Athenian Agora, v. 35. Princeton, NJ: American School of Classical Studies at Athens. 2013, pp. 21, fig. 2.
---