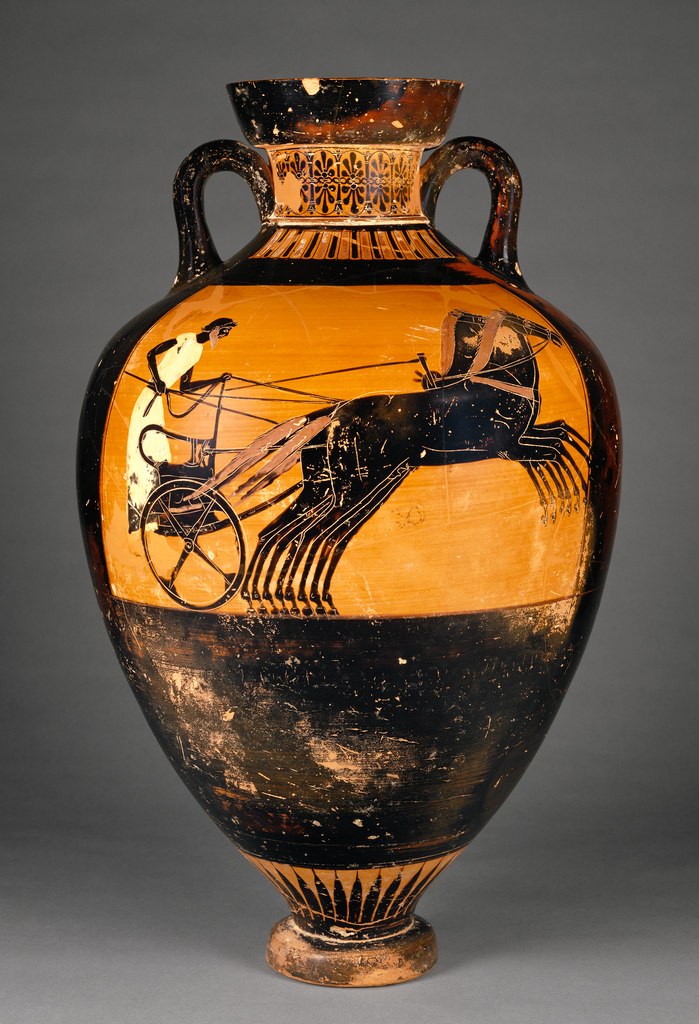 Attic Panathenaic Amphora

Kleophrades Painter (Greek (Attic), active 505 - 475 B.C.) 65 x 40.3 cm (25 9/16 x 15 7/8 in.) 77.AE.9
Open Content images tend to be large in file-size. To avoid potential data charges from your carrier, we recommend making sure your device is connected to a Wi-Fi network before downloading.
This image is available for download, without charge, under the Getty's Open Content Program.
Currently on view at: Getty Villa, Gallery 104, Gods and Goddesses
Title:
Attic Panathenaic Amphora
Place(s):
Athens, Greece (Place created)
Dimensions:
65 x 40.3 cm (25 9/16 x 15 7/8 in.)
The Panathenaia, a state religious festival, honored Athena, the patron goddess of Athens. Held every four years, the festival included athletic and musical competitions. Amphorae filled with olive oil from the sacred trees of Athena were given as prizes in the Panathenaic Games. These amphorae had a special form with narrow necks and feet, and they received standard decoration, always in the black-figure technique. The front showed Athena, the goddess of war, striding forth between columns and included the inscription "from the games at Athens." The back depicted the event for which the vase was a prize.

On this example, Athena is shown in the usual fashion, wearing a helmet and her snaky-edged aegis and carrying a spear and shield. Leading vase-painters decorated these prize amphorae, which were commissioned in large quantities by the state, and their work can often be differentiated by the motif they used to decorate the shield of Athena. For example, the Kleophrades Painter always used the winged horse Pegasos, as seen here. The back of the vase depicts the four-horse-chariot race, one of the most prestigious events in the games.
- 1977
Nicolas Koutoulakis (Geneva, Switzerland), donated to the J. Paul Getty Museum, 1977.
Frel, Jirí. "The Kleophrades Painter in Malibu," The J. Paul Getty Museum Journal 4 (1977). pp. 63-76. pp. 70-74; figs. 16-19.
Frel, Jirí. Painting on Vases in Ancient Greece: a Loan Exhibition from The J. Paul Getty Museum. Exh. cat., Art Gallery, Loyola Marymount University, March 20-April 22, 1979. no. 23.
The J. Paul Getty Museum Handbook of the Collections. 1st ed. (Malibu: J. Paul Getty Museum, 1986) p. 47.
Matheson, Susan. "Panathenaic Amphorae by the Kleophrades Painter," Greek Vases in the J. Paul Getty Museum, 4. Occasional Papers on Antiquities, 5 (1989), pp. 95-112. figs. 1a-c.
Elston, Maya. "Ancient Repairs of Greek Vases in the J. Paul Getty Museum," The J. Paul Getty Museum Journal 18 (1990), pp. 53-68. fig. 20.
Hamilton, R. Choes and Anthesteria. Athenian Iconography and Ritual. Ann Arbor: 1992. p. 235, Appendix 7.
Manakidou, Elene P. Parastaseis me Armata. Thessaloniki: 1994. p. 293, no. 36 (wrongly cited as 79.AE.9).
Bentz, Martin. Panathenaeische Preisamphoren. Eine Athenische Vasengattung und ihre Funktion vom 6.-4.Jahrhundert v. Chr. Antike Kunst Suppl. 18. Basel: 1998. p. 140, no. 5.024; pls. 50-51. Wrongly cited as 79.AE.9.
Schreiber, Toby. Athenian Vase Construction: A Potter's Analysis (Los Angeles: J. Paul Getty Museum, 1999) pl. II.
Zisa, Flavia. "Frammenti di Anfore Panatenaiche Arcaiche al J. Paul Getty Museum," Greek Vases in the J. Paul Getty Museum 6. Occasional Papers on Antiquities 9 (2000), pp. 55-78. pp. 68-69; fig. 13.
Boardman, John. The History of Greek Vases. London: 2001. p. 68; fig. 74.
Miller, Stephen G. Ancient Greek Athletics (New Haven: Yale University Press, 2004) p. 76, fig. 146 (detail).
---