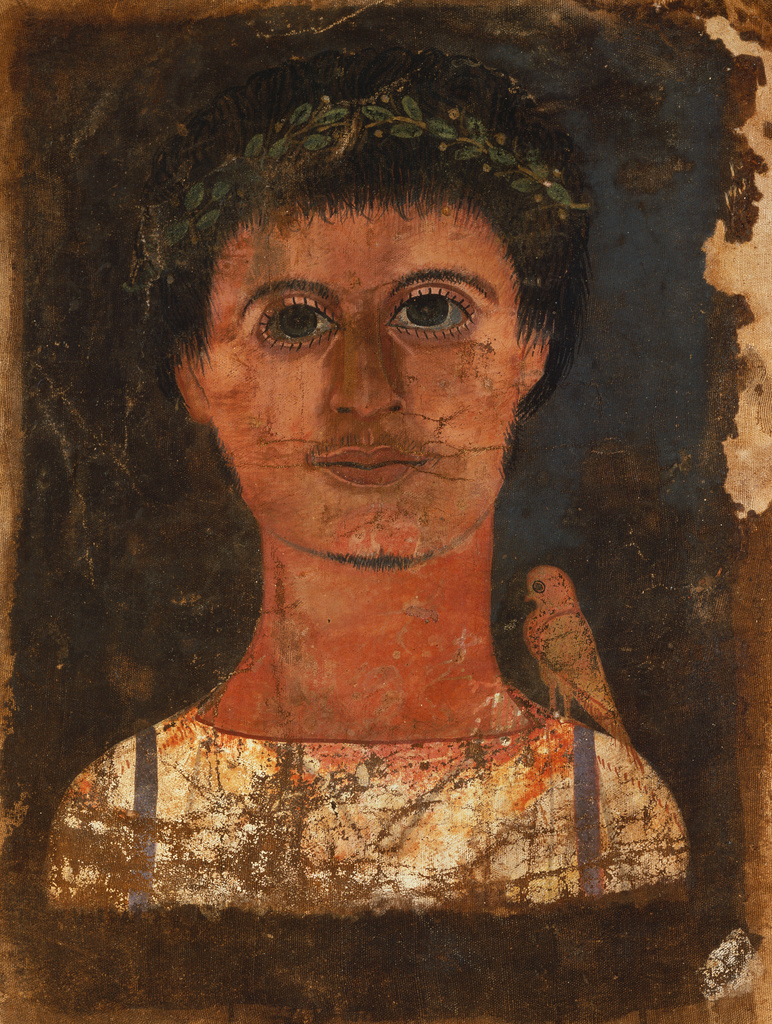 Open Content images tend to be large in file-size. To avoid potential data charges from your carrier, we recommend making sure your device is connected to a Wi-Fi network before downloading.
Not currently on view
Title:
Mummy Shroud with Painted Portrait of a Boy
Dimensions:
58 x 26.5 cm (22 13/16 x 10 7/16 in.)
This Romano-Egyptian mummy portrait painted on linen depicts a young man. The portrait would have been placed over the face of the corpse and wrapped into the mummy, just like the more common portraits on wooden panels. The portrait is painted in the same frontal, flat, unrealistic style found on many of the panels. Yet even so, the artist has conveyed a sense of this particular youth with his early growth of beard and moustache. Such unrealistic yet expressive portraits were once thought to date only late in the 300s A.D., but now scholars think that paintings of this kind were characteristic of a region of Egypt, where they were made for many centuries. The choice of linen rather than a wooden panel for the portrait may also be a regional feature.

The falcon on the young man's shoulder symbolizes the Egyptian god Horus, who appears frequently in Egyptian funerary art. Unlike portraits on wooden panels, which may have been painted while the subject was alive and displayed in the home, portraits on linen like this were painted posthumously.
1973
Private Dealer (Cairo, Egypt)
- 1975
Lenore Barozzi (Chicago, Illinois), donated to the J. Paul Getty Museum, 1975.
Fayum Portraits: Painted Portraits from Roman Egypt (March 24, 1981 - 1997)
The J. Paul Getty Museum (Malibu), March 24, 1981 to December 1, 1997
Modern Antiquity: Picasso, de Chirico, Léger and Picabia in the Presence of the Antique (November 2, 2011 to May 20, 2012) (15)
The J. Paul Getty Museum at the Getty Villa (Malibu), November 2, 2011 to January 16, 2012
Musee Picasso (Antibes), February 16 to May 20, 2012
Thompson, David L. The Artists of the Mummy Portraits. Malibu: 1976. p. 4, cover ill.
Parlasca, Klaus. Ritratti di Mummie. Repertorio d'arte dell'Egitto greco-romano (A. Adriani, ed). 2 ser. Vol. III. Rome: 1980. p. 46, no. 592; pl. 141.5.
Thompson, David L. Mummy Portraits in the J. Paul Getty Museum. Malibu: 1982. pp. 54-55, no. 10, ill.
Richmond, Robin. Animals in Art. Nashville: 1993. p. 24. Cited without inventory no.
Doxiadis, Euphrosyne. The Mysterious Fayum Portraits. Faces from Ancient Egypt. London: Thames and Hudson, 1995. color. ill. no. 74; comments p. 209.
Geoffroy-Schneider, Berenice. Fayoum. Paris: Editions Assouline, 1998. p. 79.
Green, Christopher, and Jens M. Daehner. Modern Antiquity: Picasso, de Chirico, Leger, and Picabia (Los Angeles: J. Paul Getty Museum, 2011) 46, 152, no. 15; pl. 10.
---