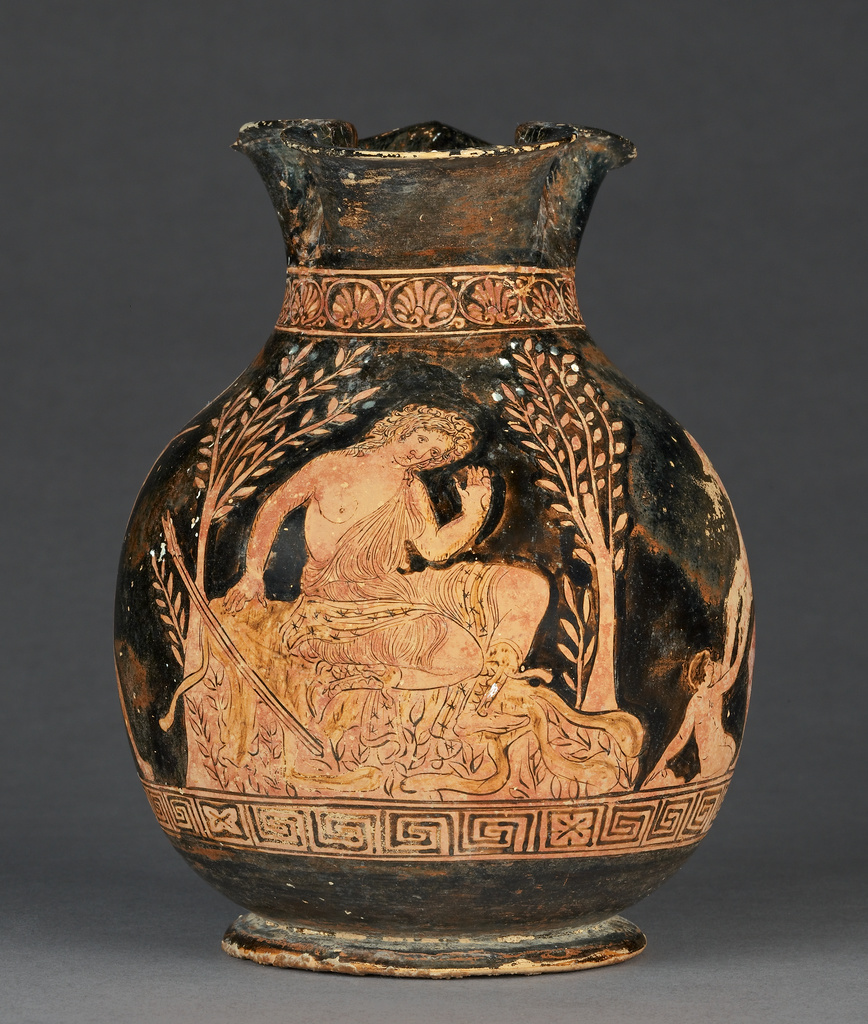 Open Content images tend to be large in file-size. To avoid potential data charges from your carrier, we recommend making sure your device is connected to a Wi-Fi network before downloading.
Not currently on view
Title:
Apulian Red-Figure Chous (Shape 3)
Artist/Maker:
Attributed to near the Black Fury Group (Greek (Apulian), active early 300s B.C.)

Culture:
Greek (South Italian, Apulian)
Place:
Apulia, South Italy (Place created)

Dimensions:
16.8 x 8.4 cm (6 5/8 x 3 5/16 in.)
The story of the mortal virgin Kallisto and her son Arkas decorates this small chous, or wine jug. On the front of the jug, Kallisto sits on a rock covered with animal skins. Willowy trees surround her, creating a woodland setting. According to myth, Kallisto spent her time in the Arcadian Mountains of Greece as a favorite hunting companion of Artemis, goddess of the hunt and childbirth. The king of the Greek gods, Zeus, was attracted to Kallisto and seduced her, which resulted in the birth of a son, Arkas, who gave his name to the area of Greece known as Arcadia. Enraged with jealously, Hera, Zeus's wife, changed Kallisto into a bear. On this chous, Kallisto already has the animal's pointed ears, hairy arms, and paws. She wears hunting boots and her hunting spears are propped against the rock at the left.

Moving to the right on the jug, baby Arkas sits on the ground but is being pulled into the arms of Hermes, the messenger god. Hermes wears his traditional costume of a traveling hat and cloak. His special wand, the kerykeion, rests against a stone marker behind him. Hermes is going to transport the soon-to-be-orphaned baby to his own mother, Maia, who will raise Arkas on Mount Kyllene in Arcadia.

In one version of the myth, Arkas later joins his mother Kallisto among the stars as parts of the constellations of the Big Dipper and the Little Dipper.
-1972
Gianfranco Becchina (Basel, Switzerland), sold to the J. Paul Getty Museum, 1972.
Coming of Age in Ancient Greece: Images of Childhood from the Classical Past (August 23, 2003 to December 5, 2004)
The J. Paul Getty Museum at the Getty Center (Los Angeles), September 14 to December 5, 2004
Collector's Choice: J. Paul Getty and His Antiquities (November 18, 2009 to February 8, 2010)
The J. Paul Getty Museum at the Getty Villa (Malibu), November 18, 2009 to February 8, 2010
Greeks in the Boot: Greek Influence in Ancient Italy as Reflected in the Pottery of Various Regions (October 5, 2013 to May 17, 2014)
Robert V. Fullerton Art Museum, California State University, San Bernardino, October 5, 2013 to May 17, 2014
Trendall, Arthur Dale. "Kallisto in Apulian Vase-Painting," Antike Kunst 20 (1977), pp. 99-101. pl. 22, 1-3.
Trendall, Arthur Dale and Cambitoglou, Alexander. The Red-figured Vases of Apulia, I. Oxford: 1978. p. 167, no. 7/12.
Amyx, Darrell A. "The Many Loves of Zeus (and their Consequences)," Archaeological News 8, no. 4 (1979), pp. 97-115. p. 108, ill. figs. 19-20.
Frel, Jirí. "A Lucanian Chous in Malibu." Studies in Honour of Arthur Dale Trendall (ed., A. Cambitoglou) Sydney: 1979. pp. 71-73. p. 72, no. 15.
Bulletin of recent publications, Revue des etudes grecques, vol. 93 (1980) p. 175.
Schefold, Karl. Die Goettersage in der klassischen und hellenistischen Kunst. Munich: 1981. p. 230; figs. 319-321.
Trendall, Arthur Dale. "Nuovi aspetti dell'iconografia dei vasi italioti," Venticinque Anni della Facolta di Lettere e Filosofia. Lecce: 1983. fig. 2.
Trendall, Arthur Dale. "Arkas," Lexicon Iconographicum Mythologiae Classicae II (1984), pp. 609-610. p. 609, no. A 3; pl. 438.
Shepard, Paul, and Barry Sanders. The Sacred Paw. New York: 1985. ill. between pp. 110-11.
Keuls, Eva. Reign of the Phallus. New York: 1986. p. 313; fig. 275.
Trendall, Arthur Dale. The Red-figured Vases of South Italy and Sicily. London and New York: Thames and Hudson, 1989. p. 78; fig. 135.
Balty, Jean Ch. "Kallisto," Lexicon Iconographicum Mythologiae Classicae V (1990). pp. 940-944. pp. 941-942; pl. 605.
Jentoft-Nilsen, Marit R., and Arthur Dale Trendall. Corpus Vasorum Antiquorum. The J. Paul Getty Museum 3 (USA 26). Malibu: 1990. p. 32; pl. 169.
McPhee, Ian. "Kallisto," Lexicon Iconographicum Mythologiae Classicae V (1990), pp. 940-944. pp. 941-942, no. 6; pl. 605.
Siebert, Gerard. "Hermes," Lexicon Iconographicum Mythologiae Classicae V (1990), pp. 285-387. p. 320, no. 387.
Dorig, Jose. "Deinomenes," Antike Kunst 2 (1994), pp. 67-80. p. 80; pl. 20, 4.
Treff, Hans-Albert. Baerenstark. Natur und Kulturgeschichte der Baeren. Munich: Museum Mensch und Natur, 1995. p. 77.
Cambitoglou, Alexander, and Jacques Chamay. Ceramique de Grande Grece. La collection de fragments Herbert A. Cahn. Exh. cat., Musee d'Art et d'Histoire, Geneva, March 26-September 7, 1997. Zurich: 1997. p. 132, n. 1. Wrongly cited as 72.AE.248.
Lyons, Deborah. Gender and Immortality. Heroines in Greek Myth and Cult. Princeton: 1997. pp. 101-2; fig. 6.
Mugione, Eliana. Miti della ceramica attica in Occidente. Taranto: Scorpione Editirice, 2000. cat no. 804.
Barringer, Judith M. The Hunt in Ancient Greece. Baltimore and London: 2001. pp. 141-43, fig. 78.
Frontisi-Ducroux, Francoise. L'homme-cerf et la femme-araignee: Figures grecques de la metamorphose (Paris: Editions Gallimard, 2003) p. 154, fig. 35.
Todisco, Luigi. La Ceramica Figurata a Soggetto Tragico in Magna Grecia e in Sicilia. (Rome: Giorgio Bretschneider Editore, 2003) p.113, 120, 411 (Ap 22).
Thorn, Jed and Michael Glascock. "New Evidence for Apulian Red-Figure Production Centres." Archaeometry 52: 777-795 (October 2010) p. 789, no. 12.
Kirsch, Eva. Greeks in the Boot: Greek Influences in the Italian Peninsula As Reflected in the Pottery of Various Regions, ca. 800-200 B.C. San Bernardino: California State University San Bernardino, Robert and Frances Fullerton Museum of Art. 2014. Part 2 Catalog, entry 2, (illustrated)
---