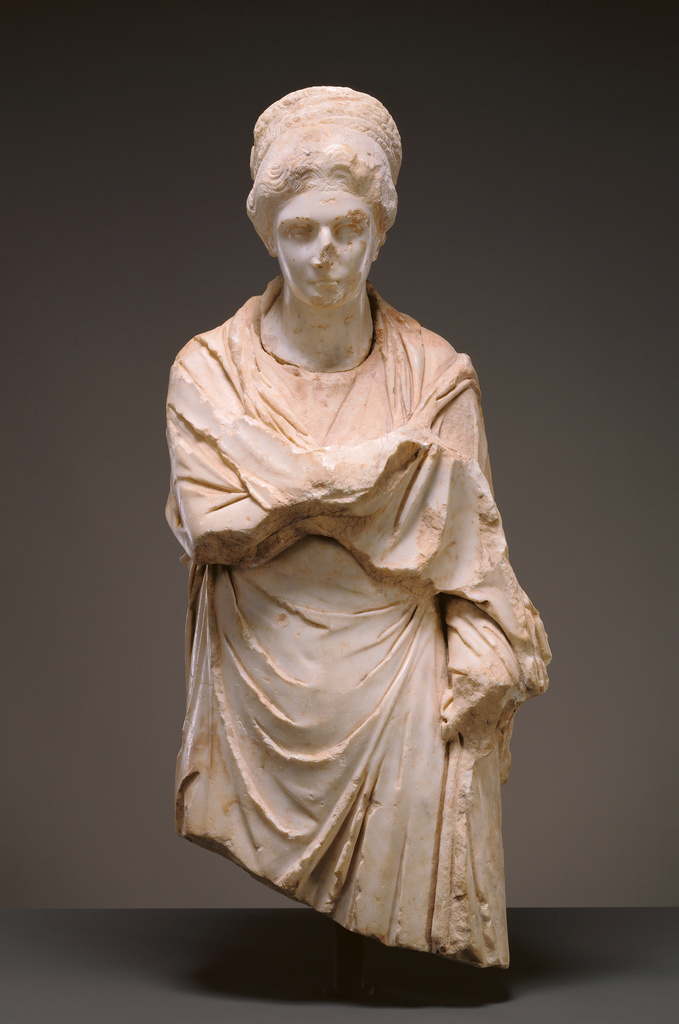 This image is available for download, without charge, under the Getty's Open Content Program.

Portrait Statue of a Woman

Unknown 114.3 × 49 × 32.5 cm (45 × 19 5/16 × 12 13/16 in.) 72.AA.94
Open Content images tend to be large in file-size. To avoid potential data charges from your carrier, we recommend making sure your device is connected to a Wi-Fi network before downloading.
Currently on view at: Getty Villa, Gallery 207, Women and Children in Antiquity
Title:
Portrait Statue of a Woman
Place:
Roman Empire (Place created)

Dimensions:
114.3 × 49 × 32.5 cm (45 × 19 5/16 × 12 13/16 in.)
This fragmentary full-length Roman portrait statue depicts a woman wrapped in a mantle. Her smooth, delicate facial features suggest a young woman, or at least a woman carved in an ageless, Classicizing style. Her distinctive hairstyle allows scholars to date this statue to the period from about A.D. 120 to 130. Women throughout the Empire adopted this style with the hair pulled back from the face and the long hair wrapped in braids around the back of the head in imitation of the women of the Imperial family.

The woman's somewhat individualized features are added onto a standard body type. In fact, the head was made separately from a finer grained marble and inserted into the carved body. Scholars refer to this body type as a "Small Herculaneum Woman," named after a statue found in Herculaneum. This Small Herculaneum Woman type and the so-called Large Herculaneum Woman type, became popular vehicles for portraits in the first two centuries A.D., particularly during the Antonine dynasty (A.D. 138-193), and are probably the most numerous surviving ancient statue types for women. They were especially popular for statues honoring women of local elite families in the eastern areas of the Roman Empire.
by 1971 - 1972
Robin Symes, Limited (London, England), sold to the J. Paul Getty Museum, 1972.
Caesars and Citizens: Roman Portrait Sculpture from the J. Paul Getty Museum (April 26, 1981 to February 28, 1982)
Philbrook Museum of Art (Tulsa), April 26 to July 12, 1981
Archer M. Huntington Art Gallery (Austin), September 17 to December 6, 1981
Phoenix Art Museum (Phoenix), January 6 to February 28, 1982
Herculaneum Women Installation (November 8, 2007 to October 13, 2008)
The J. Paul Getty Museum at the Getty Villa (Malibu), November 8, 2007 to October 13, 2008
The J. Paul Getty Collection, exh. cat. (Minneapolis: The Minneapolis Institute of Arts, 1972) no. 9, pl. 9.
Frel, Jirí, and Elizabeth Buckley. Greek and Roman Portraits in the J. Paul Getty Museum. Exh. cat., California State University at Northridge, October 16-November 11, 1973 (1973). no. 29, ill.
Vermeule, Cornelius, and Norman Neuerberg. Catalogue of the Ancient Art in the J. Paul Getty Museum. Malibu: 1973. p. 29, no. 61, ill.
Fredericksen, Burton B., ed. The J. Paul Getty Museum: Greek and Roman Antiquities, Western European Paintings, French Decorative Arts of the Eighteenth Century (Malibu: J. Paul Getty Museum, 1975) p. 57.
Inan, Jale, and Elisabeth Alföldi-Rosenbaum. Römische und frühbyzantinische Porträtplastik aus der Türkei: neue Funde. Mainz: 1979. p. 331, no. 330; pls. 237, 3; 239.
Nagle, C. Brendan. The Ancient World: A Social and Cultural History. Englewood Cliffs, New Jersey: 1979. p. 317, ill.
Frel, Jirí with Knudsen Morgan, Sandra. Roman Portraits in the Getty Museum. Exh. cat. for "Caesars and Citizens," (Tulsa, Oklahoma: Philbrook Art Center, 1981) pp. 66-67, 126, no. 51, ill.
Vermeule, Cornelius C. Greek and Roman Sculpture in America. Berkeley and London: University of California Press, 1981. no. 271.
Margolis, S., and W. Showers. "Ancient Greek and Roman Marble Sculpture: Authentication, Weathering, and Provenance Determination," Marble. Art Historical and Scientific Perspectives on Ancient Sculpture. Malibu: 1990. pp. 283-299. p. 286, Table 1, no. 5.
Borg, Barbara. Mumienportraets. Chronologie und kultureller Kontext. Mainz: 1996. p. 40, n. 131; pl. 63,3.
Alexandridis, Annetta. Die Frauen des Romischen Kaiserhauses: Eine Untersuchung ihrer bildlichen Darstellung von Livia bis Iulia Domna (Mainz am Rhein: Philipp von Zabern, 2004) p. 245, A 59.
---