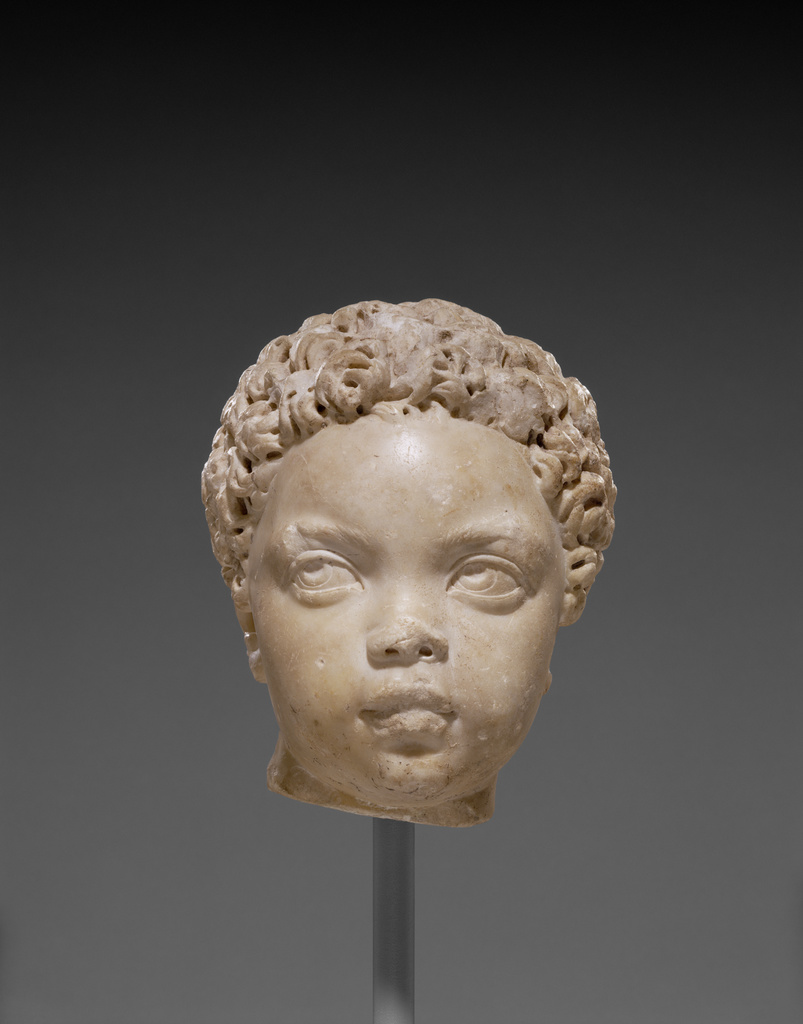 Open Content images tend to be large in file-size. To avoid potential data charges from your carrier, we recommend making sure your device is connected to a Wi-Fi network before downloading.
Currently on view at: Getty Villa, Gallery 207, Women and Children in Antiquity
Title:
Portrait Head of an African Child
Dimensions:
22 × 20.3 × 19.1 cm (8 11/16 × 8 × 7 1/2 in.)
Captured in the motion of turning his head, the boy portrayed in this Roman portrait exudes the energy and alertness of youth. The head, as seen today, was not intended to be a complete work, but broken from a full-length life-size statue. Portraits of children became more common in Roman art in the later 100s A.D., but the unusual feature of this sculpture is that the child, portrayed in such a sensitive and observant manner, is African. Few Roman portraits of blacks rise beyond racial caricature. Here, the asymmetry in the cheeks and the boy's concentrated gaze create the impression that an individual personality is being portrayed. Several features of this portrait are characteristic of Roman sculpture in this period, including the interest in depicting movement and the contrast of the smooth skin and the deeply drilled hair.
- 1971
Robin Symes, Limited, English, 1977 - 2005 (London, England), sold to the J. Paul Getty Museum, 1971.
Roman Portrait Sculpture (February 20 to April 9, 1980)
Mary Porter Sesnon Art Gallery (Santa Cruz), February 20 to April 9, 1980
Portraits: Ancient and Contemporary (October 14 to November 10, 1980)
Laband Gallery, Loyola Marymount University (Los Angeles), October 14 to November 10, 1980
Caesars and Citizens: Roman Portrait Sculpture from the J. Paul Getty Museum (April 26, 1981 to February 28, 1982)
Philbrook Museum of Art (Tulsa), April 26 to July 12, 1981
Archer M. Huntington Art Gallery (Austin), September 17 to December 6, 1981
Phoenix Art Museum (Phoenix), January 6 to February 28, 1982
The J. Paul Getty Collection, exh. cat. (Minneapolis: The Minneapolis Institute of Arts, 1972) no. 12.
Frel, Jirí, and Elizabeth Buckley. Greek and Roman Portraits in the J. Paul Getty Museum. Exh. cat., California State University at Northridge, October 16-November 11, 1973 (1973). no. 39.
Vermeule, Cornelius, and Norman Neuerberg. Catalogue of the Ancient Art in the J. Paul Getty Museum. Malibu: 1973. pp. 33-34, no. 72, ill.
Erhart, Patricia, J. Frel, S. Morgan, and S. Nodelman. Roman Portraits: Aspects of Self and Society. Exh. cat., Sesnon Art Gallery, U. C. Santa Cruz, Feb. 20-April 9, 1980; Loyola Marymount University Art Gallery, October 14-November 10, 1980. no. 12.
Frel, Jirí with Knudsen Morgan, Sandra. Roman Portraits in the Getty Museum. Exh. cat. for "Caesars and Citizens," (Tulsa, Oklahoma: Philbrook Art Center, 1981) pp. 87, 129, no. 69, ill.
Chamay, Jacques, Jiri Frel, and Jean-Louis Maier. Le monde des Cesars: Portraits romains. Geneva: 1982 p. 149; pls. 30, 30a-b.
Fittschen, Klaus. Prinzenbildnisse antoninischer Zeit (Mainz am Rhein: P. von Zabern, 1999) p. 100, no. 127, pl. 187 a, c, d.
---