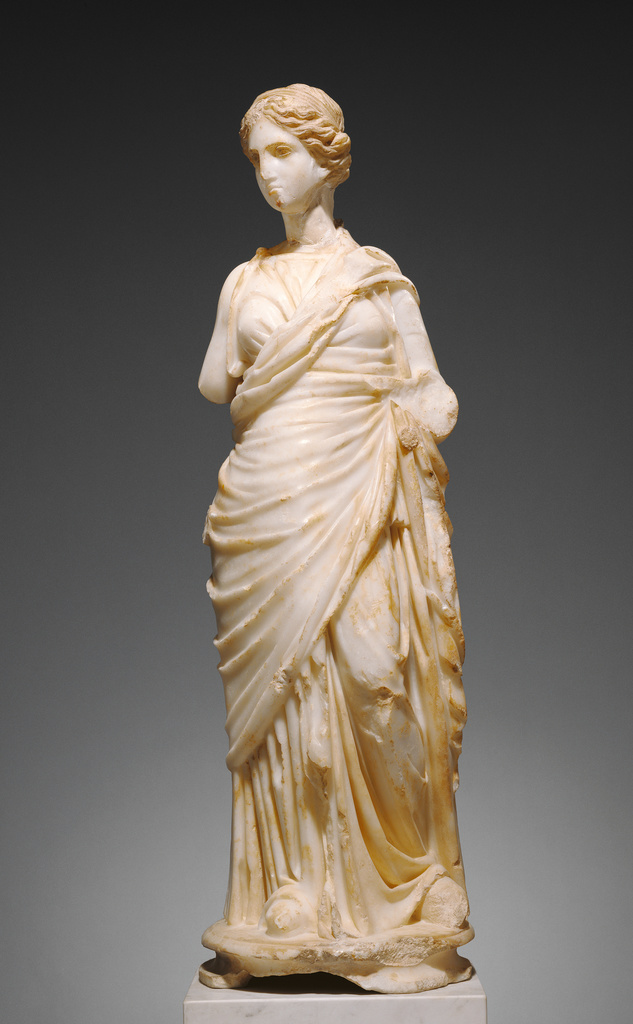 This image is available for download, without charge, under the Getty's Open Content Program.

Statue of a Muse
Open Content images tend to be large in file-size. To avoid potential data charges from your carrier, we recommend making sure your device is connected to a Wi-Fi network before downloading.
Currently on view at: Getty Villa, Gallery 106, Basilica
Place:
Roman Empire (Place Created)
Object Description
This young woman wears a long robe, and her lower body is wrapped in a mantle with one end rolled and drawn up over her shoulder. She represents a Muse, one of the goddesses of learning and the arts. The statue was part of a group of Muses and other deities that probably decorated a building devoted to the cult of the Roman emperor. Traces of paint on the hair, eyes, and lips show that the statue was originally brightly painted. The statue's roughly finished back indicates that it probably stood in a niche.

Which of the nine Muses does this statue represent? In Roman art, the individual Muses were originally identified by the attributes they held. In this case, however, the arms of the statue and any attributes she held are gone. Yet, because Roman sculptors commonly produced numerous replicas of popular statues, badly damaged works can often be identified. Scholars have conventionally interpreted statues that match this one in details of clothing and stance as Klio, the Muse of history.
Provenance
by 1969 - 1971
Elie Borowski, Polish, 1913 - 2003 (Basel, Switzerland), sold to the J. Paul Getty Museum, 1971.
Bibliography
Apollo (April 1969), ill. p. lxiii (Borowski ad.).
Burlington Magazine (December 1969), pl. VIII.
Vermeule, Cornelius, and Norman Neuerberg. Catalogue of the Ancient Art in the J. Paul Getty Museum (Malibu: J. Paul Getty Museum, 1973), pp. 20-21, no. 41, ill.
Fredericksen, Burton B., ed. The J. Paul Getty Museum: Greek and Roman Antiquities, Western European Paintings, French Decorative Arts of the Eighteenth Century (Malibu: J. Paul Getty Museum, 1975), p. 58.
Sobel, H. Hygieia: Die Göttin der Gesundheit (Darmstadt: Wissenschaftliche Buchgesellschaft, 1990), p. 91, no. 20. Cited without inv. no.
Faedo, Lucia. "Mousa, Mousai," In Lexicon Iconographicum Mythologiae Classicae VII (1994), pp. 991-1013, p. 1013, no. 307c.
Jodidio, Philip. "Le Monastére de Brentwood." Connaissance des arts 511 (November 1994), p. 128, ill.
Mitchell, Stephen. Cremna in Pisidia: An Ancient City in Peace and in War. London 1995, pp. 16, 55.
Willers, Dietrich. "Das ende der antiken Idealstatue," Museum Helveticun 53 (1996), pp. 170-186, pp. 183-84; fig. 2.
Schneider, Carsten. Die Musengruppe von Milet. Milesische Forschungen, Band I. (Mainz: P. von Zabern, 1999), pp. 93-95, no. 9; pls. 27-28.
Grossman, Janet Burnett. Looking at Greek and Roman Sculpture in Stone (Los Angeles: J. Paul Getty Museum, 2003), pp. 44, ill.
Birk, Stine. "Carving sarcophagi: Roman sculptural workshops and their organisation." In Troels Myrup Kristensen and Birte Poulsen (eds) Ateliers and Artisans in Roman Art and Archaeology. JRA Suppl. 92 (2012), pp. 27-31, figs 13d, 17a-b.
---