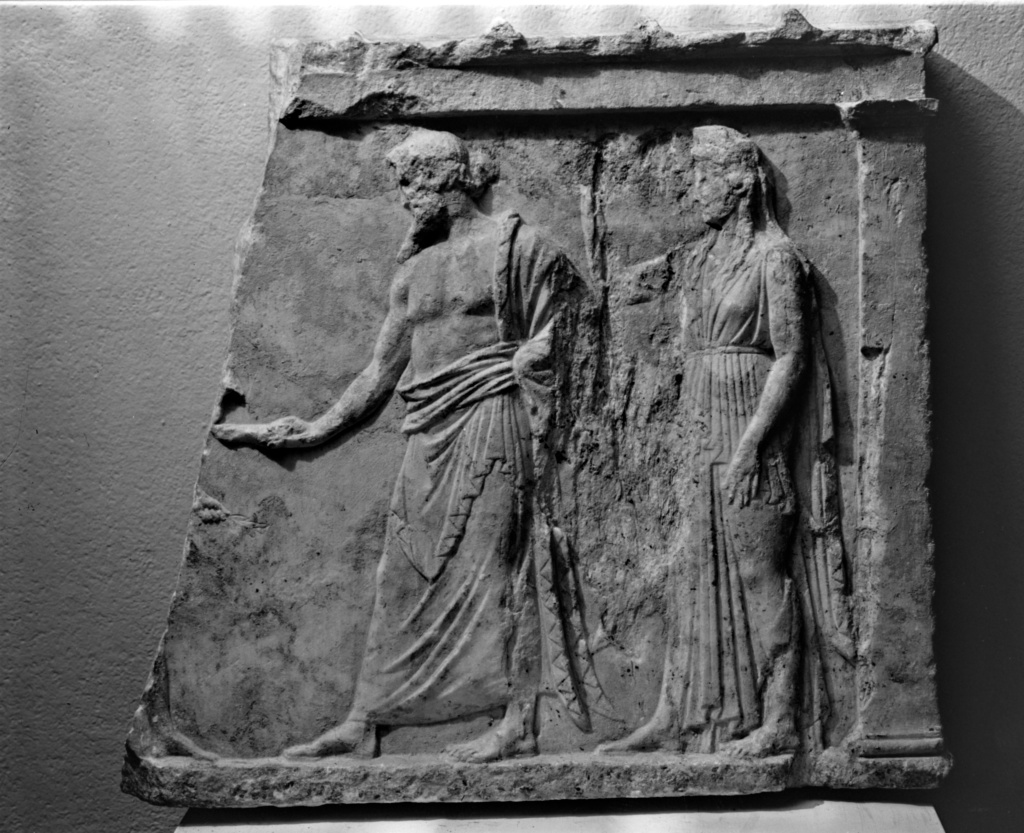 This image is available for download, without charge, under the Getty's Open Content Program.

Votive Relief to Zeus and Hera

Unknown 55.5 × 60.5 × 11.5 cm (21 7/8 × 23 13/16 × 4 1/2 in.) 71.AA.439
Open Content images tend to be large in file-size. To avoid potential data charges from your carrier, we recommend making sure your device is connected to a Wi-Fi network before downloading.
Not currently on view
Title:
Votive Relief to Zeus and Hera
Place:
Athens, Greece, Europe (Place created)

Dimensions:
55.5 × 60.5 × 11.5 cm (21 7/8 × 23 13/16 × 4 1/2 in.)
The relief is framed on the right by a pillar with base and capital supporting an entablature crowned by a flat roof composed of tiles; the left side of the relief has been broken off. A bearded Zeus wears a himation wrapped to leave his chest bare. He has a long pointed beard and his long hair is gathered up into a bun at the back of his head. Zeus faces left and extends a phiale (shallow bowl) towards another figure, now missing. The only evidence of this missing figure, probably a votary, is a left foot and hand and what is probably the neck and mouth of an oinochoe. The votary holds an olive branch in his left hand as he tips the oinochoe to pour an offering in the extended phiale held by Zeus. Standing behind Zeus is Hera, also facing left. She wears a garment called a peplos, a heavy cloth folded over at the top, pinned at the shoulders, and belted at the waist, and a mantle. She holds a long staff in her right hand. Her hair is styled in long ringlets falling onto both the front and back of her shoulders, and she wears a diadem. There appear to be small areas of cement adhering to the surface of the marble, indicating a possible reuse of the relief in a post-antique building. The basic architectural form of this votive relief is in the style of reliefs of the fourth century B.C., but the style of the figures is archaizing, which suggests a later date in the Hellenistic period. The drapery with its stiff, linear patterns and swallow-tail folds is characteristic of this later archaistic style. The form of the frame and the general treatment of the figures are paralleled in a relief in Athens of the second century B.C.
- 1971
Jeanette Brun, sold to the J. Paul Getty Museum, 1971.
The J. Paul Getty Collection, exh. cat. (Minneapolis: Minneapolis Institute of Arts, 1972), no. 3.
Vermeule, Cornelius, and Norman Neuerberg. Catalogue of the Ancient Art in the J. Paul Getty Museum (Malibu: J. Paul Getty Museum, 1973), pp. 14-15, no. 26, ill.
Frel, Jiří. Antiquities in the J. Paul Getty Museum: A Checklist; Sculpture I: Greek Originals (Malibu: J. Paul Getty Museum, 1979), p. 14, no. 57.
Kossatz-Deissmann, Anneliese. "Hera." In Lexicon Iconographicum Mythologiae Classicae IV (1988), pp. 659-719, p. 289, no. 260.
---