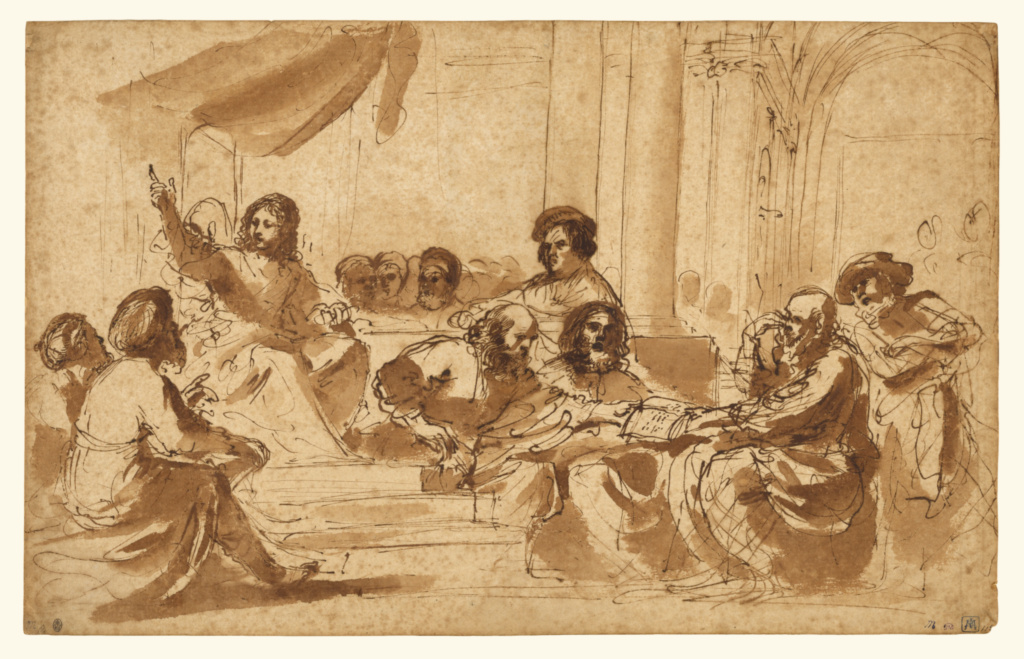 Open Content images tend to be large in file-size. To avoid potential data charges from your carrier, we recommend making sure your device is connected to a Wi-Fi network before downloading.
Title:
Christ Preaching in the Temple
Medium:
Pen and brown ink, brush with brown wash
Dimensions:
26.8 × 42.4 cm (10 9/16 × 16 11/16 in.)
The young Christ's fellow Jews surround him in the temple, listening attentively as he preaches. Some consult the Torah at the same time, passing it between them; other men in turbaned headdresses gaze up as Christ gestures towards heaven. In the background, an attentive crowd sits underneath the arches and columns of the classical synagogue.

Guercino used brown ink energetically, describing the men's bodies swathed in long robes with quick, swirling pen strokes. The frenzied lines that surround Christ's upraised arm seem to suggest motion and his connection to his father above. Guercino used a top layer of brown wash to form hair, caps, beards, and shadows with broad, dark strokes.

One of Guercino's followers used this drawing and two others as the basis of a painting of the same subject for the church of San Francesco in Ferrara.
-
Baron Dominique-Vivant Denon, 1747 - 1825
Dessins italiens du XVe et du XVIIIe s. de la collection H. de Marignane (May 29 to June 4, 1966)
Palais des Congrès (Monte-Carlo), May 29 to June 4, 1966
Dessins du XVIe et du XVIIe s. dans le collections privées françaises (December 1971)
Claude Aubry (Paris), December to December, 1971
Guercino, Master Draftsman: Works from North American Collections (February 16 to March 31, 1991)
Arthur M. Sackler Museum (Cambridge), February 16 to March 31, 1991
Giovanni Francesco Barbieri: Il Guercino, 1591 - 1666 (September 6, 1991 to May 17, 1992)
Museo Civico (Bologna), September 6 to November 10, 1991
16th and 17th Century Italian Drawings (December 15, 1992 to February 28, 1993)
The J. Paul Getty Museum (Malibu), December 15, 1992 to February 28, 1993
Two Centuries of Drawings from Bologna (December 15, 1998 to February 28, 1999)
The J. Paul Getty Museum at the Getty Center (Los Angeles), December 15, 1998 to February 28, 1999
Dominique-Vivant Denon (October 18, 1999 to January 17, 2000)
Musée du Louvre (Paris), October 18, 1999 to January 17, 2000
Visions of Grandeur: Drawing in the Baroque Age (June 1 to September 12, 2004)
The J. Paul Getty Museum at the Getty Center (Los Angeles), June 1 to September 12, 2004
Guercino: Mind to Paper (October 17, 2006 to May 13, 2007) (12)
The J. Paul Getty Museum at the Getty Center (Los Angeles), October 17, 2006 to January 21, 2007
Courtauld Institute of Art Gallery (London), February 22 to May 13, 2007
---