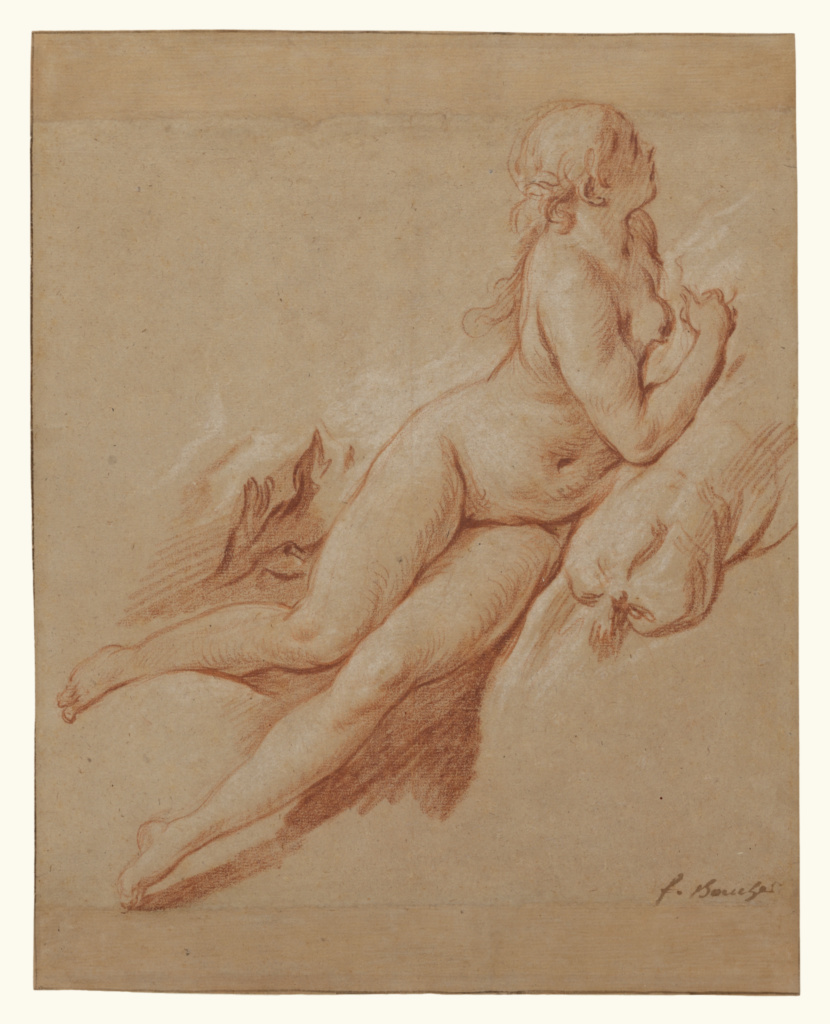 Study of a Reclining Nude

François Boucher (French, 1703 - 1770) 31 x 24.6 cm (12 3/16 x 9 11/16 in.) 84.GB.21
Not currently on view
Title:
Study of a Reclining Nude
Medium:
Red and white chalk on oatmeal paper, strips of paper added at top and bottom edges
Dimensions:
31 x 24.6 cm (12 3/16 x 9 11/16 in.)
As a young woman twists to look backward over her shoulder, she displays the voluptuous curves of her nude body. With her left arm hidden behind her torso, her right arm balances on the bolster pillow that supports her breast.

In this simple sketch, François Boucher filled the model's body with a sense of motion and vitality even in repose, showing his mastery of line. From her twisting toes, bent forward to support her weight, to her tilted head and the muscular arms that prop up her body, Boucher captured the energy and poise required to hold this position. His strokes emphasize the sensuous lines of her body, while darker lines beneath her legs create a sense of depth and setting.
January 25, 1984
William Doyle Galleries, (lot 82)
The Power of Myth: European Mythological Drawings of the 15th through the 19th Century (October 12 to December 26, 1993)
The J. Paul Getty Museum (Malibu), October 12 to December 26, 1993
Red Chalk Drawings (March 16 to May 30, 1999)
The J. Paul Getty Museum at the Getty Center (Los Angeles), March 16 to May 30, 1999
The Body Beautiful: Artists Draw the Nude (1440 - 1880) (December 14, 1999 to February 27, 2000)
The J. Paul Getty Museum at the Getty Center (Los Angeles), December 14, 1999 to February 27, 2000
French Drawings from the Age of Greuze (September 10 to December 1, 2002)
The J. Paul Getty Museum at the Getty Center (Los Angeles), September 10 to December 1, 2002
---