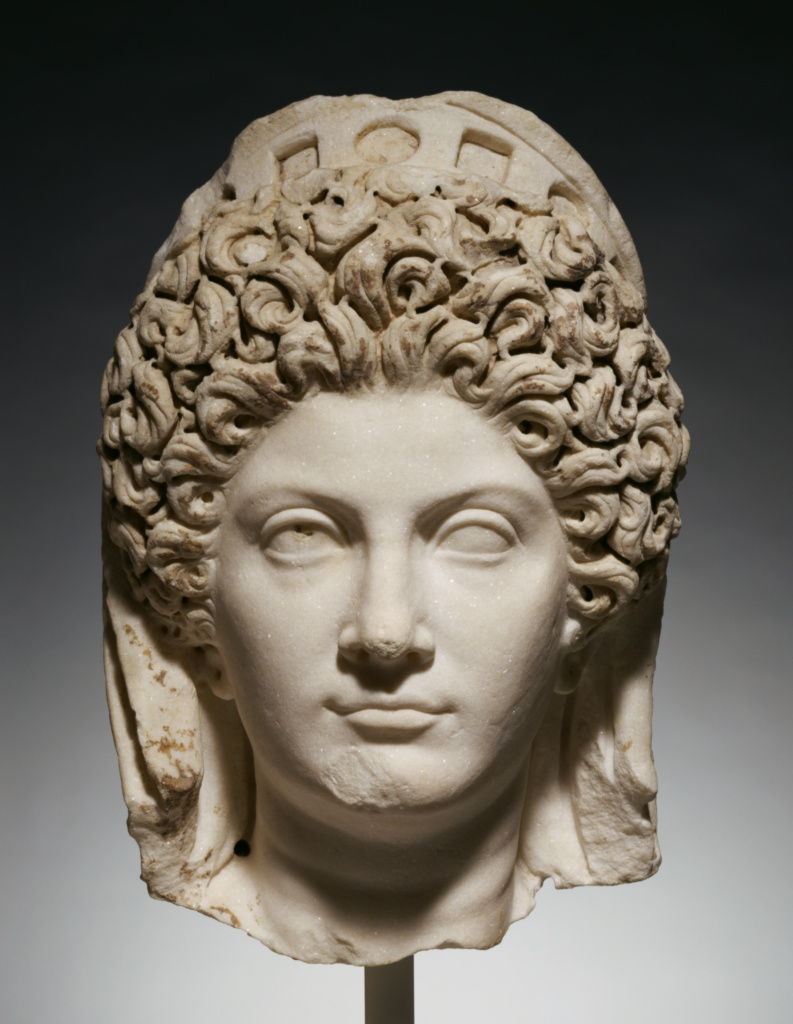 Open Content images tend to be large in file-size. To avoid potential data charges from your carrier, we recommend making sure your device is connected to a Wi-Fi network before downloading.
Currently on view at: Getty Villa, Gallery 207, Women and Children in Antiquity
Title:
Portrait Head of Julia Titi
Place:
Roman Empire (Place created)

Dimensions:
33 x 22.5 x 24.4 cm (13 x 8 7/8 x 9 5/8 in.)
Julia Titi was the daughter of the Roman emperor Titus, who ruled during the Flavian dynasty from A.D. 79 to 81. Recorded in history as a wild young woman who was her uncle Domitian's mistress, Julia died in A.D. 91 at the age of thirty.

This portrait depicts Julia with a dramatic, curling hairstyle. A diadem originally inlaid with materials such as gold, silver, or gems marked her imperial status. Julia would have worn earrings, probably made of gold, which are now missing; the small holes at either side of her neck indicate the original presence of a now-missing necklace. Traces of paint preserved in Julia's curls show that her hair was originally a reddish color. The deeply drilled curls and chiaroscuro effect are typical of Roman sculpture in this period.

Portraits of the women in the imperial family set fashions for the entire Roman Empire. A hairstyle worn by an empress or princess would soon appear on portraits of ladies of the imperial court and then spread out through the rest of Roman society as a sign of taste and status. Elaborate curled hairstyles reminiscent of that worn by Julia became the mark of fashionable women in the Flavian period.
- 1958
Robert E. Hecht, Jr., American, 1919 - 2012 (Paris, France), sold to J. Paul Getty, 1958.
Caesars and Citizens: Roman Portrait Sculpture from the J. Paul Getty Museum (April 26, 1981 to February 28, 1982)
Philbrook Museum of Art (Tulsa), April 26 to July 12, 1981
Archer M. Huntington Art Gallery (Austin), September 17 to December 6, 1981
Phoenix Art Museum (Phoenix), January 6 to February 28, 1982
Beyond Beauty: Antiquities as Evidence (December 16, 1997 to January 17, 1999)
The J. Paul Getty Museum at the Getty Center (Los Angeles), December 16, 1997 to January 17, 1999
Ancient Art from the Permanent Collection (March 16, 1999 to May 23, 2004)
The J. Paul Getty Museum at the Getty Center (Los Angeles), March 16, 1999 to May 23, 2004
Arndt, Paul, and Walter Amelung. Photographische Einzelaufnahmen antiker Skulpturen. Munich: 1893-1940. no. 5076.
Haussman, Ulrich. "Bildnisse zweier junger Roemerinnen in Fiesole," Jahrbuch des Deutschen Archaeologischen Instituts 74 (1959), pp. 164-202. p. 178.
Bulletin of the J. Paul Getty Museum of Art. Malibu: 1959. pp. 18 and 22, fig. 12.
Vermeule, Cornelius C. "Greek and Roman Portraits in North American Collections Open to the Public," Proceedings of the American Philosophical Society 108 (1964), pp. 99-134. pp. 106-7; fig. 23.
Getty, J. Paul. The Joys of Collecting (New York: Hawthorn Books, Inc., 1965) p. 77, ill.
The J. Paul Getty Collection, exh. cat. (Minneapolis: The Minneapolis Institute of Arts, 1972) no. 7.
Del Chiaro, Mario A. Roman Art in West Coast Collections (exh. cat). University Art Gallery, University of California at Santa Barbara, January 10-February 11, 1973 (Santa Barbara: 1973) p. 23, no. 5; ill. p. 60.
Frel, Jirí, and Elizabeth Buckley. Greek and Roman Portraits in the J. Paul Getty Museum. Exh. cat., California State University at Northridge, October 16-November 11, 1973 (1973). no. 23, ill.
Vermeule, Cornelius, and Norman Neuerberg. Catalogue of the Ancient Art in the J. Paul Getty Museum. Malibu: 1973. p. 28, no. 59, ill.
Fredericksen, Burton B., ed. The J. Paul Getty Museum: Greek and Roman Antiquities, Western European Paintings, French Decorative Arts of the Eighteenth Century (Malibu: J. Paul Getty Museum, 1975) p. 47.
Frel, Jirí with Knudsen Morgan, Sandra. Roman Portraits in the Getty Museum. Exh. cat. for "Caesars and Citizens," (Tulsa, Oklahoma: Philbrook Art Center, 1981) cover and copyright pages, ill.; pp. 52-53, ill., 125, no. 36.
Chamay, Jacques, Jiri Frel, and Jean-Louis Maier. Le monde des Cesars: Portraits romains. Geneva: 1982 p. 117; pls. 21, 21a-c.
Mikocki, Tomasz. Sub specie deae: Les impératrices et princesses romaines assimilées à des déesses. Rivista di archaeologia, Suppl. 14 (Rome: Giorgio Bretschneider, 1995) p. 190, no. 268, pl. XVIII (Julia Titi as Juno?).
Altripp, Ina E. "Zu den Athenatypen Rospigliosi und Vescovali. Die Geschichte einer Verwechslung." Archaeologischer Anzeiger 1996, 1: 83-94. pp. 87-88, n. 15. (cited without accession number).
Daltrop, Georg, Ulrich Hausmann and Max Wegner. Die Flavier. Das Roemische Herrscherbild. (Berlin: 1966) p. 116 ff.; pl. 49a and c.
Alexandridis, Annetta. Die Frauen des Romischen Kaiserhauses: Eine Untersuchung ihrer bildlichen Darstellung von Livia bis Iulia Domna (Mainz am Rhein: Philipp von Zabern, 2004) p. 214.
The J. Paul Getty Museum Handbook of the Antiquities Collection. Rev. ed. (Los Angeles: J. Paul Getty Museum, 2010) p. 159.
Napoleone, Caterina and Salmeri, Giovanni. ROMA: I volti dell'Impero (Rome: Cariparma Crédit Agricole, 2011), p.62, 93. The image of the object takes up the entire page.
---