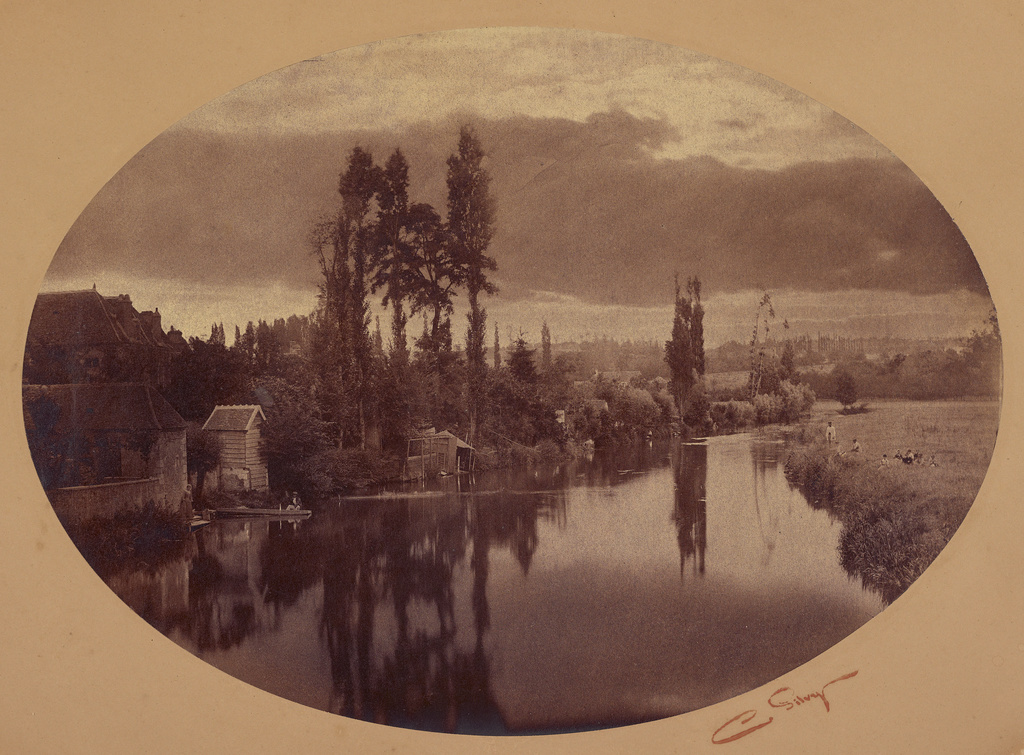 [River Scene, France]

Camille Silvy (French, 1834 - 1910) 25.7 x 35.6 cm (10 1/8 x 14 in.) 90.XM.63
Open Content images tend to be large in file-size. To avoid potential data charges from your carrier, we recommend making sure your device is connected to a Wi-Fi network before downloading.
This image is available for download, without charge, under the Getty's Open Content Program.
Not currently on view
Date:
negative 1858; print 1860s
Dimensions:
25.7 x 35.6 cm (10 1/8 x 14 in.)
When Camille Silvy originally exhibited this photograph in 1859 (with the title Vallée de l'Huisne), a reviewer wrote: "It is impossible to compose with more artistry and taste than M. Silvy has done. The Vallée de l'Huisne...[is a] true picture in which one does not know whether to admire more the profound sentiment of the composition or the perfection of the details."

Early collodion-on-glass negatives, such as those Silvy used to render this scene, were particularly sensitive to blue light, making them unsuitable for simultaneously capturing definition in land and sky. Silvy achieved this combination of richly defined clouds and terrain by skillfully wedding two exposures and disguising any evidence of his intervention with delicate drawing and brushwork on the combination negative. The print exemplifies the tension between reality and artifice that is an integral part of the art of photography.

The Huisne River provided power for flour and tanning mills and was significant in the history of Nogent-le-Rotrou, the town where Silvy was born. This photograph was taken from the Pont de Bois, a bridge over the river, looking toward the south and downstream. It was only a few minutes' walk from Silvy's birthplace. As the reviewer suggested, it is a sentimental image, an idyllic landscape full of reverence for and memory of a timeless place that was significant in the artist's development.
Silvy's River Scene, France: The Story of a Photograph (December 15, 1992 to February 28, 1993)
The J. Paul Getty Museum, (Malibu), December 15, 1992 to February 28, 1993
Arrows of Time: Photographs from the J. Paul Getty Museum (January 24 to April 2, 1995)
Armand Hammer Museum of Art and Cultural Center at UCLA, (Los Angeles), January 24 to April 2, 1995
Capturing Time: A Celebration of Photographs (December 1, 1997 to March 1, 1998)
The J. Paul Getty Museum at the Getty Center, (Los Angeles), December 1, 1997 to March 1, 1998
Photographers of Genius (March 16 to July 25, 2004)
The J. Paul Getty Museum at the Getty Center, (Los Angeles), March 16 to July 25, 2004
In Focus: The Landscape (August 26, 2008 to January 11, 2009)
The J. Paul Getty Museum at the Getty Center, (Los Angeles), August 26, 2008 to January 11, 2009
Faking it: Manipulated Photography Before Photoshop (October 10, 2012 to August 25, 2013) (54)
The Metropolitan Museum of Art, (New York), October 10, 2012 to January 27, 2013
National Gallery of Art (Washington, D.C.), February 17 to May 5, 2013
Museum of Fine Arts, Houston, June 2 to August 25, 2013
---