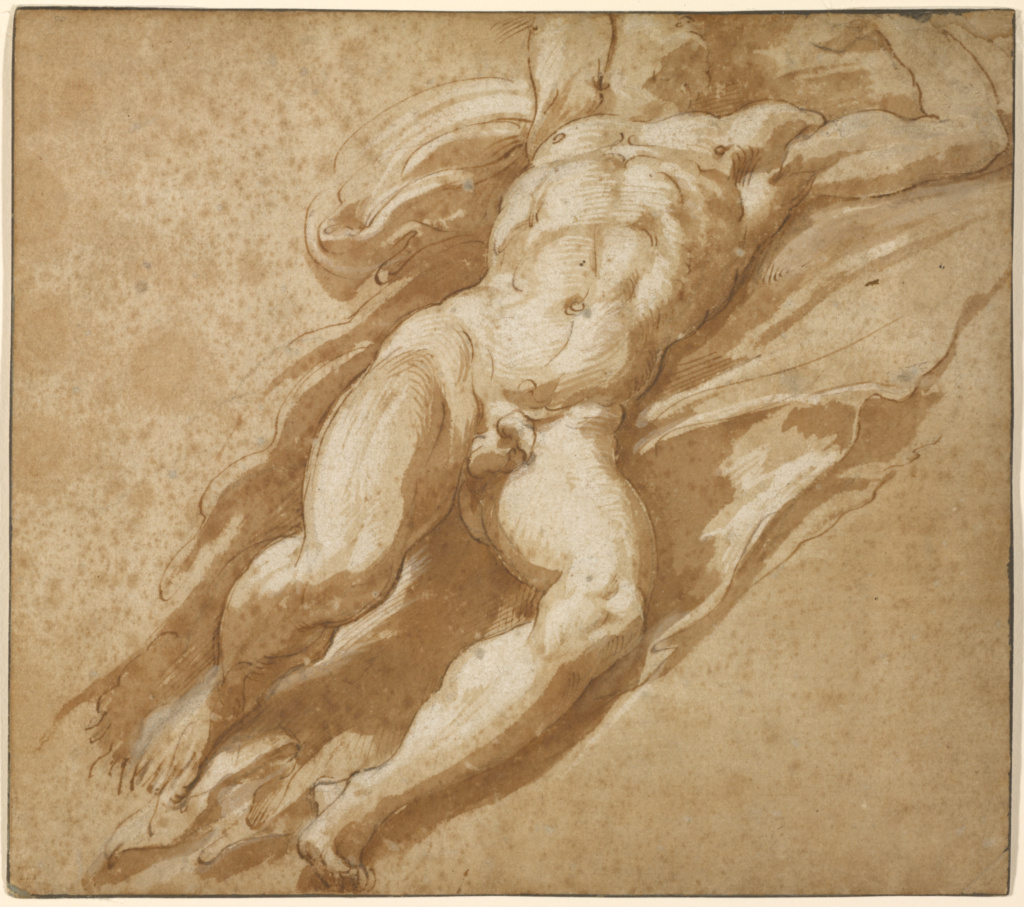 Open Content images tend to be large in file-size. To avoid potential data charges from your carrier, we recommend making sure your device is connected to a Wi-Fi network before downloading.
Not currently on view
Medium:
Pen and brown ink, brown wash, with white gouache heightening
Dimensions:
21.6 × 24.3 cm (8 1/2 × 9 9/16 in.)
Even as he sleeps, this naked Saint Jerome ripples with energy, as does his billowing blanket. Coupled with his quick, fertile imagination, Parmigianino's mastery of pen, ink, wash, and heightening gives this rendering a refreshing spontaneity. The artist crafted the dynamic composition from lively, fluid, yet never superfluous lines and modulated the wash with the touch of a brush for lighter or darker tones. He used white heightening, which can easily overpower a drawing, in a precise, economical, and balanced manner.

Parmigianino made this drawing in preparation for an altarpiece, The Vision of Saint Jerome, of about 1526, now in London's National Gallery, but the painted figure ended up less powerful and older than this vigorous creature. His study of monumental ancient sculpture and Michelangelo's art led to this figure's expansiveness and muscularity.

A later collector may have cut the sheet at the top, eliminating parts of the head and arms.
-
Sir Thomas Lawrence, British, 1769 - 1830
-
Private Collection, France
Drawings from the J. Paul Getty Museum (May 24 to August 8, 1993) (78)
The Metropolitan Museum of Art (New York), May 24 to August 8, 1993
Drawings from the J. Paul Getty Museum (October 29, 1993 to January 23, 1994) (31)
Royal Academy of Arts (London), October 29, 1993 to January 23, 1994
Figure Drawings (December 17, 1996 to April 6, 1997)
The J. Paul Getty Museum (Malibu), December 17, 1996 to April 6, 1997
The Body Beautiful: Artists Draw the Nude (1440 - 1880) (December 14, 1999 to February 27, 2000)
The J. Paul Getty Museum at the Getty Center (Los Angeles), December 14, 1999 to February 27, 2000
Drawings by Correggio and Parmigianino (October 6, 2000 to May 6, 2001) (93; recto; Catalogue by C. Bambach et. al.)
The British Museum (London), October 6, 2000 to January 7, 2001
The Metropolitan Museum of Art (New York), February 4 to May 6, 2001
Drawing the Classical Figure (December 23, 2008 to March 8, 2009)
The J. Paul Getty Museum at the Getty Center (Los Angeles), December 23, 2008 to March 8, 2009
Disegno: Drawing in Europe 1520-1600 (November 13, 2012 to February 3, 2013)
The J. Paul Getty Museum at the Getty Center (Los Angeles), November 13, 2012 to February 3, 2013
---