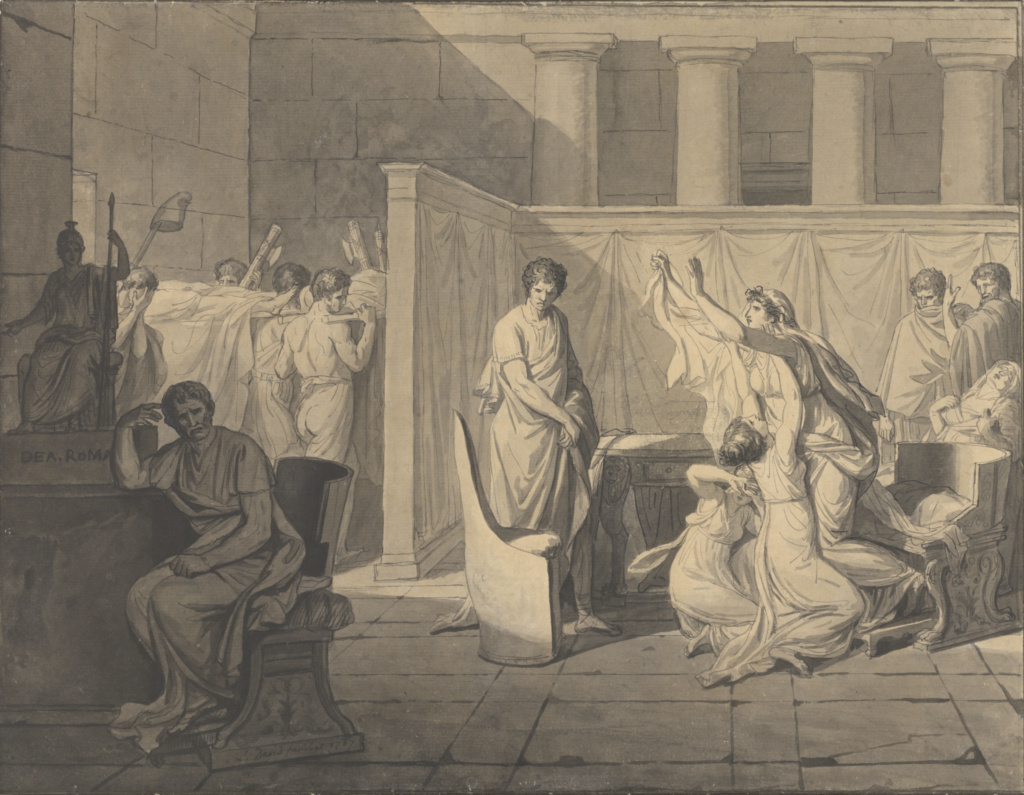 This image is available for download, without charge, under the Getty's Open Content Program.

The Lictors Bringing Brutus the Bodies of His Sons

Jacques-Louis David (French, 1748 - 1825) 32.7 × 42.1 cm (12 7/8 × 16 9/16 in.) 84.GA.8
Open Content images tend to be large in file-size. To avoid potential data charges from your carrier, we recommend making sure your device is connected to a Wi-Fi network before downloading.
Not currently on view
Title:
The Lictors Bringing Brutus the Bodies of His Sons
Medium:
Pen and black ink and gray wash
Dimensions:
32.7 × 42.1 cm (12 7/8 × 16 9/16 in.)
"Through his Brutus as through his Horatii, [Jacques-Louis] David talks to the people more directly and more clearly than all the inflammatory writers whom the regime has confiscated and burned," wrote a contemporary about Jacques-Louis David's paintings. David made this study in preparation for the well-known painting completed in 1789, the year of the French Revolution. Although it created a republican political sensation at the Salon, he had almost certainly not intended that reaction. He had chosen the subject from Roman history to satisfy a commission from King Louis XVI.

After Brutus, founder of the Roman Republic, drove out the kings, he followed Roman code and condemned his own sons to death because they had supported the monarchy. Lictors, or Roman officers, bring in his sons' bodies for burial, while Brutus sits impassively in the shadow of the goddess Roma. In contrast, his brightly lit wife and daughters succumb to grief at the sight of the corpses. David aimed for absolute historical correctness in figures, furniture, and costume; this style and specifically this picture decisively influenced the Revolution's fashions, furniture, and hairstyles.
David et ses élèves (April 7 to June 9, 1913) (catalogue by H. Lapauze)
Musée du Petit Palais (Paris), April 7 to June 9, 1913
Words of Blood, Images of Fire (May 12 to August 20, 1989)
Pierpont Morgan Library (New York), May 12 to August 20, 1989
Jacques-Louis David, 1748 - 1825 (October 26, 1989 to February 12, 1990)
Musée du Louvre (Paris), October 26, 1989 to February 12, 1990
French Master Drawings (December 3, 1991 to February 16, 1992)
The J. Paul Getty Museum (Malibu), December 3, 1991 to February 16, 1992
Drawings from the J. Paul Getty Museum (May 24 to August 8, 1993)
The Metropolitan Museum of Art (New York), May 24 to August 8, 1993
Drawings from the J. Paul Getty Museum (October 29, 1993 to January 23, 1994)
Royal Academy of Arts (London), October 29, 1993 to January 23, 1994
Classicism and Neoclassicism in French Drawing, 1600-1860 (October 25, 1994 to January 8, 1995)
The J. Paul Getty Museum (Malibu), October 25, 1994 to January 8, 1995
Figural Compositional Drawings from the 16th to the 19th Century (August 31 to December 8, 1996)
The J. Paul Getty Museum (Malibu), August 31 to December 8, 1996
French Drawings from the Age of Greuze (September 10 to December 1, 2002)
The J. Paul Getty Museum at the Getty Center (Los Angeles), September 10 to December 1, 2002
A Revolutionary Age: Drawing in Europe, 1770-1820 (January 18 to May 1, 2005)
The J. Paul Getty Museum at the Getty Center (Los Angeles), January 18 to May 1, 2005
Recent Acquisitions in Context (January 11 to March 13, 2011)
The J. Paul Getty Museum at the Getty Center (Los Angeles), January 11 to March 13, 2011
Rococo to Revolution: Eighteenth-Century French Drawings from Los Angeles Collections (July 1 to September 21, 2014)
The J. Paul Getty Museum at the Getty Center (Los Angeles), July 1 to September 21, 2014
Audio: The Lictors Carrying Away the Bodies of the Sons of Brutus
---