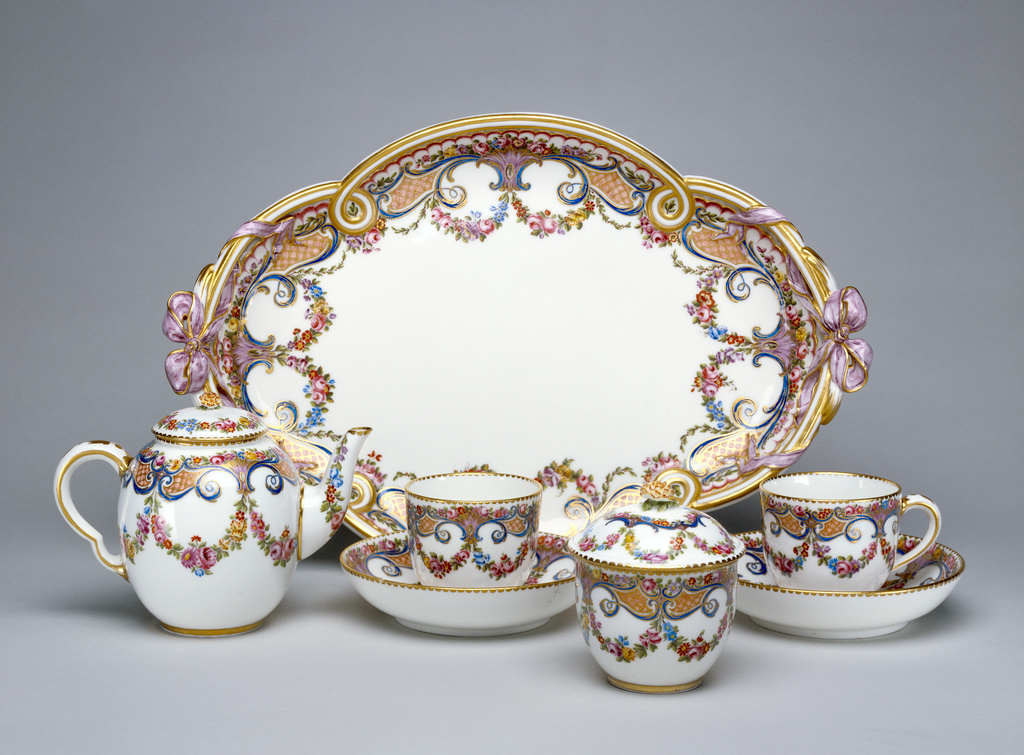 Open Content images tend to be large in file-size. To avoid potential data charges from your carrier, we recommend making sure your device is connected to a Wi-Fi network before downloading.
Currently on view at: Getty Center, Museum South Pavilion, Gallery S113
Title:
A Tea Service (déjeuner ruban)
Medium:
Soft-paste porcelain with polychrome enamelled decoration and gilding
Dimensions:
4.8 × 38.8 × 26 cm (1 7/8 × 15 1/4 × 10 1/4 in.)
Object Description
Travelers to the Far East and the New World brought back three new hot drinks to Europe during the 1600s: tea, coffee, and chocolate. By the middle of the 1700s, these drinks had become part of the daily life of the aristocracy and wealthy bourgeoisie, requiring new serving vessels from which to pour them. Chocolate was considered a breakfast drink, tea was drunk in the afternoon, and coffee was taken after dinner.

Porcelain was the favorite material for tea, coffee, and chocolate services, as it did not crack with heat and remained fairly cool to the touch, unlike silver vessels. This tea service, consisting of two cups and saucers, a covered sugar bowl, teapot, and tray, displays Rococo shapes and Neoclassical-style painted decoration. The pierced and lobed tray, with ribbons entwined around the handles and latticework panels, is typically Rococo; in contrast, the use of neat, symmetrical arrangements of floral garlands and arabesques is a Neoclassical trait.
Bibliography
"Acquisitions/1989." The J. Paul Getty Museum Journal 18 (1990), p. 192, no. 50.
Bremer-David, Charissa, et al. Decorative Arts: An Illustrated Summary Catalogue of the Collections of the J. Paul Getty Museum (Malibu: J. Paul Getty Museum, 1993), pp. 139-40, no. 232.
Roth, Linda H.,and Clare Le Corbeiller. French Eighteenth-Century Porcelain at the Wadsworth Atheneum: The J. Pierpont Morgan Collection (Hartford, Conn.: Wadsworth Atheneum, 2000), p. 204, n. 16.
Wilson, Gillian, and Catherine Hess. Summary Catalogue of European Decorative Arts in the J. Paul Getty Museum (Los Angeles: J. Paul Getty Museum, 2001), p. 121, no. 243.
---