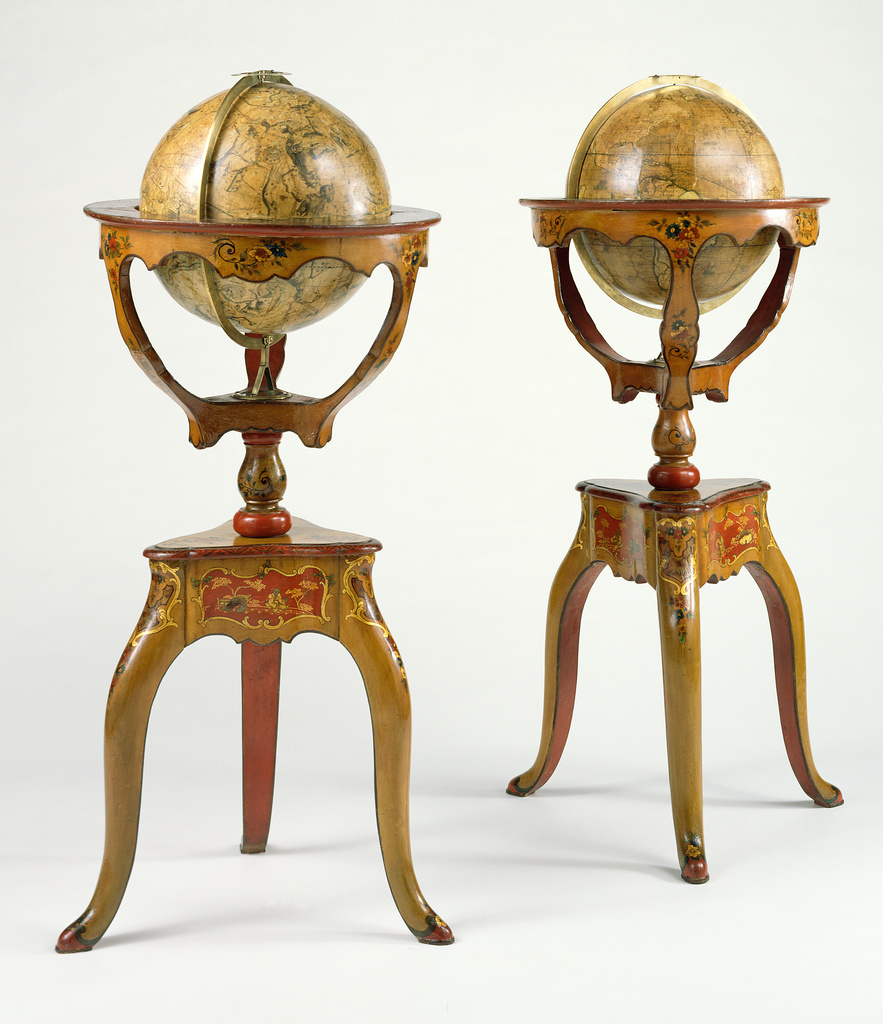 Open Content images tend to be large in file-size. To avoid potential data charges from your carrier, we recommend making sure your device is connected to a Wi-Fi network before downloading.
Currently on view at: Getty Center, Museum South Pavilion, Gallery S107
Place:
Paris, France (Place created)

Medium:
Printed paper, papier-mâché, poplar, spruce, and alder painted with vernis Martin, and bronze
Jean-Antoine Nollet designed and assembled this pair of globes, which show maps of the earth's surface and skies. Globes frequently adorned the libraries of the aristocracy, lending an air of scholarly respectability in an age when uncharted territories around the world were being mapped and new trade routes established. They frequently appeared in eighteenth-century portraits but were usually supported on simple turned columns. These examples, with their red and yellow lacquered stands decorated with Chinese figures, are exceptionally elaborate and may have been made to match similarly lacquered furniture.

A pair of globes on tripod stands similar to those in the Getty Museum's collection is reproduced in an engraving from 1740 of the library of a wealthy eighteenth-century financier, Joseph Bonnier de La Mosson. The second floor of his townhouse was devoted to a series of seven rooms, including a chemistry room with fountains and ovens; an apothecary; a lathe room; a room for his drug supplies; a room that housed his collection of minerals and rare animals, stuffed or in jars; and a room filled with machines and models relating to clockmaking, navigation, and hydraulics.
Paris: Life & Luxury (April 26, 2011 to January 2, 2012) (26)
Museum of Fine Arts, Houston, September 18, 2011 to January 2, 2012
---