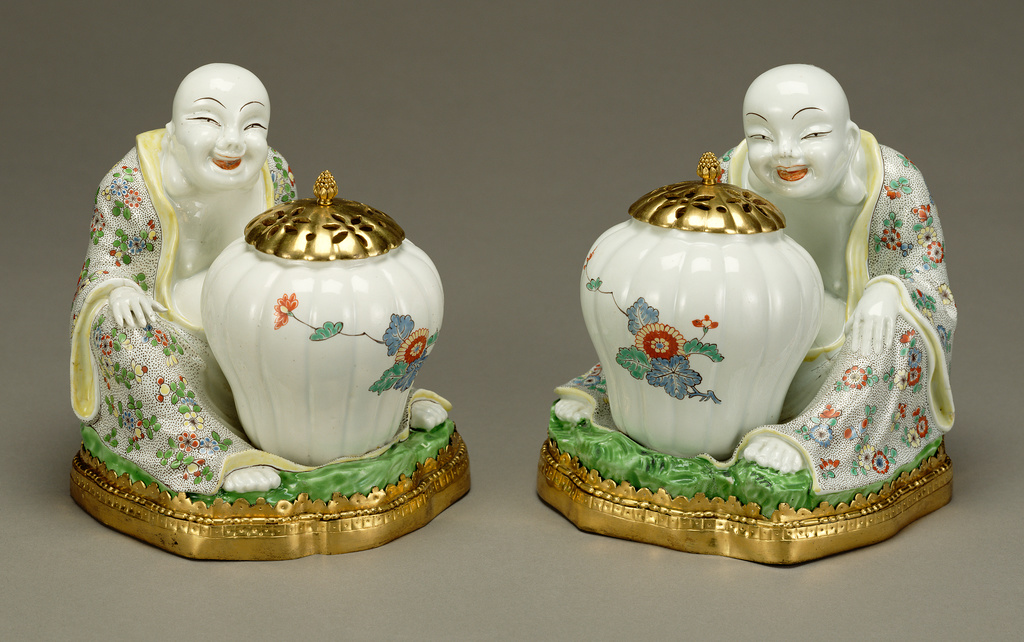 Open Content images tend to be large in file-size. To avoid potential data charges from your carrier, we recommend making sure your device is connected to a Wi-Fi network before downloading.
Currently on view at: Getty Center, Museum South Pavilion, Gallery S104, Section 1
Medium:
Soft-paste porcelain, polychrome enamel decoration; gilt-bronze mounts
Imitating Asian designs in both form and decoration, the Chantilly porcelain manufactory produced these potpourri vases in France. These smiling seated figures with long earlobes, dressed in monks' robes, represent the popular Buddhist god of good fortune or contentment, known as Budai (Put'ai) in China and Ho-teiin Japan. In the 1700s, Europeans called these figures magots, meaning bizarre or grotesque figures in a Chinese or Japanese style, modeled in a variety of poses. So popular were they that one French writer in the mid-1700s exclaimed that "the taste for magotshas reached the height of stupidity."

To create potpourri, fashionable women of the 1700s experimented with dried petals and spices to achieve the finest fragrances, some of which were left to mature for up to nine years. The wealthy liberally used perfumes and potpourri to help disguise malodorous air, as indoor plumbing was nonexistent and frequent bathing was considered unhealthy.
---