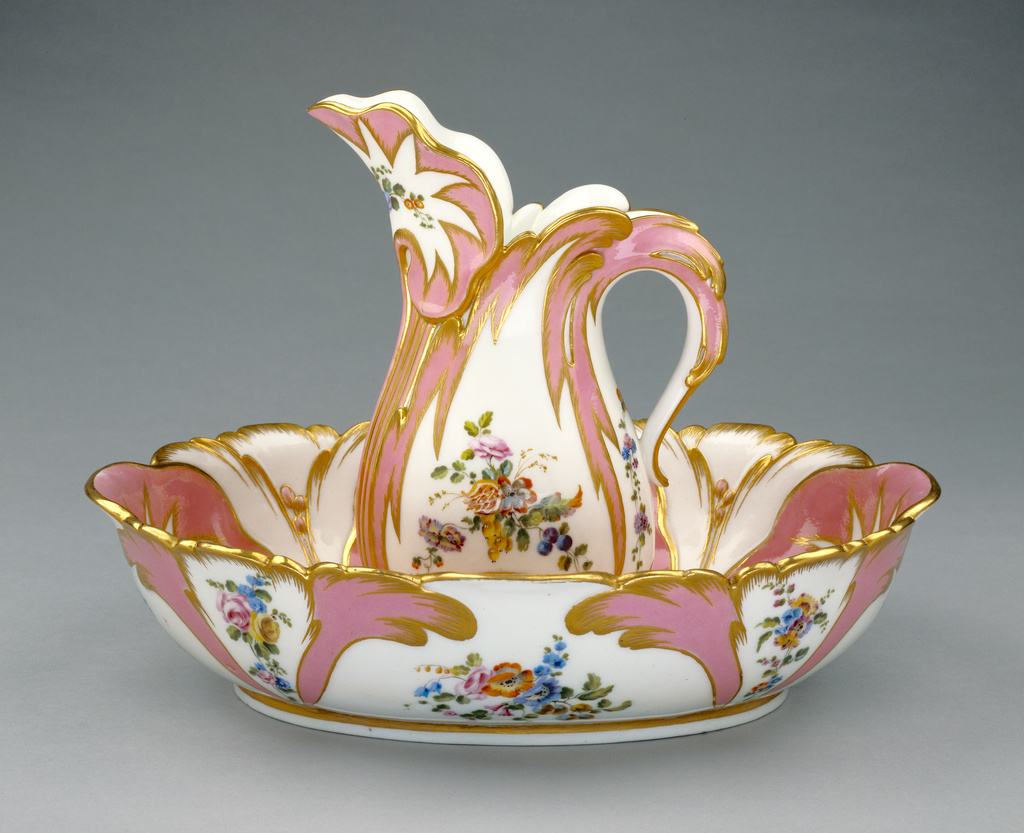 Ewer and Basin (broc et jatte feuille d'eau, première grandeur)

Possibly designed by Jean-Claude Duplessis père (French, about 1695 - 1774, active Sèvres, France 1745/1748 - 1774) Sèvres Manufactory (French, active 1756 - present) 84.DE.88
Open Content images tend to be large in file-size. To avoid potential data charges from your carrier, we recommend making sure your device is connected to a Wi-Fi network before downloading.
This image is available for download, without charge, under the Getty's Open Content Program.
Currently on view at: Getty Center, Museum South Pavilion, Gallery S110
Title:
Ewer and Basin (broc et jatte feuille d'eau, première grandeur)
Artist/Maker(s):
Culture:
Place(s):
Sèvres, France (Place created)
Date:
Medium:
Soft-paste porcelain; pink ground color, polychrome enamel decoration; gilding
This ewer and basin were probably made for display rather than for practical purposes. The vivid color of their pink ground, a new innovation in 1757 when this set was made, would have been particularly admired because it was expensive to produce and difficult to fire. The pink decoration with its gilded outlines imitates molded water lily leaves.

This pair is the larger of two sizes of ewers and basins of this shape made by the Sèvres Porcelain Manufactory, only a small number of which survive today. Scholars attribute the design of the models for this set to Jean-Claude Duplessis, the innovative head of the Sèvres modeling studio.
Best, Son, and Carpenter. Catalogue of the Ornamental Furniture, Works of Art, and Porcelain at Welbeck Abbey (London, 1897), p. 52, no. 296.
"Acquisitions/1984." The J. Paul Getty Museum Journal 13 (1985), p. 181, no. 61.
"Recent Ceramic Acquisitions by Major Museums." Burlington Magazine 127, no. 986 (May 1985), p. 345, no. 55.
Sassoon, Adrian, and Gillian Wilson. Decorative Arts: A Handbook of the Collection of the J. Paul Getty Museum (Malibu: J. Paul Getty Museum, 1986), no. 163.
Sassoon, James. "The Art Market/Sèvres and Vincennes." Apollo 125 (June 1987), pp. 440-41.
Sassoon, Adrian. Vincennes and Sèvres Porcelain: Catalogue of the Collections (Malibu: J. Paul Getty Museum, 1991), pp. 24-28, no. 5.
Bremer-David, Charissa et al. Decorative Arts: An Illustrated Summary Catalogue of the Collections of the J. Paul Getty Museum (Malibu: J. Paul Getty Museum, 1993), p. 128, no. 216.
Wilson, Gillian, and Catherine Hess. Summary Catalogue of European Decorative Arts in the J. Paul Getty Museum (Los Angeles: J. Paul Getty Museum, 2001), p. 110, no. 226.
---