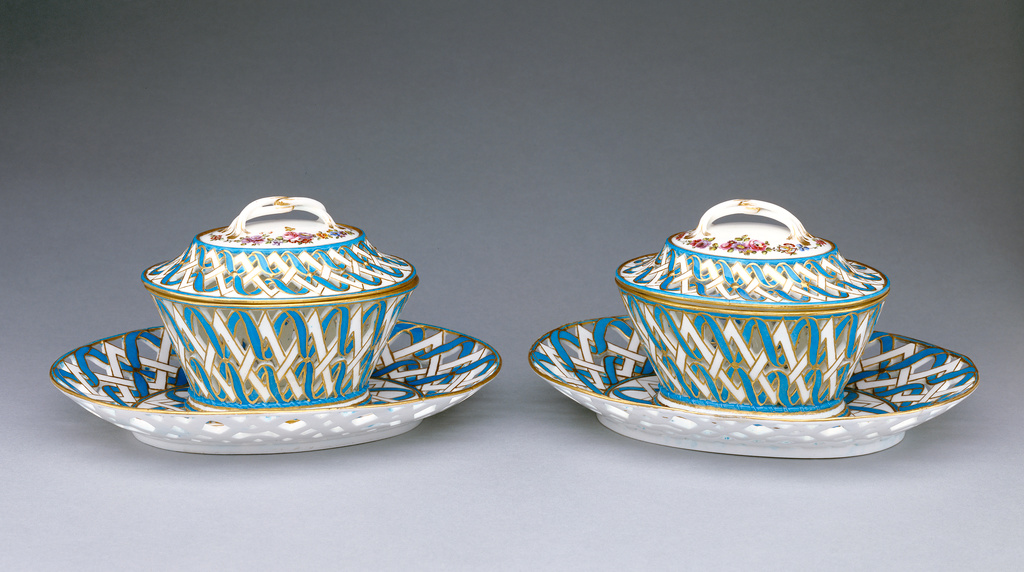 Open Content images tend to be large in file-size. To avoid potential data charges from your carrier, we recommend making sure your device is connected to a Wi-Fi network before downloading.
This image is available for download, without charge, under the Getty's Open Content Program.
Currently on view at: Getty Center, Museum South Pavilion, Gallery S113
Title:
Pair of Lidded Chestnut Bowls (marronnières à ozier)
Medium:
Soft-paste porcelain; bleu céleste ground color; polychrome enamel decoration; gilding
Roasted and peeled chestnuts were a particular delicacy in the 1700s, served as a dessert with a coating of icing in bowls such as this pair. Factories generally sold the bowls singly, though they also came in pairs as part of a dinner or dessert service.

The Sèvres porcelain manufactory's stock books list several different designs for chestnut bowls. For bowls with pierced decoration, such as this pair, customers would have to pay nearly twice as much as for less intricate examples. It took all the skills of the kiln manager to prevent the sides from separating or sagging each time the piece was fired. He would have fired this pair three times, once for the porcelain body and the ground color, once for the enameled colors, and once for the gilding.
"Acquisitions/1982." The J. Paul Getty Museum Journal 11 (1983), pp. 48-53, no. 9.
Sassoon, Adrian, and Gillian Wilson. Decorative Arts: A Handbook of the Collection of the J. Paul Getty Museum (Malibu: J. Paul Getty Museum, 1986), p. 79, no. 169.
Sassoon, Adrian. Vincennes and Sèvres Porcelain: Catalogue of the Collections (Malibu: J. Paul Getty Museum, 1991), pp. 64-68, no. 12.
Bremer-David, Charissa et al. Decorative Arts: An Illustrated Summary Catalogue of the Collections of the J. Paul Getty Museum (Malibu: J. Paul Getty Museum, 1993), p. 134, no. 223.
Wilson, Gillian, and Catherine Hess. Summary Catalogue of European Decorative Arts in the J. Paul Getty Museum (Los Angeles: J. Paul Getty Museum, 2001), pp. 115-16, no. 233.
---