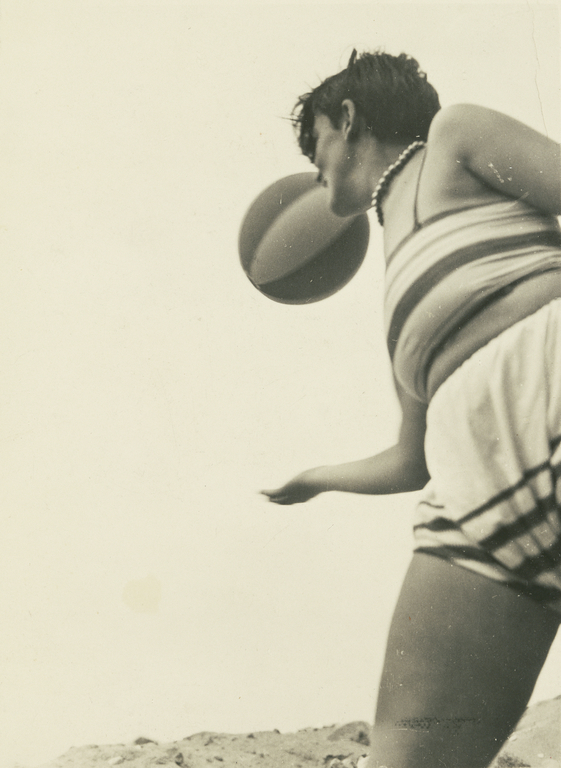 Not currently on view
Title:
Female Student with Beach Ball
Dimensions:
10.5 x 7.8 cm (4 1/8 x 3 1/16 in.)
In the mid-1920s, the advent of small, affordable, hand-held cameras such as the Ermanox and the Leica enabled more people to own a camera, and many photographs produced at the Bauhaus reflect the novelty and ease that these cameras brought to picture-taking. With portable cameras, people could take photographs anywhere--even at the beach--and faster films made it possible to capture motion and spontaneous moments such as this one. The woman's sportiness and skin-baring costume also attest to the changing definitions of femininity in the 1920s.
Women On the Edge: Twenty Photographers in Europe, 1919 - 1939 (August 24 to November 28, 1993)
The J. Paul Getty Museum (Malibu), August 24 to November 28, 1993
Solomon R. Guggenheim Museum (New York), February 24 to May 31, 1994
Lyonel Feininger: Photographs, 1928-1939 (February 25, 2011 to March 11, 2012)
The J. Paul Getty Museum at the Getty Center (Los Angeles), October 25, 2011 to March 11, 2012
Arthur M. Sackler Museum (Cambridge), March 30 to June 2, 2012
---