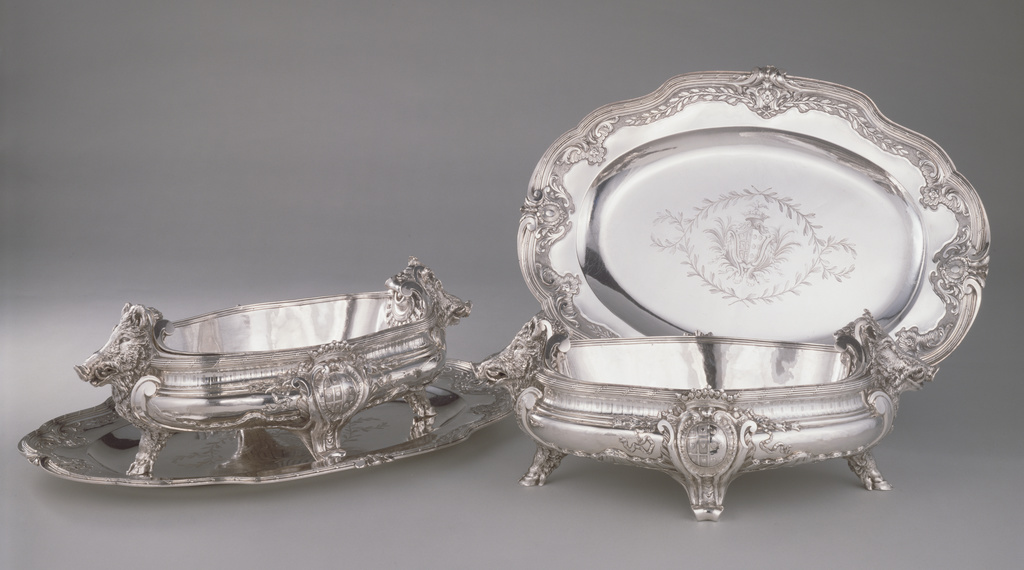 Open Content images tend to be large in file-size. To avoid potential data charges from your carrier, we recommend making sure your device is connected to a Wi-Fi network before downloading.
Not currently on view
Title:
Pair of Tureens, Liners, and Stands
Place:
Paris, France (Place created)

These large tureens were designed to serve oille, a rich stew of meat such as rabbit, venison, or boar; vegetables; and a mixture of aromatic herbs. Here the boar's head and legs reflect the tureens' usual contents. Seventy years after they were made, these tureens were still listed in an inventory with their elaborate lids, now lost, which were ornamented with artichokes, cauliflowers, birds, shells, and shrimp.

A pen and ink drawing for silver pieces, attributed to Thomas Germain, shows a preliminary sketch for a similar, lidded tureen. Very similar tureens, without lids and filled with fruit, appear in a painting by Alexandre-François Desportes, dated 1733.

The 1700s brought important changes in the way in which people dined. Dinner changed from being a stiffly formal occasion into a convivial meeting where the art of conversation reigned supreme. Silver objects like tureens, oil and vinegar frames, sauceboats, and large matching services of plates and dishes appeared on the table, enabling diners to help themselves rather than be served individually by servants. The tureen first appeared at the end of the 1600s, but it was not until the 1720s that its use became more widespread.
Exposition d'orfèvrerie française civile du XVIe siècle au début du XIXe (April 12 to May 12, 1926)
Musée des Arts Décoratifs (Paris), April 12 to May 12, 1926
Exposição de Arte Francesa, Especialmente de Ourivesaria do Século XVIII (May to June 1934)
Museu Nacional de Arte Antiga (Lisbon), May to June, 1934
Les trésors de l'orfèvrerie du Portugal (November 1954 to January 1955)
Musée des Arts Décoratifs (Paris), November, 1954 to January, 1955
Casting Nature: François-Thomas Germain's Machine d'Argent (July 11, 2006 to March 25, 2007)
The J. Paul Getty Museum at the Getty Center (Los Angeles), July 11, 2006 to March 25, 2007
Wild Boars and Peaches: A reunion of two French 18th-century artists. The J. Paul Getty Museum & Nationalmuseum (April 1, 2007 to January 6, 2008)
Nationalmuseum (Stockholm), April 1, 2007 to January 6, 2008
---