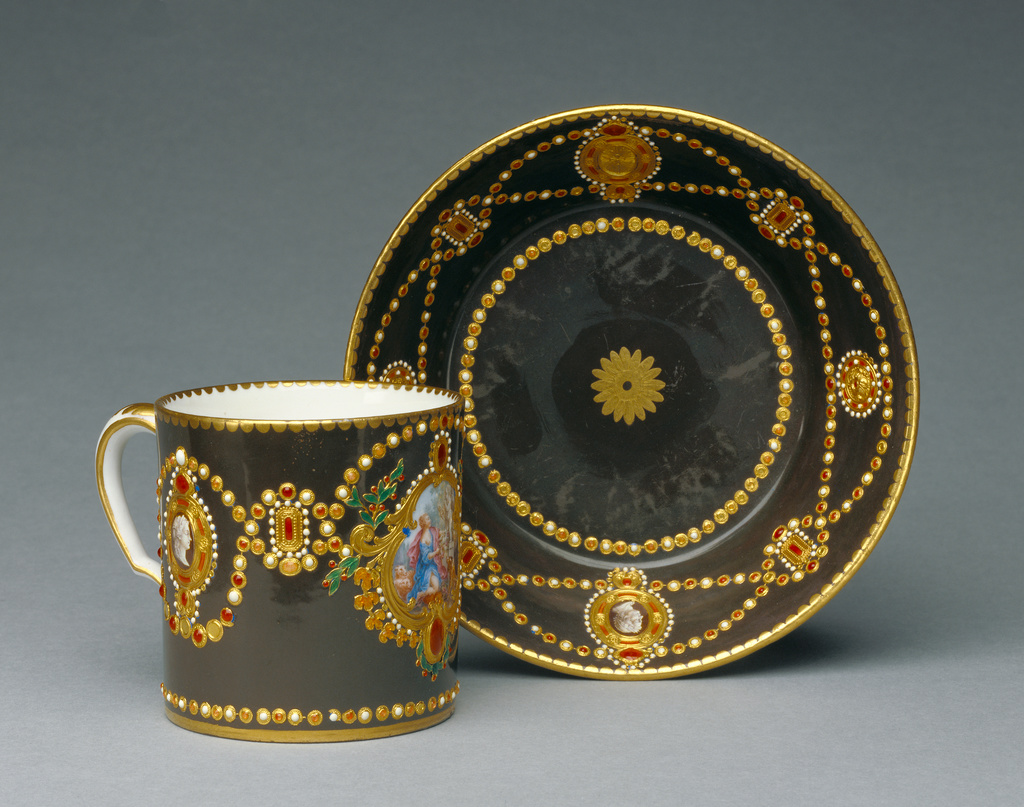 Cup and Saucer (gobelet litron et soucoupe deuxième grandeur)

Ground color painted by Antoine Capelle (French, active 1745 - 1800) Painted reserve and cameos attributed to Pierre-André Le Guay (French, active 1772 - 1818) Gilded by Etienne-Henri Le Guay (French, 1719/1720 - about 1799, active 1748 - 1749, 1751 - 1796) "jeweling" by Philippe Parpette (French, active 1755 - 1757, 1773 - 1806) Sèvres Manufactory (French, active 1756 - present) 7 x 9.4 cm (2 3/4 x 3 11/16 in.) 81.DE.28
Open Content images tend to be large in file-size. To avoid potential data charges from your carrier, we recommend making sure your device is connected to a Wi-Fi network before downloading.
This image is available for download, without charge, under the Getty's Open Content Program.
Currently on view at: Getty Center, Museum South Pavilion, Gallery S113
Title:
Cup and Saucer (gobelet litron et soucoupe deuxième grandeur)
Place(s):
Sèvres, France (Place created)
Medium:
Soft-paste porcelain; brown ground color (? merde d'oie); polychrome enamel decoration; enamels in imitation of jewels; gilding and gold foils
Dimensions:
7 x 9.4 cm (2 3/4 x 3 11/16 in.)
Such an elaborately ornamented cup and saucer was intended for display rather than use. Its heavily decorated surface combined various complicated techniques: jeweling, painted cameos, and painted scenes. The expensive technique known as jeweling, using stamped gold foils set with colored enamels to imitate pearls and precious jewels in red, yellow, orange, and green, was used at the Sèvres Porcelain Manufactory for only five years, between 1780 and 1785.

On the sides of the cup and saucer, slightly domed oval plaques of porcelain have been attached, imitating stone cameos with profiles of classical busts. The painted reserves show scenes from the sacrifice of Cupid. All these decorative elements are set in a deep brown ground color--a novelty at Sèvres at this date--evocatively named merde d'oie, literally "goose droppings."

These objects were gilded by Étienne-Henri Le Guay and jeweled by Philippe Parpette.
Carvers and Collectors: The Lasting Allure of Ancient Gems (March 19 to September 7, 2009)
The J. Paul Getty Museum at the Getty Villa, (Malibu), March 19 to September 7, 2009
---