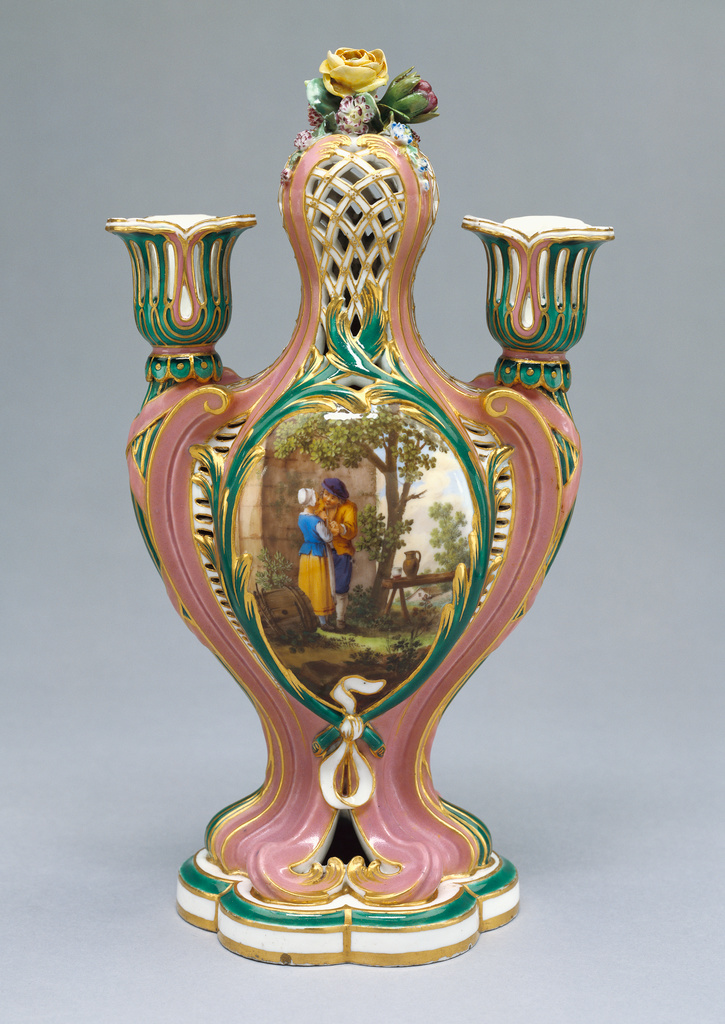 Open Content images tend to be large in file-size. To avoid potential data charges from your carrier, we recommend making sure your device is connected to a Wi-Fi network before downloading.
This image is available for download, without charge, under the Getty's Open Content Program.
Currently on view at: Getty Center, Museum South Pavilion, Gallery S110
Title:
Pair of Vases (pot-pourri à bobèches)
Artist/Maker(s):
Culture:
Place(s):
Sèvres, France (Place created)
Date:
Medium:
Soft paste porcelain, pink and green ground colors, colored enamel decoration and gilding
Designed to hold two candles each, this pair of vases would have formed part of a garniture of similarly decorated vessels. The decoration on these vessels–pink and green ground colors and scenes based on seventeenth-century paintings–typifies the Rococo style used at the Sèvres porcelain manufactory around 1760. Charles-Nicolas Dodin based the rustic scene of a standing couple on a painting by the Flemish artist David Teniers the Younger.
Konody, P.G. "Die Kunsthistorische Sammlung Pierpont Morgans." Kunst und Kunsthandwerk no. 6 (Vienna, 1903), p. 158-59, no. 6.
de Chavagnac, Xavier. Catalogue des porcelaines françaises de M. J. Pierpont Morgan (Paris, 1910), no. 107, pl. 32.
Sassoon, Adrian, and Gillian Wilson. Decorative Arts: A Handbook of the Collection of the J. Paul Getty Museum (Malibu: J. Paul Getty Museum, 1986), p. 76, no. 166.
Sassoon, Adrian. Vincennes and Sèvres Porcelain: Catalogue of the Collections (Malibu: J. Paul Getty Museum, 1991), pp. 42-48, no. 9.
Bremer-David, Charissa et al. Decorative Arts: An Illustrated Summary Catalogue of the Collections of the J. Paul Getty Museum (Malibu: J. Paul Getty Museum, 1993), p. 130-31, no. 220.
Musée du Louvre. Nouvelles acquisitions du départment des Objets d'art 1990-1994 (Paris 1995), pp. 196-97, no. 81.
Dell, Theodore. "J. Pierpont Morgan, Master Collector: Lover of the 18th Century French Decorative Arts." International Fine Art and Antiques Dealers Show (New York: Seventh Regiment Armory, 1995), pp. 25-34.
Wilson, Gillian, and Catherine Hess. Summary Catalogue of European Decorative Arts in the J. Paul Getty Museum (Los Angeles: J. Paul Getty Museum, 2001), pp. 112-13, no. 230.
---