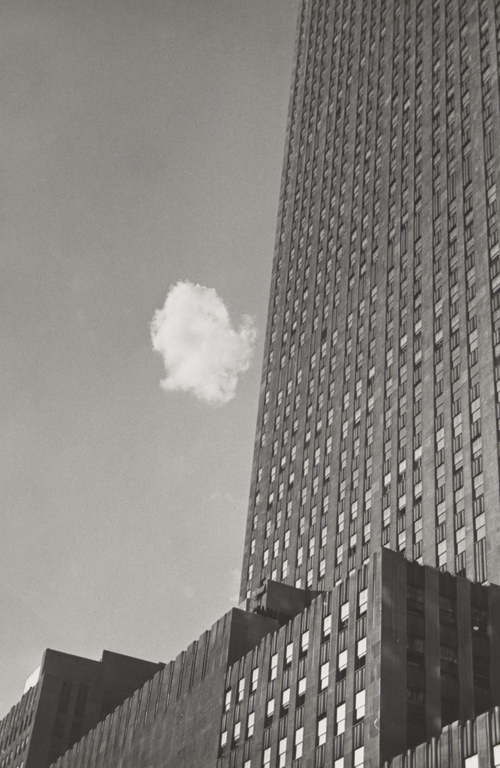 The Lost Cloud, New York

André Kertész (American, born Hungary, 1894 - 1985) 24.8 × 16.5 cm (9 3/4 × 6 1/2 in.) 84.XM.193.13
Not currently on view
Place:
New York, New York, United States (Place Created)

Date:
negative 1937; print 1970s
Dimensions:
24.8 × 16.5 cm (9 3/4 × 6 1/2 in.)
Copyright:
© Estate of André Kertész
The impenetrable façade of Rockefeller Center in New York dominates the frame of this photograph, filling the lower and right sides of the image with its cold, hard, modern lines. The other third of the composition belongs to the sky, in which a lone puff of white cloud hangs isolated like a cotton ball, holding sway against the force of the skyscraper. The brilliant white form is "lost" in this scene that is otherwise devoid of natural, spirited shapes. The cloud possesses an innate impermanence; it will be gone with the next gust of wind, blown along on its path to some other expanse of sky. Andre Kertész's juxtaposition of the whimsical cloud and unforgiving architecture seems to emphasize his own sense of isolation; the photograph was made soon after he had emigrated from Europe.
André Kertész: A Centennial Tribute (June 28 to September 4, 1994)
The J. Paul Getty Museum (Malibu), June 28 to September 4, 1994
André Kertész Photographs: Seven Decades (December 18, 2007 to April 13, 2008)
The J. Paul Getty Museum at the Getty Center (Los Angeles), December 18, 2007 to April 13, 2008
In Focus: The Sky (July 15 to December 4, 2011)
The J. Paul Getty Museum at the Getty Center (Los Angeles), July 26 to December 4, 2011
---