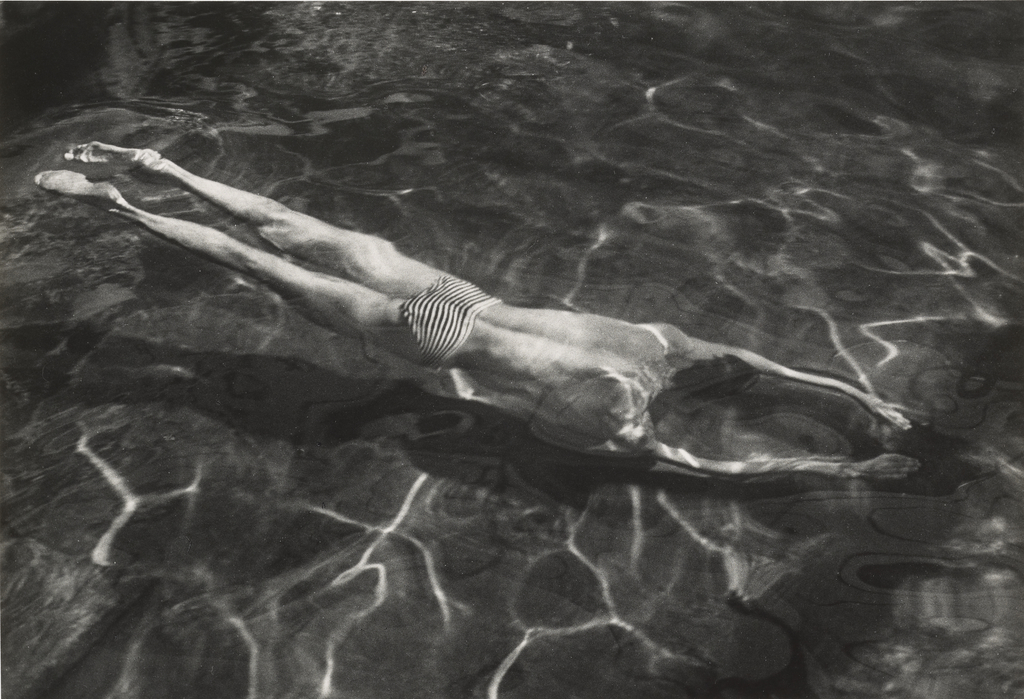 Not currently on view
Place:
Esztergom, Hungary (Place Created)
Date:
negative 1917; print 1970s
Dimensions:
17 × 24.7 cm (6 11/16 × 9 3/4 in.)
Copyright:
© Estate of André Kertész
Object Description
Jagged reflections strike the water in electric bolts of light as a swimmer glides through the pool, his curious form looking like a disembodied crab claw. His striped trunks help identify his human form as his head disappears in the movement of the water. The swimmer casts a deep shadow on the shallow bottom, while other shadows melt into the fluid scene, circling his body like swarming black fish. In Andre Kertész's split-second exposure, the swimmer's extended body seems to hover suspended in the water.
Exhibitions
André Kertész: A Centennial Tribute (June 28 to September 4, 1994)
The J. Paul Getty Museum (Malibu), June 28 to September 4, 1994
Photographers of Genius (March 16 to July 25, 2004)
The J. Paul Getty Museum at the Getty Center (Los Angeles), March 16 to July 25, 2004
André Kertész Photographs: Seven Decades (December 18, 2007 to April 13, 2008)
The J. Paul Getty Museum at the Getty Center (Los Angeles), December 18, 2007 to April 13, 2008
In Focus: Play (December 23, 2014 to May 10, 2015)
The J. Paul Getty Museum at the Getty Center (Los Angeles), December 23, 2014 to May 10, 2015
---