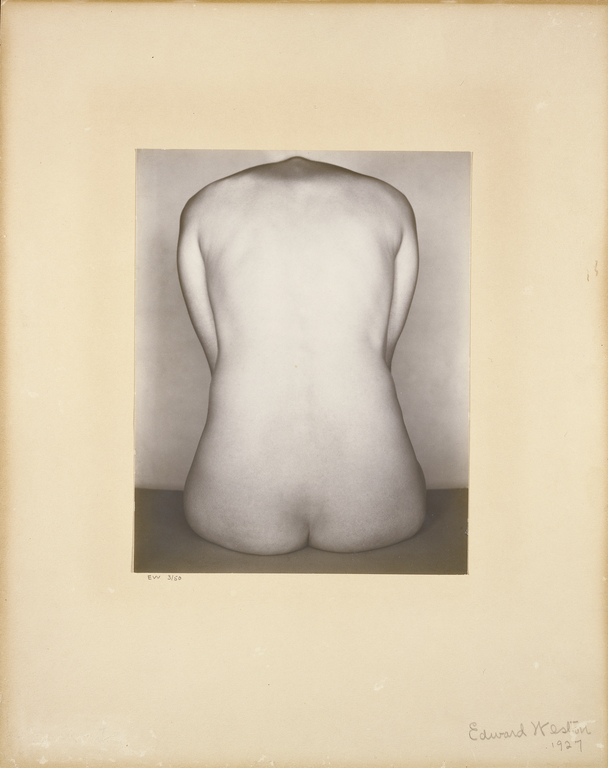 Nude, Los Angeles

Edward Weston (American, 1886 - 1958) 23.8 x 18.6 cm (9 3/8 x 7 5/16 in.) 86.XM.676.1
Not currently on view
Dimensions:
23.8 x 18.6 cm (9 3/8 x 7 5/16 in.)
Copyright:
© 1981 Arizona Board of Regents, Center for Creative Photography
A woman's torso is photographed from behind, her head bent forward so drastically that only an insignificant mound of shadowy flesh represents the place where it logically should be. The soft spread of her buttocks forming a clean line across the seat makes her legs appear truncated; her remaining body is neatly sliced off and placed upon a kind of pedestal, transformed into a piece of abstract sculpture bearing little resemblance to a human form. Edward Weston's sharp-focus photograph carefully outlines the body and simultaneously conveys its disparate abstract beauty.
-
Edward Weston, American, 1886 - 1958
Edward Weston: The Home Spirit and Beyond (November 25, 1986 to February 1, 1987)
The J. Paul Getty Museum (Malibu), November 25, 1986 to February 1, 1987
101 Years of California Photography (February 29, 1992 to March 12, 1993)
Santa Barbara Museum of Art (Santa Barbara), February 29 to May 31, 1992
Crocker Art Museum (Sacramento), June 16 to August 14, 1992
Laguna Art Museum (Laguna Beach), January 15 to March 12, 1993
Arrows of Time: Photographs from the J. Paul Getty Museum (January 24 to April 2, 1995)
Armand Hammer Museum of Art and Cultural Center at UCLA (Los Angeles), January 24 to April 2, 1995
Capturing Time: A Celebration of Photographs (December 1, 1997 to March 1, 1998)
The J. Paul Getty Museum at the Getty Center (Los Angeles), December 1, 1997 to March 1, 1998
Photographers of Genius (March 16 to July 25, 2004)
The J. Paul Getty Museum at the Getty Center (Los Angeles), March 16 to July 25, 2004
In Focus: The Nude (October 9, 2007 to February 24, 2008)
The J. Paul Getty Museum at the Getty Center (Los Angeles), October 9, 2007 to February 24, 2008
---