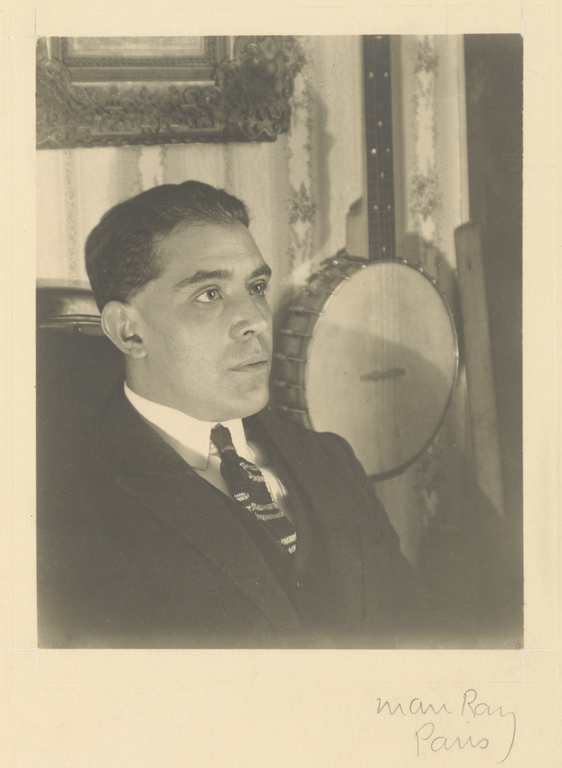 Juan Gris

Man Ray (American, 1890 - 1976) 12.1 × 9.5 cm (4 3/4 × 3 3/4 in.) 86.XM.626.11
Not currently on view
Dimensions:
12.1 × 9.5 cm (4 3/4 × 3 3/4 in.)
Copyright:
© Man Ray Trust ARS-ADAGP
Object Description
"In the early days Gertrude Stein brought [artist] Juan Gris to my studio. He came prepared to be photographed with a high white stiff collar, as if for a family portrait," recalled Man Ray of the circumstance that led to this portrait. Indeed, Gris's stiff and formal pose implies that he was completely ill at ease with the prospect of having his likeness made.
Exhibitions
A Practical Dreamer: The Photographs of Man Ray (October 27, 1998 to October 8, 2000)
The J. Paul Getty Museum at the Getty Center (Los Angeles), October 27, 1998 to January 17, 1999
Walker Art Center (Minneapolis), April 2 to June 25, 2000
Art Gallery of Ontario (Toronto), July 13 to October 8, 2000
Man Ray Portraits (February 7 to September 22, 2013)
National Portrait Gallery (London), February 7 to May 26, 2013
Scottish National Portrait Gallery (Edinburgh), June 22 to September 22, 2013
Bibliography
Rosenthal, Mark, ed. Juan Gris (New York: Abbeville Press, 1983), p. 148.
---