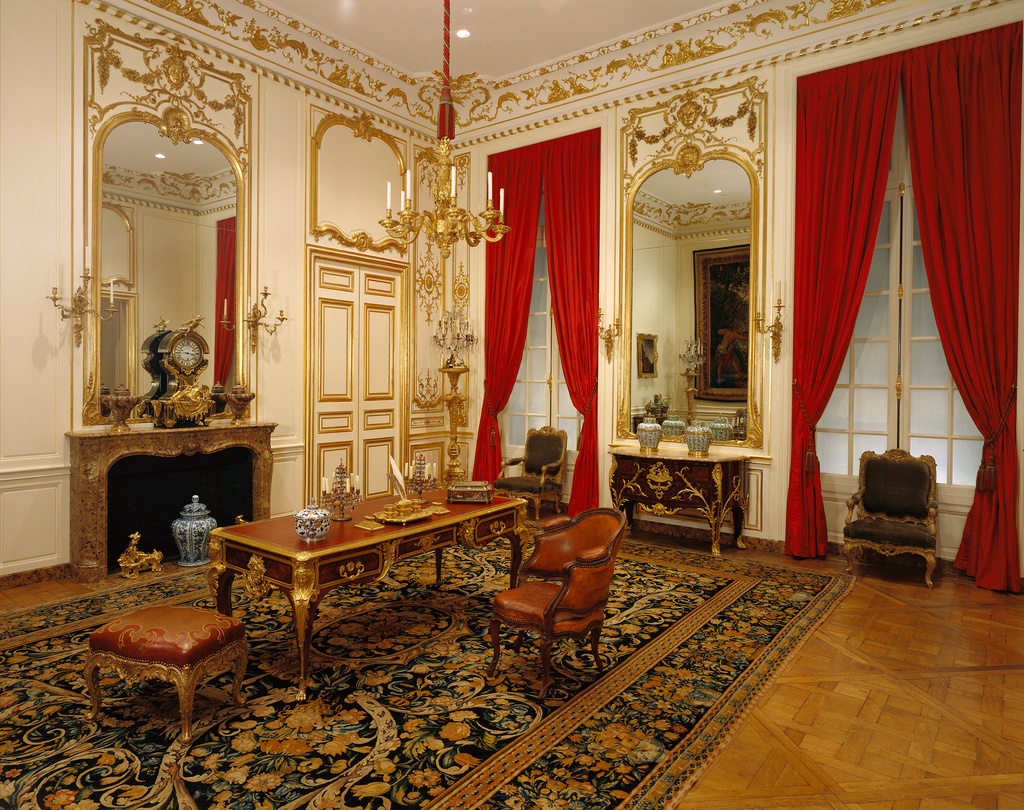 Open Content images tend to be large in file-size. To avoid potential data charges from your carrier, we recommend making sure your device is connected to a Wi-Fi network before downloading.
Currently on view at: Getty Center, Museum South Pavilion, Gallery S105
Place:
Paris, France (Place created)

Date:
1725 - 1726; 20th century additions
Medium:
Painted and gilded wood; brèche d'Alep mantlepiece; modern mirrored glass
Dimensions:
396.2 × 815.3 × 670.6 cm (156 × 321 × 264 in.)
Carved, painted, and gilded wood paneling (boiserie) formed the main decoration of walls in important eighteenth-century rooms. This room was originally used as a bedroom or large cabinet in a private Parisian home at number 18 place Vendôme. In its original state, half of the room was paneled: the pier-glass, the window surrounds, and the fireplace wall. The back wall, where the bed was placed, was hung with fabric.

Not all of the paneling from this room has survived, but the present installation approximates the room's original configuration. Additional modern panels, discernible by their lack of gilding, replace the lost elements. The floor, though old, is not contemporary with the room.
Education Resource

Subjects

Grades

Format

Chairs, Rooms, and Time Travel

Lesson in which students compare two chairs from different eras and create an artwork inspired by a video installation made by a 21st-century artist.

Visual Arts; English–Language Arts

3-5; 6-8

Three/Five-Part Lesson

In this lesson students learn about and discuss decorative arts objects and their functions.

Visual Arts; English–Language Arts; ESL (English as a Second Language)

Adult Learners

Single Class Lesson
---