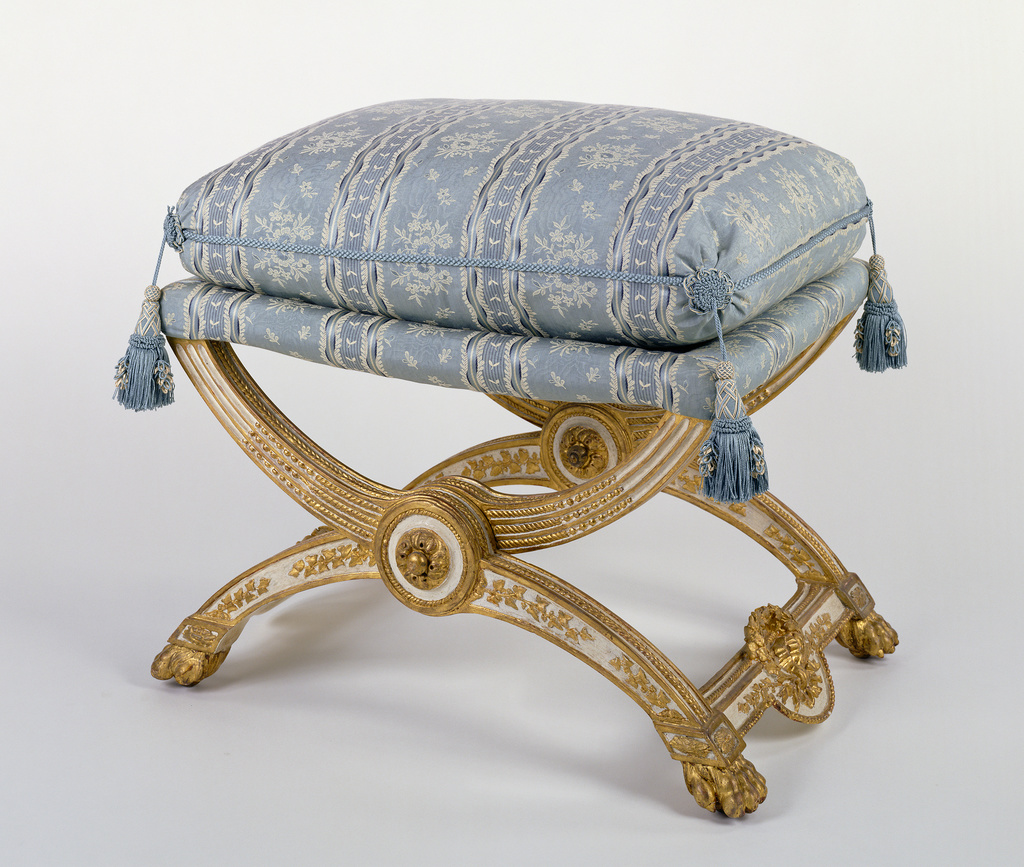 Open Content images tend to be large in file-size. To avoid potential data charges from your carrier, we recommend making sure your device is connected to a Wi-Fi network before downloading.
Currently on view at: Getty Center, Museum South Pavilion, Gallery S114
Title:
Pair of Folding Stools (pliants)
Place:
Paris, France (Place created)

Medium:
Gessoed, painted, and gilded beech; modern upholstery
These stools were part of an order of sixty-four for the French queen Marie-Antoinette's salles de jeux (gaming rooms) at the palaces of Fontainebleau and Compiègne. Originally covered with painted satin, they were delivered with twelve matching fixed-leg stools (tabourets), a folding screen, and a fire-screen. Their carved decoration consists of typical Neoclassical motifs: oak wreaths, scrolling ribbons, beading, and rosettes.

The wooden X-frame base, a traditional design that originated in classical antiquity, allowed each stool to fold easily once its cushion was removed. Thus they could be easily transported from room to room.
1786 - 1792
French Crown, Garde-Meuble de la Couronne (the salles des jeux de la reine in the châteaux de Fontainebleau and de Compiègne), from a set of sixty-four ordered in two groups, at the cost of 720 livres per stool, by Jean Hauré in 1786, nationalized by the revolutionary government in 1792.
1792 - after 1806
French government, Garde-Meuble National (remained at Fontainebleau and Compiègne from 1792 to 1797; those at Compiègne used to furnish the palais du Luxembourg and the Tuileries in 1797, then sent to Fontainebleau; twelve used in the emperor's bedchamber at the Tuileries in 1806)
- 1970
Anna Thomson Dodge, American, born Scotland, 1871 - 1970 (Rose Terrace, Grosse Pointe Farms, Michigan)
1970 - 1971
Estate of Anna Thomson Dodge, American, born Scotland, 1871 - 1970 [sold, Christie's, London, June 24, 1971, lot 69, to the J. Paul Getty Museum]
---