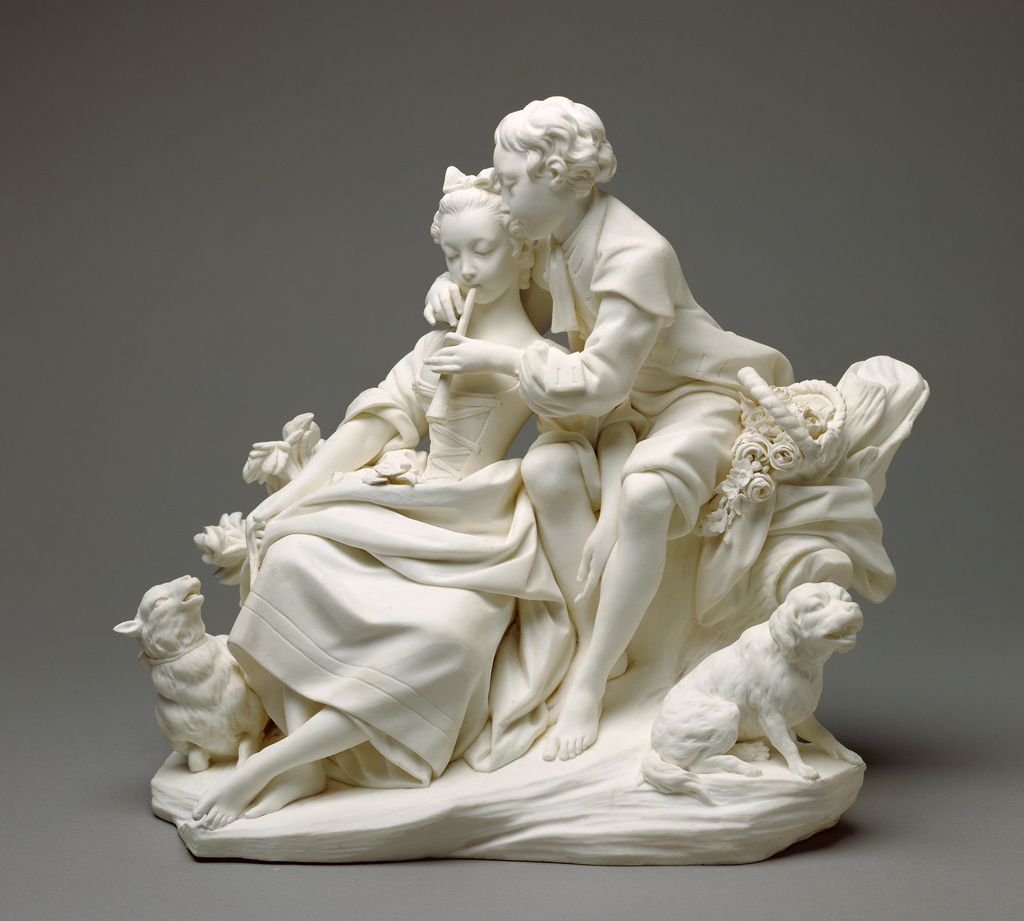 Open Content images tend to be large in file-size. To avoid potential data charges from your carrier, we recommend making sure your device is connected to a Wi-Fi network before downloading.
Not currently on view
Title:
Pair of Figure Groups: The Flute Lesson (Le Flûteur) and The Grape Eaters (Les Mangeurs de Raisins)
Place:
Sèvres, France (Place created)

Medium:
Soft-paste biscuit porcelain; traces of red pigment
A modeler at the Sèvres Porcelain Manufactory based these figure groups on incidents depicted in a comic opera, La Vallée de Montmorency (The Vale of Montmorency), a popular production in Paris in 1752. François Boucher designed the costumes and stage sets for this work. The success of the opera inspired porcelain makers to produce these figure groups, The Flute Lesson and The Grape Eaters, based on Boucher's paintings of scenes from the production.

This was modeled under the direction of Etienne-Maurice Falconet.
- 1905
Goury de Rosland (Paris, France) [sold, Galerie Georges Petit, Paris, May 29-30, 1905, no. 108]
- 1931
Mortimer Leo Schiff, American, 1877 - 1931 (New York City, New York), by inheritance to his son, John M. Schiff, 1931.
1931 - 1938
John Mortimer Schiff, American, 1904 - 1987 [sold, Christie's, London, June 22, 1938, lot 27, to J. Paul Getty.]
1938 - 1970
J. Paul Getty, American, 1892 - 1976, donated to the J. Paul Getty Museum, 1970.
---